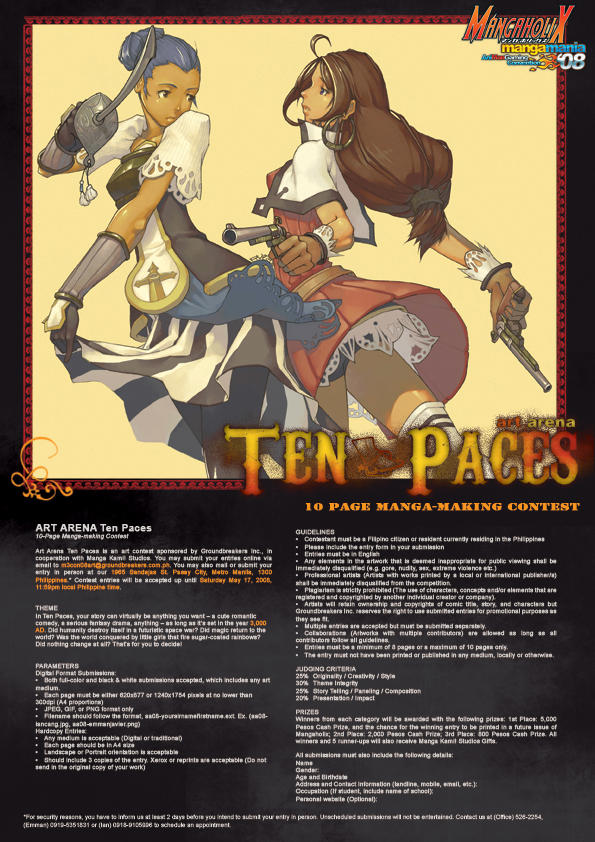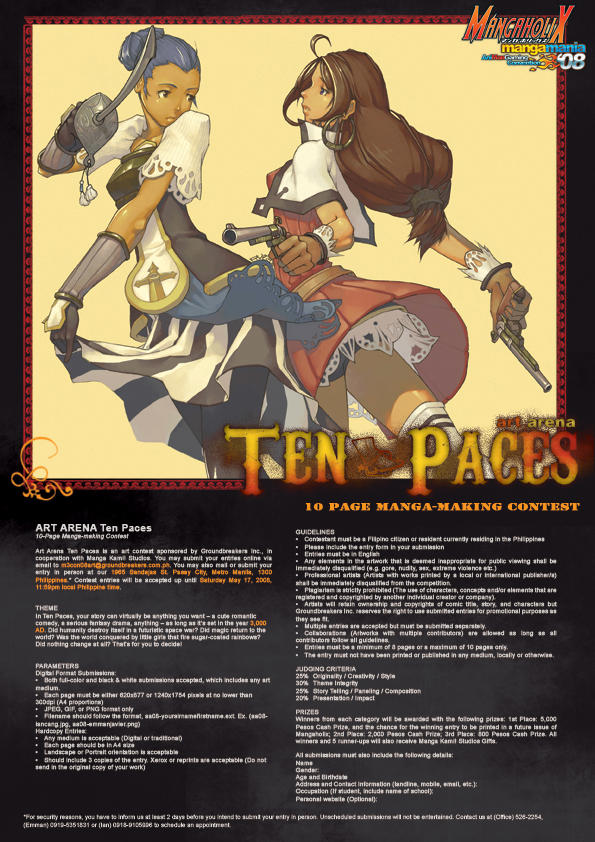 Watch
ART ARENA Ten Paces: 10-Page Manga-making Contest
Art Arena Ten Paces is an art contest sponsored by Groundbreakers Inc., in cooperation with Manga Kami! Studios. You may submit your entries online via email to m3con08art@groundbreakers.com.ph or via snail mail. You may also submit your entry in person at our 1965 Sandejas St. Pasay City, Metro Manila, 1300 Philippines.*
*For security reasons, you have to inform us at least 2 days before you intend to submit your entry in person. Unscheduled submissions will not be entertained. Contact us at (Office) 526-2254, (Emman) 0919-5351831 or (Ian) 0918-9105996 to schedule an appointment.
THEME
In Ten Paces, your story can virtually be anything you want – a cute romantic comedy, a serious fantasy drama, anything – as long as it's set in the year 3,000 AD. Did humanity destroy itself in a futuristic space war? Did magic return to the world? Was the world conquered by little girls that fire sugar-coated rainbows? Did nothing change at all? That's for you to decide!
CATEGORIES
Art Arena Ten Paces is a single all-ages category.
PARAMETERS
Digital Format Submissions:
• Both full-color and black & white submissions accepted, which includes any art medium.
• Each page must be either 620x877 or 1240x1754 pixels at no lower than 300dpi (A4 proportions)
• JPEG, GIF, or PNG format only
• Filename should follow the format, aa08-yoursirnamefirstname.ext. Ex. (aa08-iancang.jpg, aa08-emmanjavier.png)
Hardcopy Entries:
• Any medium is acceptable (Digital or traditional)
• Each page should be in A4 size
• Landscape or Portrait orientation is acceptable
• Should include 3 copies of the entry. Xerox or reprints are acceptable (Do not send in the original copy of your work)
GUIDELINES
• Contestant must be a Filipino citizen or resident currently residing in the Philippines.
• Please include the entry form in your submission
• Entries must be in english.
• Any elements in the artwork that is deemed inappropriate for public viewing shall be immediately disqualified (e.g. gore, nudity, sex, extreme violence etc.)
• Professional artists (Artists with works printed by a local or international publisher/s) shall be immediately disqualified from the competition.
• Plagiarism is strictly prohibited (The use of characters, concepts and/or elements that are registered and copyrighted by another individual creator or company).
• Artists will retain ownership and copyrights of comic title, story, and characters but Groundbreakers Inc. reserves the right to use submitted entries for promotional purposes as they see fit.
• Multiple entries are accepted but must be submitted separately.
• Collaborations (Artworks with multiple contributors) are allowed as long as all contributors follow all guidelines.
• Entries must be a minimum of 8 pages or a maximum of 10 pages only.
• The entry must not have been printed or published in any medium, locally or otherwise.
JUDGING CRITERIA
25% Originality / Creativity / Style
30% Theme Integrity
25% Story Telling / Paneling / Composition
20% Presentation / Impact
PRIZES
Winners from each category will be awarded with the following prizes: 1st Place: 5,000 Pesos Cash Prize, and the chance for the winning entry to be printed in a future issue of Mangaholix; 2nd Place: 2,000 Pesos Cash Prize; 3rd Place: 800 Pesos Cash Prize. All winners and 5 runner-ups will also receive Manga Kami! Studios Gifts.
DEADLINE
Contest entries will be accepted up until Saturday May 17, 2008, 11:59pm local Philippine time.
Contest winners will be announced during the Mangaholix Manga Mania: Animangames Convention 2008.
All submissions must also include the following details:
Name
Gender:
Age and Birthdate
Address and Contact Information (landline, mobile, email, etc.):
Occupation (If student, include name of school):
Personal website (Optional):
Artwork by:
Layout by: