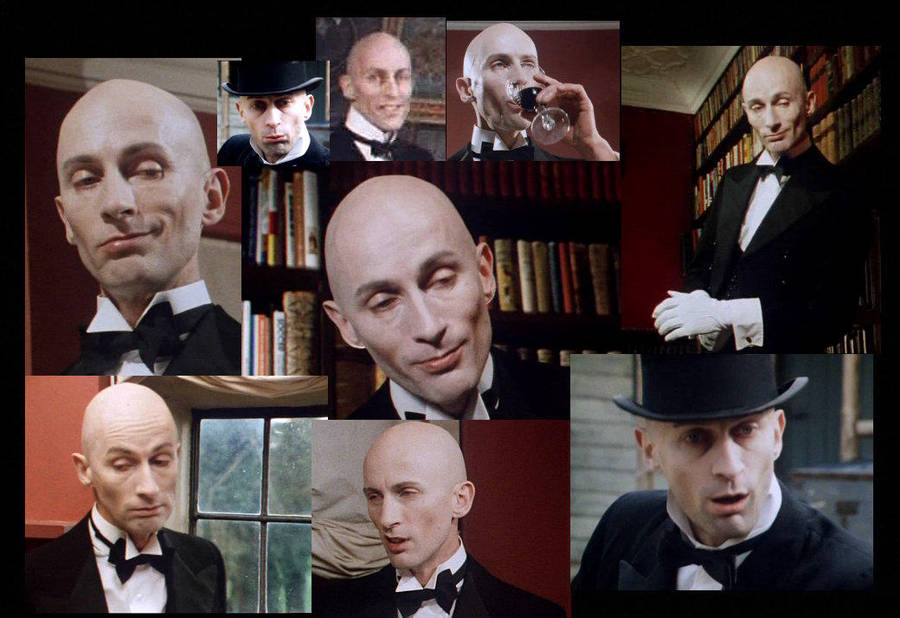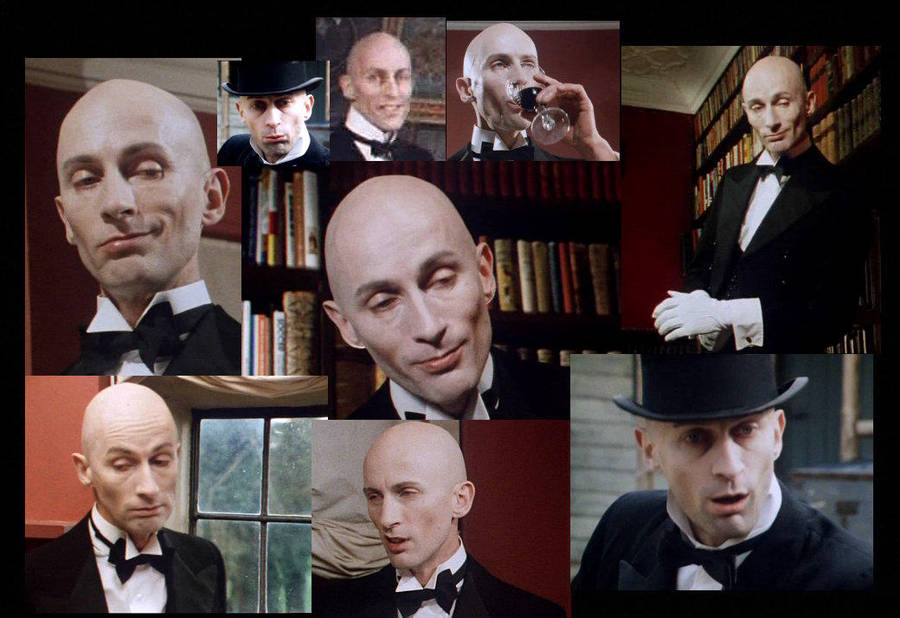 In 1983, Richard O'Brien played Partridge, the faithful albeit snarky butler to Bill Wyman, in an obscure movie called "Bill Wyman's Digital Daydreams". Always up for a challenge, I found this movie first on tape, then on DVD. This wallpaper is made from pictures I capped from the movie!

It was this character that I initially pictured a year ago when I read a certain wonderful Black Butler fic called "On the Road to Love", written by the very talented

. This was before I'd ever heard of Kuroshitsuji, and Partridge was the butler who was in my brain at the time

.
But seriously, folks...is he not sexy?


Wow! Richard O Brien! He's so sexy. I can never find any good pictures of him. Thanks for this.
Reply

He really is sexy!

Well feel free to look at my other Richard wallpapers...I've got lots of good pictures of him!

Reply

Butler, hmm? I have to admit, that this suit is more... appropiate for butler than the one in RHPS.
But Hell, Riff Raff's tux was so much sexier! You know... Open, torn shirt!
Reply

Oh you know it! XD
Yeah, I think Richard's the reason I love butlers....it's his fault!

Reply

Unfortunately I haven't seen Digital Daydreams, however Riff Raff's character, gives me impression, that despite being abused servant, he IS the true brain in the whole show.

Reply

He is! HE'S the one who created Rocky, but Frank took all the credit, and whipped him!

At the end, when Riff screams, "THEY DIDN'T LIKE ME! They never liked me!".....I just want to hug him and say "awww, I like ya, Riff!".
But with he mood he's in at the time, he'd probably shoot me

.
Reply

You know, I'm usually very calm and under control but sometimes certain things can drive me crazy. Example: when various people on internet are claiming Frank's a genius scientist. Ge... WHAT?! Or when they're cursing Riff Raff for killing his master. Frank was quite charming but for f**k sake, he deserved everything he got! Only Columbia and Rocky were innocent but Riff was very nervous and frustrated at that moment, so he wasn't "in control" as he usually was.

Reply

I agree with all of this! Finally someone who agrees with me! *laughs*
Frank was not a genius...

...and he wasn't "sweet" all the time. Sheesh, if I'd been Janet I might have been too scared to have sex with him after seeing him kill Eddie like that

.
Oh god, poor Riff! He was a nervous wreck at that moment, and I think he only killed Columbia because she chose THAT moment to scream and startled him.
Reply

That's right... He was an emotional wreck at the end of the movie - you can't blame him that he got all paranoid when Columbia gave that bloodcurdling shriek (sorry, Columbia! I still like you!). And if you look closely, you can see the trace of tears on his left cheek. Poor, poor guy...
Reply

Aww yeah the tear! That tear, I want to reach up and brush away that tear. Poor Riff!

He's been hurt so badly!
Reply

Reply

oooh victorian times. ahh really? XDDD hmm....*tries to picture him in the story*
Reply

Actually the movie "Digital Dreams" took place in present day...which, at the time, was 1983

XD yeah!.....is the picturing working?

Reply

My goodness that's a nice looking bald man.
Reply