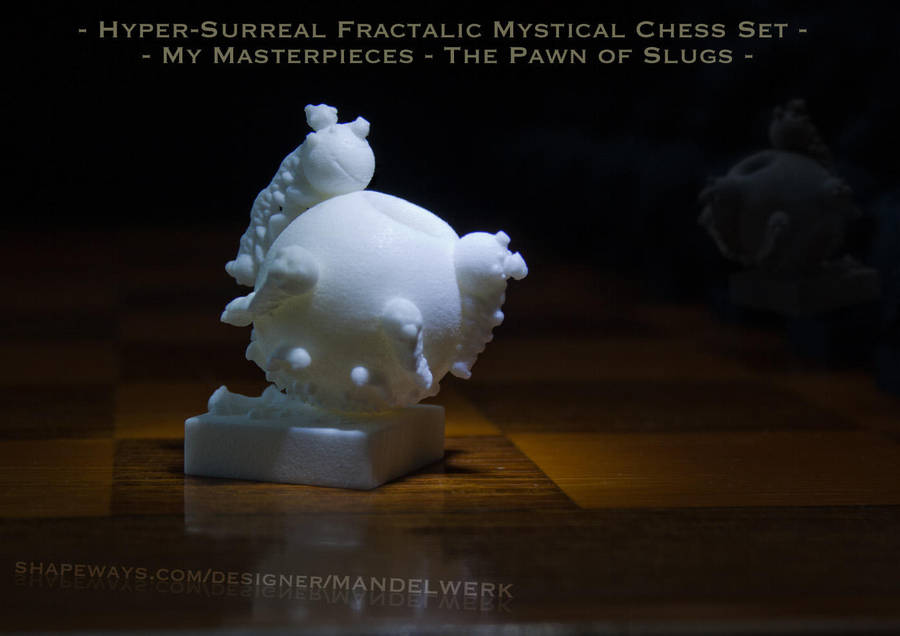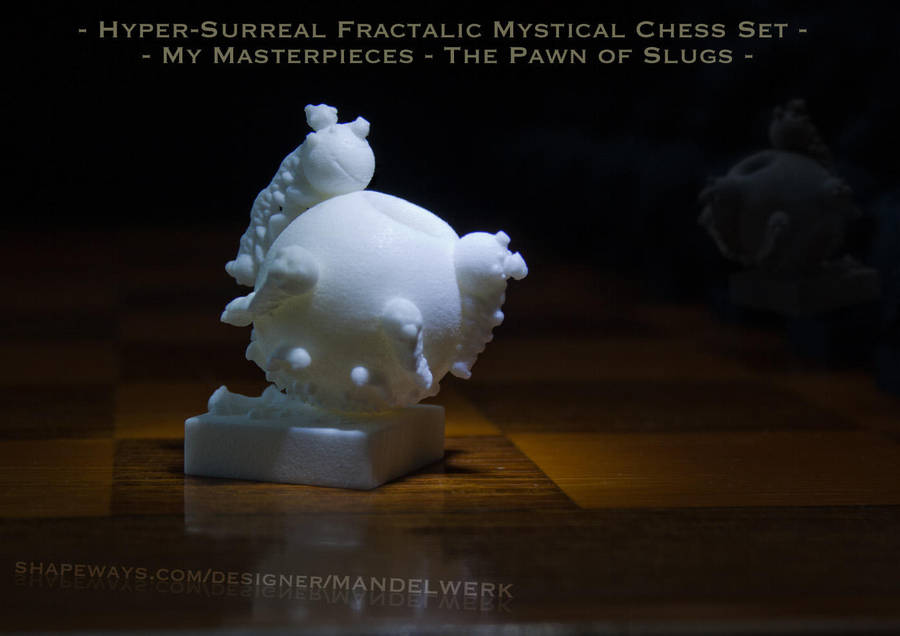 This is not just a chess piece - this is a piece of art - this is a Masterpiece! - this is:
- The infinitely replicating slugs of ignorance - Pawn of Slugs


From my 3D printed 3D fractal chess set,
the Hyper Surreal Fractalic Mystical Chess set - My Masterpieces
shpws.me/BCW4

The Pawn
is taken from my image "The infinitely replicating slugs of ignorance and the false revelations induced by their phlegmatic movements"
My surreal mind + 3D fractal formulas > MB3D > Fiji > Meshlab > Blender > Netfabb > Shapeways > Your chess board


Read all about this piece and the full set at Shapeways:
shpws.me/BCW4

Very cool pawn

Reply

Glad you like it Patty!

Reply

nicely done

Reply

awesome!

Reply

Is there a file for this so I could print it? Anyway. It's a really interesting concept.
Reply

If you follow the link above you can order a print of it.
Glad you like the concept Jacob!
Reply

Reply

Really nice. The print lines definitely add an interesting texture. Though if you want a bit more detail, you might have to print it bigger.

Pretty sweet though.
Reply

This is a Pawn in a chess set, so it cannot be bigger, and I can assure you there are no visible print lines IRL (actually I do not even see any on the blow-up image above

)
Glad you like it Trish (I can reveal that I have a bigger sculptural version of the slugs in the pipeline)
Reply