This is a journal cover that I made by painting the colorful design you see here on Bristol paper and then attaching it to the front cover of a blank journal/sketchbook. Really easy to do and I posted a Youtube video on how to make a little painting such as this. Here is a link to the video that shows you how I go about creating something like this.
youtu.be/eP6AgnDHH8U
This is the project shown in the video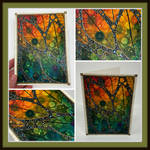 It is easier than you think!
I post the items, made in my videos, in my Etsy shop if you are ever interested. Here is a link to my shop
www.etsy.com/shop/MandarinMoon
I own the copyright to this image, and it may not be used in any way, in part or in whole, without written permission from me.
Image size
2934x2935px 2.78 MB
IMAGE DETAILS
Shutter Speed
1/122 second
Date Taken
Feb 6, 2020, 4:11:39 PM