This question is always being asked on DeviantART--mostly by young, aspiring artists who really think they want to become a great, professional anime/manga/cartoon artist when they get "good enough".
The matter of the fact is that, no matter how much you try to be good at a style, regardless of how much you practice and how often you draw it--it'll never look right.
UNLESS
you study realistic form and proportion first.
Learn how the human body really looks and really works before you try to stylize it.
The best way to do this is to find out if there are any Figure Study classes being held in your town or city. A lot of places will have these sessions where anyone can come in at a certain time and draw nude models that will sit and pose for any artist who attends. These are perfect for learning the realistic human form. As long as you draw them as you see them and try to figure out why things are the way they are.
In short, figure studies are how artists dissect a human being with a sketch book and a pencil ;]
If there are no figure study sessions being held within your area, or you think you are too young to look at nudes at all
(you'll need to learn to get over the censorship at some point
), then the solution is to go to a crowded public area (every town or city has at least one!) and do speedy sketches of the people you see around you! It's the second best option to figure study sessions.
At the same time, it does help to buy anatomy books.
Toss those "Learn how to draw Anime!" or "Anatomy for Anime Artists!" out the window! Most of those do more harm to budding anime/cartoon artists than good. I know from experience--it took me for EVER to unlearn all that garbage. Even the "how to draw" books that are decent explain right at the beginning that you still need to learn real human anatomy.
Now--what you want is a REAL anatomy book. Books titled "Atlas of Human Anatomy" are generally the most promising and can normally be found in any book store--online or in your local mall.
To be honest, your figure drawings, and anatomical studies might look awful at first--and may still look like your cartoon drawings. But don't be discouraged, pretty much everyone these days starts off like that ;]
As you observe, learn, and understand more, it'll start showing in your results.
While you embark on learning about the realistic human form, you can still go ahead and draw some anime or cartoons--I know it's boring not to. But try to balance it out--don't do an abundance of anime/cartoon drawing, and one or two figure studies or you probably won't see much of an improvement in either area.
The more figure studying you do, the better your figure drawings get, the better your anime/cartoon drawings get.
That's the key to doing great anime/cartoon art! That's what the professionals do. And even as professionals, they still do figure studies and life drawings. They'll never stop--and that's what's highly recommended for you to do as well.
if you want an example of how effective this advice is, let me show you a personal example of my own:
This is what I drew like before I began doing figure studies and drawing from life:
img.photobucket.com/albums/v10…
img.photobucket.com/albums/v10…
img.photobucket.com/albums/v10…
Then, after struggling with improving and not getting anywhere, I started studying the real human form, and drawing from life--and--well, perhaps you can see the improvement for your self:
manamaraya.deviantart.com/art/…
manamaraya.deviantart.com/art/…
manamaraya.deviantart.com/art/…
And I've still got a ton to learn yet! I still fill sketchbooks up with figure studies and life drawings, and I won't ever stop--since I know as soon as I stop, my improvement will slow down tremendously. As an artist, I want to improve as fast and as much as I can ;]
For those of you who are unsure of what figure studies are--and what it means to draw from life, here are a few examples: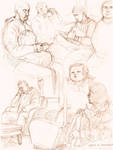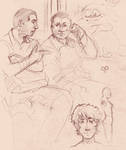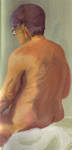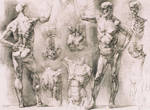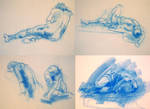 Trying to stylize anything without first knowing how it realistically works--is like trying to do long division without knowing addition or subtraction. No matter how hard you try, without that fundamental knowledge, your final result will never look quite right.
Hope this helps some of you guys out! :]