LAST UPDATED 2/11/19
Updated to overhaul the rules, content, and language/tone.
Literally, EVERYTHING was updated!! Read it all!
Ambrivans and their subspecies (Haaloman and Seresans) plus canon pets (Scrouse and Vipwings) are an OPEN original species!
What can you do?
-- make your own (MYO) OC using the available trait sheets and lore.
-- participate in events as much or as little as you want.
-- adopt an existing OC (most of which are FREE (by
MamaLantiis
) or OTA).

Free Ambaran AdoptsThis is an open species! Please read the rules! We do enforce them - if you have questions, concerns, or want to discuss your adopts and their futures with us, note

MamaLantiis



RULES
Review: TOS: Ambrivans, Haalomans, Seresans, and Pets
You agree to those rules when adopting an Ambaran OC.
Comment that you want the adopt in the deviation comment area.
Pets

...


Babies
...



Ambrivans

...
Seresans
...
Haalomans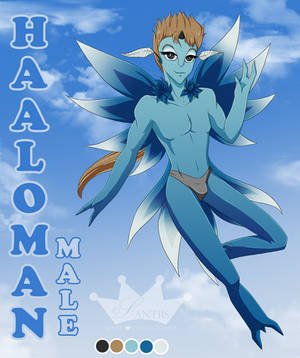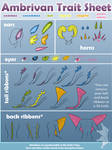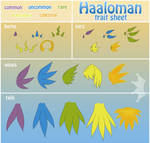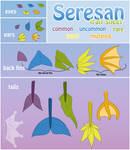 What can't you do?
-- cannot ad lib your own traits - follow the trait sheets!
-- may NOT claim the species as your own - always credit
MamaLantiis
for the species!
-- may NOT create a ROYAL OC of any variety.
-- may NOT make babies or pets without an existing adult OC.
What do you own with your premade adopt or MYO?
-- regular adopted OCs are yours.
MamaLantiis
gives up her rights to them (exception: you cannot make $$$).
-- royal adopted OCs I retain some rights to as royal OCs get written into canon lore.
-- MYOs are yours. We have no rights to these OCs.
You don't want your OC(s) anymore. What do you do?
-- rehome your premade adoptable OC through the group (will go into the free adopt journal - not for royals).
-- for MYOs, sell your OC for up to $5/500pts or less ... or for $10/1000pts OTA payments or less.
-- you are free to trade and gift any OCs except royal OCs.
So, can you create adopts?
YES! Do not sell for more tha $5/500pts though! This is an open species, and people can make their own!! ALSO!!! In your deviation description, LINK THE FOLLOWING:
Ambrivans (et al) by MamaLantiis
Please Join AmbrivanSociety
RULES HERE: TOS: Ambrivans, Haalomans, Seresans, and Pets
What are special about admins?
-- can kick people from the Discord and Group.
-- can publicly revoke any Ambaran creation (retire your OC(s) and block you from the group/Discord).
-- have first dibs on all royals and get them for free! Can also MYO their own royals!
What if you block or are blocked by the CS Creator/Owner/Group?
OR what if you decide to leave the CS and take your OC with you?
These are the steps that can/will/need to happen...
FOR MYOs:
-- bye.
-- your adopt will be retired and not used at all.
FOR PREMADE ADOPTS:
-- follow your adopt-maker's guide! For
MamaLantiis
THIS IS THE GUIDE!
-- remove all mention of
AmbrivanSociety
...
-- your adopt will be retired but may be used as an NPC in the group/Discord by an admin.
***
see note below!
FOR ROYAL ADOPTS/MYOs:
-- follow your adopt-maker's guide!
For
MamaLantiis THIS IS THE GUIDE!
-- change 25-50% of the coloration of the adopt - new version
MUST
be somewhat different than the original adopt for you to continue using the adopt outside the group.
-- remove all
AmbrivanSociety
specific traits for the species and replace with something else. Again, this is a
MUST
.
-- remove all mention of
AmbrivanSociety
... This is a
MUST
.
-- once approved by an admin, you may use your new character without credits to the adopt-maker or group.
-- the now freed-up royal adopt may be 1) adopted back out to continue canon storylines, 2) retired and used as an NPC, or 3) permanently retired - the decision is up to the discretion of the adopt-maker and group admins.
***
for premade adopts, if your OC is in stories/ships/family/etc with another member and your OC is retired, if they want to keep those connections, we will come to you and ask permission to use your OC as an NPC. If you say no, that is ok and we will not go against your wishes - this clause is just there so you know a possibility could arise where we might come asking about this.