Ambrivans, Seresans, Haalomans, and Scrouse are an original species created by me, Lantiis aka E. Whittaker.



Haaloman Physiology and LorePhysiology
Haalomans are shorter and light-weight with semi-hollow bones. Their petite stature ranges from 3' 5" tall to 5' tall. They have clawed hands and feet for perching and grabbing onto rocky terrain. All of them have ruffed neck feathers as well. Males and females can have feathers coming off their ear-holes (they do not have protruding ears). Haalomans also do not have noses - just nostrils under a hardened flap of down skin. Females have visible breasts but no nipples. Males also have no nipples. Males have a bony protrusion to allow for inseminating females. Females lay up to 3 eggs. Haalomans are direct descendants of Ambrivans, and have similar anatomy for their body. They excrete waste from their body through a hole in their pelvic region near their reproductive organs.
Haalomans age fairly slowly. After hatching, younglings won't get their feathers or flight wings for a year. Then it is another 3 years before they age to adulth

Random Visuals from Assorted Haalomans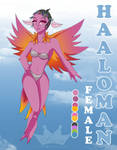 NOTES

CELESTIAL RARITY GLOWS AND IS MADE OF LIGHT.
Tails can be as long/short as desired; as floofy/flat as desired.
Crooked horns can be mildly crooked to wtf crooked - you get to pick.
Please join
AmbrivanSociety
and our
Discord
if you adopt a Haaloman.
You may change hairstyles and the name of your adopt.
You will get a transparent un-watermarked image as well.
For OTA payments, payment musts be received within 30 days or the adopt goes back on the market.
For auction, raffle, and other pay-for adopts, funds must be transferred within 48 hours or the adopt goes back on the market.
MUTATIONS
contact iLantiis - up to $5/500pts each

Any mutation to a specific trait ups it's rarity level to the next category - example: if you mutate the uncommon horn to look different than what I have pictured, it becomes a rare horn. If you mutate a CELESTIAL trait, your OC gets the Twilight rarity (Twilight Haalomans can fly in and exist in SPACE - they can have twinkling stars on their wings/bodies as well). IF you create a new trait for your OC, that trait starts at COMMON and can be further mutated to increase it's rarity (yes it will cost up to $5/500pts each time you mutate it).
The ONLY way to get a Twilight Haaloman is by mutating a Celestial trait!
COMMON
Small Single Horn
1 Feathered Ear
Tri-Wing
2-Split Tail
UNCOMMON
Triple Horn - One taller than others
2 Feathered Ear
Quad-Wing
3-Split Tail
RARE
Triple Horn - One crooked
3 Feathered Ear
Floofy Feathered Wing
4-Split Tail
LEGENDARY
Triple Horn - All crooked
Floofy Feathered Ear
Angel Wings
5-Split Tail
CELESTIAL
Single Horn in Circle
Light Wing Ears
Light Wings
Light Wing Tail

© Lantiis
All Rights Reserved
Facebook | Website | Toyhou.se
Image details
Image size
912x875px 106.18 KB