Ambrivans, Seresans, Haalomans, and Scrouse are an original species created by me, Lantiis aka E. Whittaker.



Ambrivan Physiology and LorePhysiology
Ambrivans are short, about 3'5" to 4'5" for females and, on average five inches taller for males. Adult petite or lean Ambrivan females weigh around 180 pounds, athletic or muscular female Ambrivans weigh around 200 pounds, and while not common, over weight Ambrivans do exist (males weigh 20-30 pounds more than females on average). Ambrivans can live for 150-180 years on average, with 1-20 being young, 21-50 being children, 51-80 being teenagers, 81-120 being adults, and 121-180 being elderly. Most Ambrivans do not live past 180 (tho some do - the oldest on record was 200).
Ambrivans are stout and do not injure easily. They jump high, run fast, but are clumsy in water without special training. They are hardy and do not suffer in the cold like some creatures do tho they overheat easily in the summer and fall. They get claustrophobic easily - they prefer wide open spaces... tho some have overcome this and work in mines or live in forests. Most Ambr
For Rarities not Pictured:
Gem Colors
C
1 Color (only elemental)
U
2 Colors (only elemental)
R
3 Colors (only elemental)
L
4 Colors (only elemental)
A
Rainbow (all elemental powers)
GS
Heaven's Gems (all elemental plus your choice of Superior Magic - can choose to have only the superior color visible)
NOTE:
GS is the only rarity allowed to have healing powers (period).
Gems do not have a specific shape but are wild and uncut like in nature.

UPGRADES to GEMS/MAGIC

$1/100pts for Elemental or $2/200pts for Superior.
OFFICIAL Add-ons
- NOT mutations!!
($3 US or 300 points each)
L
Tail-tip Glow
L
Gem Glow
L
Horn Tip Glow
A
Marking Glow
A
Body Sparkles
A
Access to Combined Powers (1 per purchase)
GS
Transparent Ribbons or NO Ribbons
GS
Crystalize your horns
GS
Change your gems to a specific shape (diamonds, hearts, stars, etc)
For Mutations:
By purchase only. Contact
iLantiis
for details - give a thorough explanation of what you are wanting to get or do. Cost maxes out at $5 US or 500 points.
PLEASE NOTE
Any mutation to a specific trait ups it's rarity level to the next category - example: if you mutate the uncommon horn to look different than what I have pictured, it becomes a rare horn. If you mutate a GS trait, your OC gets the Radiant rarity (Radiant Ambrivans have access to all the magic plus an additional user-created special ability or magic OR have the option of adopting the Royal Bloodline). IF you create a new trait for your OC, that trait starts at COMMON and can be further mutated to increase it's rarity (yes it will cost up to $5/500pts each time you mutate it).
Current as of 11/18/2018
A complete trait set no longers achieves Radiant rarity!! You must mutate a GS trait. Since you can make your own Ambrivans, I no longer allow for trait changes once your OC is done - you will have to use the mutation option to alter your OCs appearance.
SPECIAL NOTE
Ambrivans made before the changes to this chart are grandfathered in at their created rarity (INCLUDING ANY RADIANT AMRBIVANS) unless the owner wants to make changes. Changes do not have to be made.

Random Visuals from Assorted Adopts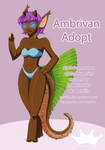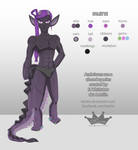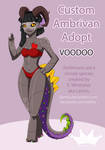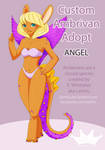 NOTES

Rare and higher ears have a secondary color that may or may not be present.
All ribbons fold and move easily - tho they are strong and do not tear easily.
Please join
AmbrivanSociety
and our
Discord
if you adopt an Ambrivan.
You may change hairstyles and the name of your adopt.
You will get a transparent un-watermarked image as well.
For OTA payments, payment musts be received within 30 days or the adopt goes back on the market.
For auction, raffle, and other pay-for adopts, funds must be transferred within 48 hours or the adopt goes back on the market.
COMMON
White Sclera Eyes
Dog Style Ears
No Horns
1 Tail Ribbon
No Back Ribbons
1 Color Gems
UNCOMMON
Black Sclera Eyes
Cat Style Ears
2 Small Horns
2 Tail Ribbons
No Back Ribbons
2 Color Gems
RARE
No-Sclera Catlike Eyes
Rabbit Style Ears
2 Tall Horns
3 Tail Ribbons
Single Back Ribbon
3 Color Gems
LEGEND
Glowing Alien Eyes
Bird Wing Style Ears
Large Ram Horns
Full Length Tail Ribbon
Double Back Ribbons
4 Color Gems
ANGELIC
Crystallized Eyes
Butterfly Wing Style Ears
3 Horn Crown
Half Sail Tail Ribbon
Half Sail Back Ribbon
Rainbow Color Gems
GENETIC SUPERIOR (GS)
Third Eye any style Eyes
Elven Style Ears
5+ Horn Crown
Full Sail Tail Ribbon
Winged Back Ribbons
Heaven's Gems

© Lantiis
All Rights Reserved
Facebook | Website | Toyhou.se

Image details
Image size
2320x3088px 1.46 MB