On Saturday, August 19th 2017 the gates of the Czequestria opened and for me it was a rather interesting experience to be inside the gates at the time. On the one hand I was permitted in because I had to hand in the
Origami Libussa
for the Charity auction and on the other hand I was going to offer my "My little origami panel" which I had previously held at the GalaCon.
The decision to go to the Czequestria had been a rather late one (mid to late July 2017) and it had been because a different holiday planned at the time had been cancelled. Therefore it was very much of a last minute offer when I asked the organizers of the Czequestria if I would be permitted to hold the panel there too.
I'm grateful I got the permission and my little origami panel was included in the long planned and prepared "papercraft is magic" workshop of the Czequestria.
Some people want to compare different conventions (e.g. GalaCon and Czequestria) to ends along the lines of which one is "better". I think that is absolutely futile and like comparing apples and oranges (what would AJ think of that figure of speech?).
I love both conventions!

Apart from the LARP (the awesomeness of which I already laid out
here
) I was particularly impressed with the many creative workshops at the Czequestria, "Papercraft is magic", "Cupcake decorating contest", "Figurine Decoration contest", "Horseshoe of Memories" and the "Wall of Memories" were all really awesome ideas and in spite of a rich programm the Czequestria left enough time to take part in and enjoy these workshops (though I have yet to finish painting the wooden horseshoe which I started painting during the "Horseshoe of Memories" workshop

The "Figurine Decoration contest" (recoloring Blindbag figures to get figures of OCs and the like) in particular was really interesting and I am now trying to start a similar workshop during our regular bronie meetups in Cologne.
The merch and the art was very affordable (usually I have to be rather penny-pinching at conventions, but at the Czequestria I could get some beautiful things).
I enjoyed the M.A. Larson panel very much, though I have to watch the end of it on
youtube
since I had to leave a bit earlier to attend one workshop. He told some interesting aspects about episode 100 and I was particularly hooked by the many scenes that he described that were planned, but not realized (in many cases because the jokes were "insiders" that non-bronies wouldn't have understood). It was a bit of a pity that Mr. Larson could be present via call only rather than in person. I had an elaborate Rarity origami prepared for him (I think he mentioned her as a favorite character), but I think I found someone else whose generosity made him the perfect keeper of a Rarity origami. One of the artists in the vendor zone on the lower floor had a sign on his table offering his marvellous art on a "pay what you want" basis explicitly stating that this offer included not paying anything at all. I sneaked the Rarity origami onto his table. I only hope that he actually got it, for later on it occured to me that perhaps someone may have mistaken it for a part of the artist's offer rather than for a gift to the artist.
I could give a Pinkie Pie origami to Lenka Debnárová, the Slovakian voice actor of Pinkie Pie. Unfortunately I missed the voice actor panel (so many creative workshops...

), but I was really happy when I was told later on that she had mentioned the origami during the panel.
The guests of honor were very approachable. During the signing session I made a point of giving every guest of honor a pen in a different color so I got a rather colorful signature card now (and with some amazing calligraphy too).
But a convention wouldn't be a convention but for the many awesome visitors to meet there. I cannot list everyone of course, but for example there were two awesome cosplayers of Pinkie Pie and Rainbow Dash who were very interested in origami folding.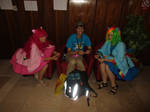 Before the end of the Czequestria I saw Rainbow Dash teaching somepony else how to fold and origami pony

And then there was also

who cosplayed the Smooze.
On the second day of the Czequestria I attended the Comic Panel of