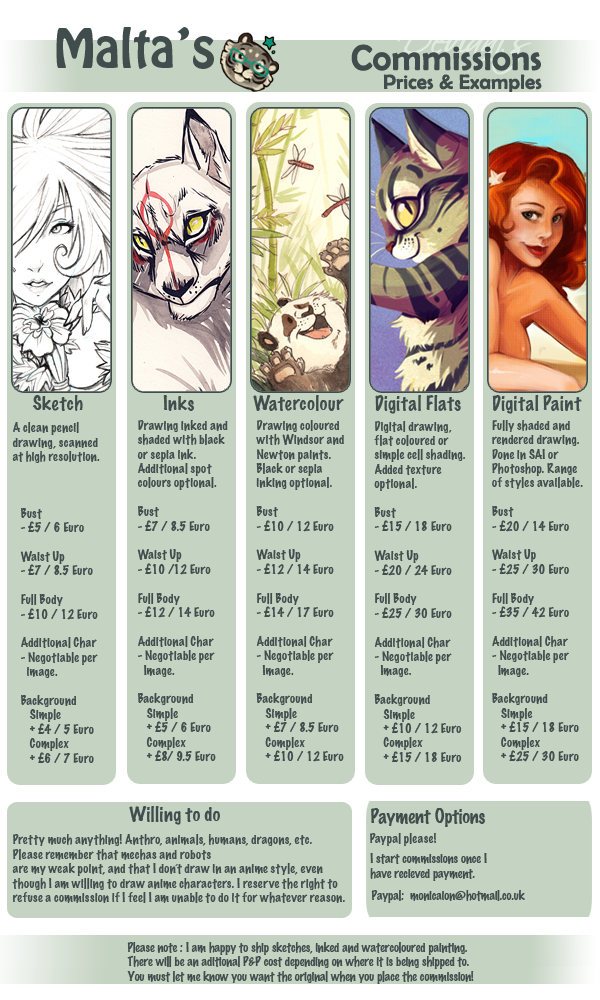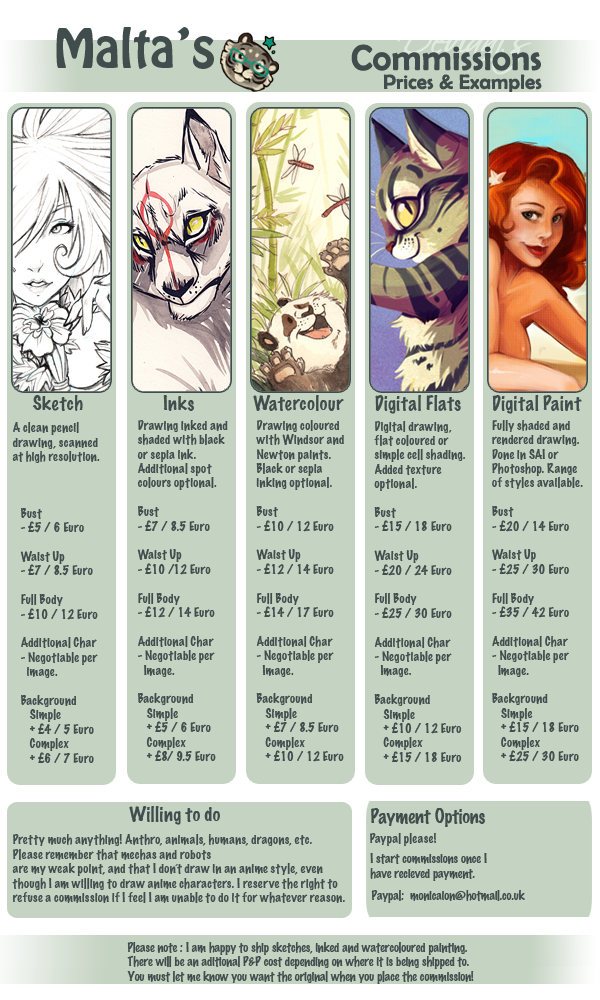 Watch
Woo I finally managed to sort out some prices and organize myself to be able to do some commissions!

I'll keep my status as to wether they're open or closed on my journal, as well as some extra information.
PLEASE DON'T POST ASKING FOR A SLOT IN THE COMMENTS OF THIS IMAGE. ANY SUCH POSTS WILL BE IGNORED.
Going to go make the journal page now :3
yaaaay.
Oh and the first image in the previews is from something I haven't posted yet. CHEEKY WIP I KNOW

Template by =Yukian, you can find it here:
[link]

Do you ever take point commissions? I'd be willing to pay points for a commission, I just don't have money to spend. D: Your art is beautiful by the way.

Reply

hi mon! i was wondering if i can commission one drawing. ink one. a character. you very good in inking and i love your style. i can pay u! obviously! i was thinking to do a full body of the character (u can see how it looks from the drawings in my deviant art), the one called Nishikawa. Is it possible for you to draw him sitting (no important where) looking suspiciously but worried too, with the hands that hold each other near the legs? i would like to show you how, coz as you know i am not great in english much.... how can I talk to you about the commission?
Reply

Hey! You can chat to me on facebook, it might be easier to explain it there

You can also try some parts in italian, I understand a bit of it (as long as you speak like you would to a child, then I'll understand xD)
Reply

Ow dear, i might even want a nice comission for my birthday. It will be a while, but something to look foreword to

Reply

You strange people and your thumbs up.
Wherefore ever did you find such an icon?? I have been all over the internet AND NEVER HAVE I SEEN SUCH AN ICON.
I'm feeling derpy for some reason.

Reply

it's the facebook "likes this" thumb!

Reply

I know xD I was being sarcastic, lol.
Reply

Derpy is good. C: I CAN DIG THAT.
I will (hopefully!) be able to commission you soon.

We'll see where I am financially at the end of the week. XD
Reply

OoooOOOOOooo :3 I look forward to that!! I can reserve you a slot if you like?
Reply

Oh, if you don't mind? I'd love that.

I'll let you know this weekend whether or not I can afford one right now. Thank youuu!
Reply

Done

Let me know yeah! Don't worry if you can't, I know finances are tight at the moment. I'm moving back to my mum's soon because of everything being expensive D:
Reply

Note sent!

Oh no, that sucks man. D: I'm sorry! At least you have someplace to move back to, though. I know a few people who're in the same boat. It's no good. :c Hope everything works out for ya~
Reply

Thanks <3 It should be ok, at least all my money won't be going on rent anymore, and I can save up and travel a little bit as well! I think I'll be doing some hardcore commission work too, well at least I hope to

Reply

I lol'ed

and omg I didn't have time to colour your icon xD I will do it and you can have it anyway!! Contest or not.
Reply


thank you baby doll

Reply