What can I hope and what can I tell? Dare my steps or break the spell?
Dreams and words and worlds untold. Are they lost or just hard to hold?
# Yeah. Yeah. I shouldn't try to write anything even remotely resembling poetry.

#

I'M A FAN OF THE BUILDING-VERSE!!!!!!


.oO( Jareth! :thumb146995490: )

.oO( Der Erlkönig!!!! )

Also proud member of the "Oh No! James!" Club -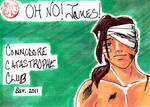 Also... if someone would like to give me a gift:
My DriveThru RPG wishlist

Favourite Visual Artist
Zsilvölgyi Csaba (Max), Kazuma Kaneko
Favourite Movies
Labyrinth, The Crow, Last Unicorn
Favourite TV Shows
House MD, CSI
Favourite Bands / Musical Artists
Blackmore's Night, Nightwish
Favourite Books
Die Unendliche Geschichte, Good Omens, The Dresden Files
Favourite Writers
Mark Twain, Terry Prachett, H P Lovecraft
Favourite Games
MegaTen Series, Geneforge
Favourite Gaming Platform
PC. You can emulate anything on a good PC.
Tools of the Trade
Mechanical Pencil, Paper, GIMP
Other Interests
Role-playing games, anime / manga, cartoons / comics, Contact Juggling, History, Esoteric traditions