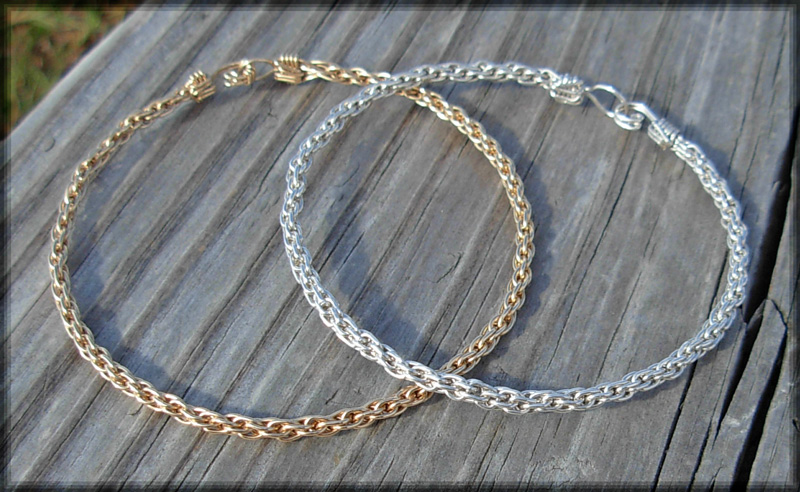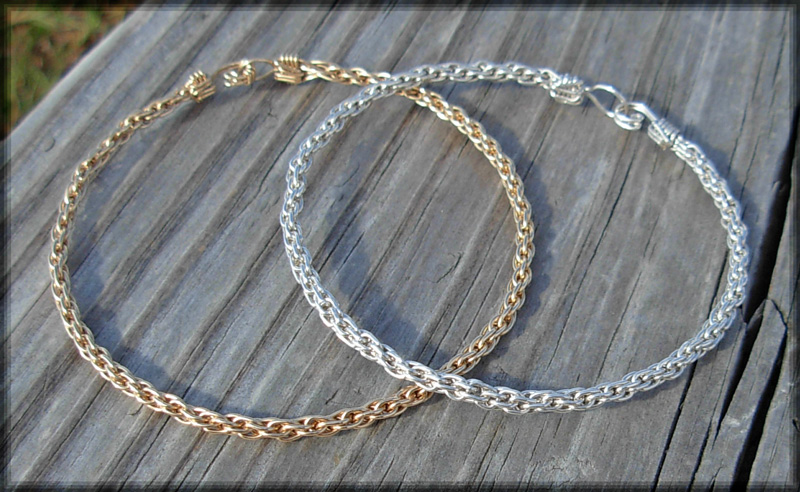 Watch
I just posted pics of them separately, but I like this picture, too!

These bracelets are hand-woven, one strand at a time, similar to the way a Kumihimo "Friendship" bracelets are made.
The difference is that I use Gold and Sterling Silver wire, instead of string.
So, while they look like chain, they are actually quite firm in their shape.
It's approx 7-1/2" and 8" around, and 1/8" wide, each is made from 7 strands of 22 gauge wire.
This, and many other items, may still be available in my ArtFire Gift Shop at
majortommy.artfire.com

Great work! What softness was the wire that you used for this project? (Half soft, dead soft ect...)
Reply

Still waiting for a tutorial on these

Reply

Well done!

Reply

Thank you!
I loved these so much, I just made another in blue, deep blue, and green enameled copper. And another similar one, but using a different Kumihimo style, in pink and rose. I should have some pix up soon.

Reply

They're beautiful! Love the texture! I'm so glad I know how people do these now.

Reply

Thank you!

There are other ways, and weaves, of making bracelets that look quite similar, but I really like this style, because it makes a "solid" braid, instead of a chain-like braid.
Reply

Amazing evenness and precision, and the knotted texture is beautifully tactile!
Reply

They're beautiful. Can't imagine working with that much wire in that small a project.
Reply

Thank you!

Yeah, I was kinda surprised it came out so thin. But I was pretty happy with the result!
Reply

Reply

Reply