OOC Original Species Info:
Imaginekos are a semi-open species: MYOs are free, but there are rules which must be followed.
[Imaginekos] Free MYOs
Imagineko species RULES
Imaginekos exist in an Open Universe, which means they can meet your other characters.
Basics:

Imaginekos are catlike magical beings.
They are kind, loyal, compassionate, playful, friendly and silly.
They are very catlike:
Despite their feline appearance, they are herbivores and are strictly nonviolent. They also can photosynthesize like plants can.
They hatch from eggs. The eggs seem to come out of nowhere, formed from pure magic (Imaginekos do not reproduce, and although they usually have pronoun preferences, there is no biological basis to their genders). Usually, the eggs hatch when somebeing promises to look after them. Sometimes, the eggs hatch too early, which is why sometimes there are adoptable kittens.
They make excellent pets or familiars for kind beings. They do not care what species or gender other beings are. What they care about is kindness, compassion and respect (they care
who
you are, not
what
you are).
Once they have formed a strong emotional bond with someone, they can contact them telepathically.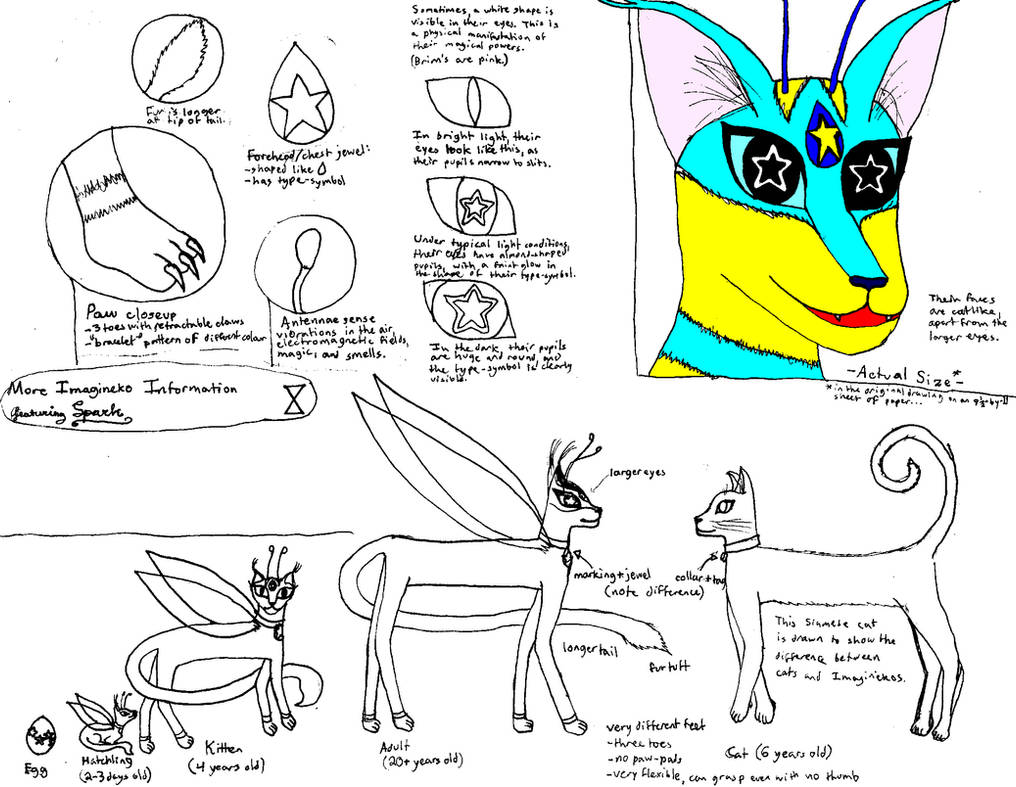 Size, stats, etc.:
Average egg size: they have a mass of about 80 to 100 grams (weighing a fifth of a pound), although they can be as small as 60 g or as large as 120 g. Rarer eggs are typically smaller, due to less available magic. This doesn't harm them in any way.
Average adult size: they may have a mass of as little as 2 kilograms (5 pounds, like a very small Siamese cat), or as much as 8 kg (18 pounds, like a large Maine Coon cat), or anywhere in between. An Imagineko outside this size range is unusual, but not impossible.
Piun
, for example, probably only masses about a kilogram-and-a-half. This doesn't affect their health in any way.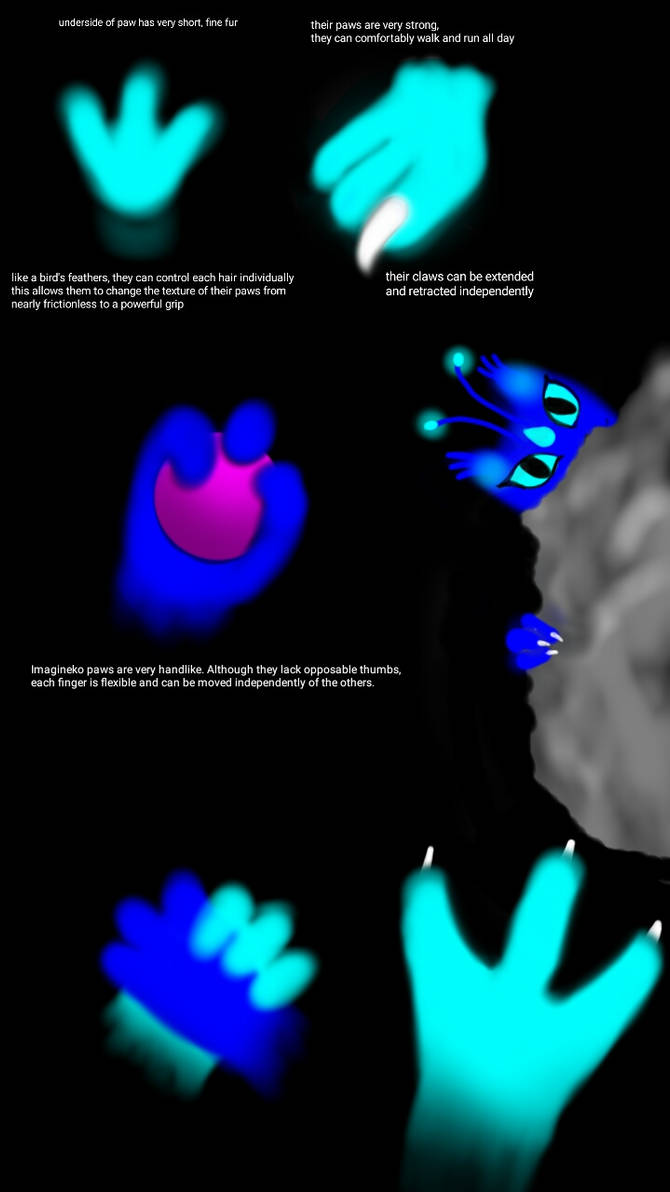 Their knee joints can bend more than 180 degrees. This added flexibility helps them climb stuff, as well as switching from a quadrupedal (normal) posture to a bipedal (upright) posture for short periods of time (it's not easy and they get tired very quickly).
Imagia:
They come from another planet:

Imagia, the Imagineko Homeworld
The Imagineko home planet is called Imagia.

Solar system: (obviously not to scale)


A rotating globe of Imagia, with north at the top:


Various map projections:

Imagia has five major continents, many small islands, and small icecaps. (The northern polar icecap is larger than the southern polar icecap because it actually has a continent underneath.)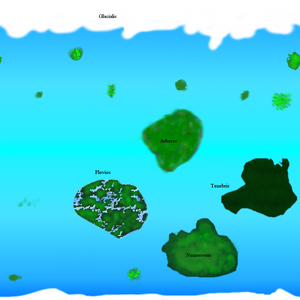 The continents are called Glacialis, Flovios, Tenebris, Nemorosus and Arbores.

Glacialis is under the northern polar icecap. It is a beautiful place, but since it is covered in ice, there is almost no plant life present, and therefore not much for Imaginekos to eat. Those few Imaginekos who do live there have to make frequent tri
Imagia.
There are five major continents, small polar icecaps, and countless tiny islands.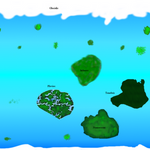 The spacetime around Imagia is kind of weird and full of wormholes leading to the dimension inhabited by
Chemikitties
.
Senses:
Imaginekos' senses are highly developed. In addition to sight, hearing, touch, smell and taste, their antennae can detect electricity just like sharks can. They can see a much wider range of the spectrum than humans can, from infrared to all the way through ultraviolet. (Click here for more information on
Imagineko Eyes
) Their ability to see by infrared also allows them to "see temperature". Hearing-wise, they can hear everything from a bat's echolocation squeak to an elephant's deep communication rumble. Their sense of smell, while not nearly as good as a dog's, is still much better than a human's. The tentacle-like feelers on the tips of their ears allow them to feel vibrations in the air.
Communication:
Imaginekos make a variety of sounds, depending on their emotions. When content, they mew, chirp and click. When extremely happy, they purr, much like a cat. When sad, they whimper like a puppy. When angry, they hiss, growl and snarl. They have a sense of humour, and they do laugh. It doesn't sound like human laughter, though, more like a buzzy purr. They are also telepathic with anyone with whom they have an emotional connection.
Imagineko Facial Expressions
Personalities:
Obviously, they are all individuals and they vary, however, they also are all Imaginekos, and there are certain things they all have in common. They are all kind and good; there are no mean or evil Imaginekos. They all have some sense of humour (although what they find funny varies from individual to individual) and a sense of aesthetics (what they find beautiful varies as well, but less so - bright colours, glitter, healthy plants, waves on water, and the sky are always appreciated, other things vary.)
Some are introverted and shy, others are extroverted and outgoing. Some are mischievous and love to confuse and annoy their friends, others are always trying to make everyone happy. Some are hyper and energetic, others are lazy and like to sleep all day. Most are sort of somewhere in between all the extremes.
Habitat:
Imaginekos will follow their friends wherever they go. This often leads them to environments they aren't used to - space stations, other planets, and inside buildings are all equally exotic to them - which they explore with great enthusiasm and curiosity. Even the laziest of Imaginekos will get into everything when brought somewhere new and exciting. Electronic devices are especially prone to being messed with, and the lightswitches in one's new house may break from overuse.
Diet:
Imaginekos are herbivores, and also capable of photosynthesis. They can even eat plants which other species would find toxic. They like sugar.
Powers and Types:
They always have magical powers.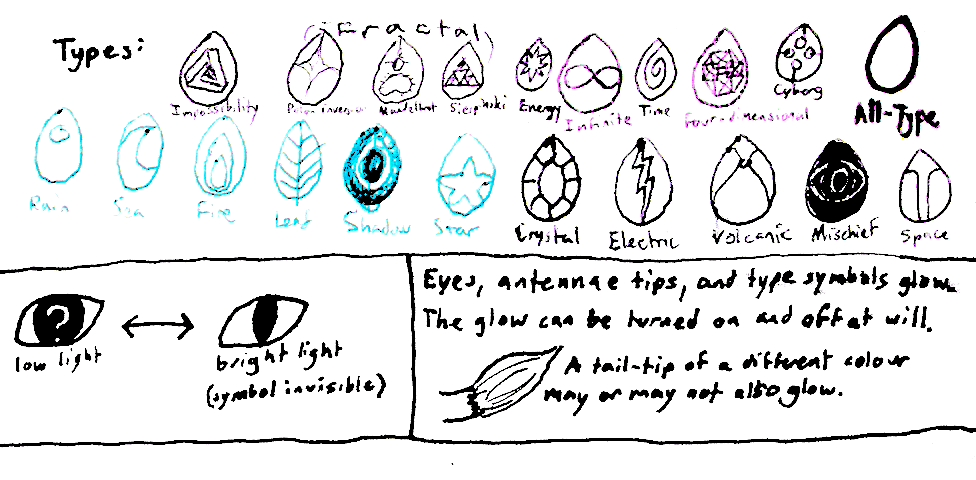 They have power symbols representing the major category of powers they have, the most common of which are Rain, Leaf, Star, Fire, Shadow, and Sea.
They always have a unique power as well, which may have nothing to do with their overall type. The unique power may take years to be discovered. While they instinctively understand their type-powers, they have to learn to use their unique power (the exception being Mischief-type Imaginekos, who know their powers right from hatching).

Imagineko Unique Powers:iconImagineko-OC-Group:
In addition to their type-powers, all Imaginekos also have a "unique power." (

Mischief-Types have three, and no other powers.) Unique powers can be almost anything *that fits the group rules* including a type-power of another type. Unique powers can be as simple as a subtle variation on their type-powers, (like a Leaf-Type Imagineko being able to make fungi grow faster as well as the usual plants), something strange and mysterious, (like some kind of psychic powers that let them see normally invisible beings), or even something completely silly (like the ability to make furniture dance around in circles).
Multiple Imaginekos can have the same unique power.
Apart from Mischief-Types, Imaginekos do not know their unique powers right from hatching. While they instinctively know exactly how to use their type-powers from the moment they hatch, it can take years for them to figure out what their unique powers even are, let alone ho
Rain Imaginekos can control the weather and are often telekinetic as well. They can control water with their minds. They tend to like to eat fruits with lots of juice, and crunchy vegetables. Rain-type Imagineko eggs form near ice, puddles, or fog, or up in the sky in storm clouds. More details:
Rain-Type Imaginekos
Leaf Imaginekos can influence plants and are talented healers. They are better at photosynthesis than other types of Imaginekos, who mostly don't even bother. Leaf-type Imagineko eggs form near plant growth. More details:
Leaf-Type Imaginekos
Star Imaginekos can control light and can fly faster than light. Their magic tends to focus on revealing what is actually there. They often use their powers to bend light, as if by a lens, creating the equivalents of microscopes or telescopes out of thin air. They are usually quite optimistic. Star-type Imagineko eggs form in areas which are extremely well-lit. More details:
Star-Type Imaginekos
Fire Imaginekos can control fire, starting it, moving it and putting it out at will. They like warmth, and will sometimes turn on stove burners and sit on them. This can be a bit of a fire hazard, so it may be best to keep an eye on them. They are typically outgoing and hyperactive. Fire-type Imagineko eggs form in fires. More details:
Fire-Type Imaginekos
Shadow Imaginekos are masters of illusion and can turn invisible (but are just as kind and playful as other types of Imagineko. Darkness does not mean evil.) Like Star-Types, they control light. Their magic tends to focus on what is
not
really there - this can be deception, but also stories and imagination! They are good at creating holograms, and often use their magic to make their shadow come unstuck and dance around. Shadow-type Imagineko eggs form in dark caves, and in the shadows of the trees of Tenebris. More details:
Shadow-Type Imaginekos
Sea Imaginekos are as comfortable underwater as in the air, and are physically extremely strong. Many of them seem cold and aloof when you first meet them, but they are actually as kind and caring as any Imagineko. The fact is, since they often hatch at the bottom of the sea, they may have been alone for quite some time and simply gotten used to it. Of course, they may hatch in rivers, lakes, or shallow ponds as well. Sea-type Imagineko eggs form underwater. More details:
Sea-Type Imaginekos
Fractal Imaginekos are very rare and have an affinity for mathematics, science, and technology. There are three "sub-types":
Mandelbrot Set Fractal Imaginekos, who usually like algebra, calculus, and imaginary/complex numbers.
Polar Inversion Fractal Imaginekos, who usually like transformations, calculus, reflections, non-Euclidean geometry, patterns, tessellations, and repetition.
Sierpinski Gasket Fractal Imaginekos, who usually like algebra, arithmetic, exponents, Euclidean geometry, tessellations, proofs, and physics.
More details:
Fractal-Type Imaginekos
Crystalline Imaginekos are powerfully telepathic, even to beings they do not know. They also can freeze liquids, and they can mess about with the crystalline structures of solids - for instance, they can turn coal into diamonds. Crystal-type Imagineko eggs form next to natural crystal formations, often inside geodes. More details:
Crystal-Type Imaginekos
Volcanic Imaginekos love extreme heat and can melt rocks into lava. Volcanic-type Imagineko eggs form inside volcanoes, and are thrown from them in eruptions. Occasionally a fully-grown one will come blazing out of there, looking very confused and surprised. It is unknown how many Volcanic-Type Imaginekos exist in the planet Imagia's interior, swimming around in the magma. Probably a lot. More details:
Volcanic-Type Imaginekos
Electric Imaginekos can control electricity. They run quite quickly. Electric-type Imagineko eggs form in lightning strikes. More details:
Electric-Type Imaginekos
Cyborg Imaginekos hatch with no powers whatsoever, but they can control electronic devices and even connect themselves to them, so they can often become very powerful, very quickly. Or they can end up as living MP3 players, depending on what they think is important. They can also reject a device and detach from it. Cyborg-type Imagineko eggs form next to technology, often inside a visitor's spaceship. More details:
Cyborg-Type Imaginekos
Energy Imaginekos have such precise telekinesis, they can rearrange the structures of molecules, and even alter atomic nuclei. Energy-type Imagineko eggs form in extreme heat or light, often in lightning strikes like Electric-types. More details:
Energy-Type Imaginekos
Impossibility Imaginekos make no sense. Seriously. They just don't make any sense at all. They're cute, though. (All Imaginekos are cute.) Impossibility-type Imagineko eggs form in weird, silly, random places, like upside-down under an overhang anti-gravity-wise. More details:
Impossibility-Type Imaginekos
Space Imaginekos can instantaneously teleport themselves to wherever they want to go. More details:
Space-Type Imaginekos
Time Imaginekos can move faster or slower through time than their surroundings, and can extend the effect to those around them. They cannot, however, travel backwards in time. More details:
Time-Type Imaginekos
Mischief Imaginekos have
three
unique powers instead of just one, and use them to pull pranks on everyone. More details:
Mischief-Type Imaginekos
Four-Dimensional Imaginekos are, as their name suggests, four-dimensional. More details:
4-Dimensional-Type Imaginekos
Infinite Imaginekos are ridiculously smart. They can also influence probability and make unlikely stuff happen. More details:
Infinite-Type Imaginekos
Infinite-type, Four-dimensional-type, Fractal-type, Mischief-type, Space-type and Time-type Imagineko eggs can form absolutely anywhere on Imagia, but only form very rarely.
There is only one All-Type Imagineko. Her name is Karlotte.
She has all the powers of all the types (although she rarely takes on her four-dimensional form and she has no interest in attaching devices to herself). It is her responsibility to look after all Imaginekos and make sure they are happy, safe and well looked after. Her unique power is the ability to know the exact locations and emotional states of all Imaginekos at all times. Incidentally, she's the one in our group logo

There are other rare types... more about them coming eventually.
#imagineko
Imagia, the Imagineko Homeworld
[Imaginekos] Free Semiopen Species MYOs
How to create a My Imaginekos List
Imaginekos so far...
Imagineko FAQ:
Imagineko Adoption Information
Custom Imagineko Request Page!
Make-Your-Own Imaginekos
Imagineko Eyes
improved Imagineko MYO base clear background
improved Imagineko MYO base white background
Imagineko species RULES
Imagineko Unique Powers
Imagineko Unique Traits
WIP UPDATED Imagineko Rare Traits
Imagineko Facial Expressions + F2U Bases
Imagineko Twins