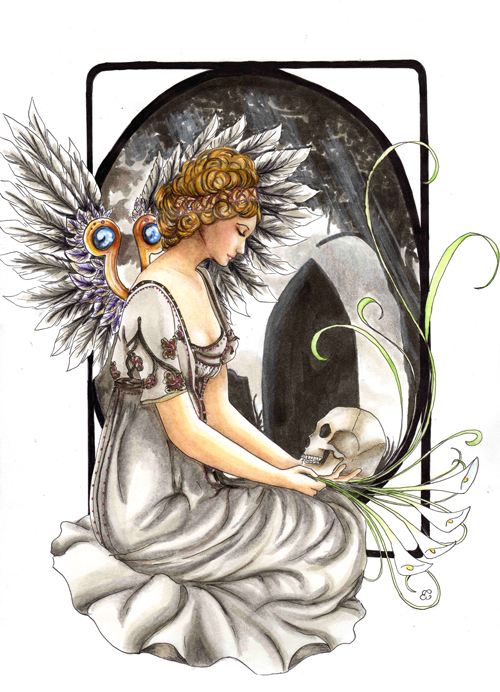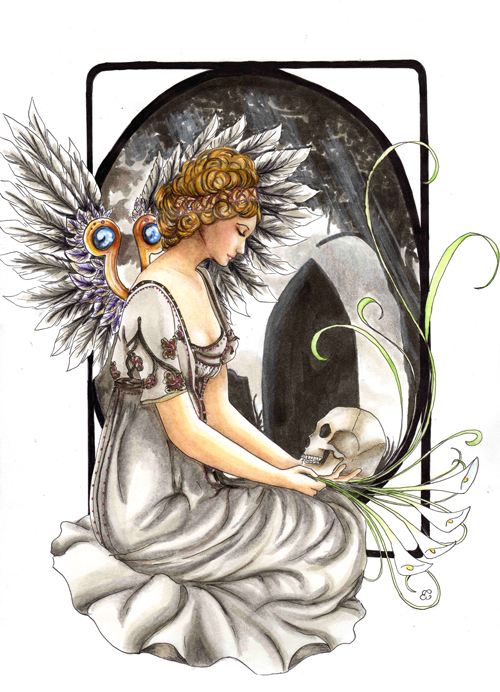 Watch
Well.. the picture practically came to me. I sat in my little room and just wanted to draw something. And suddenly I thought of this angel. I was thinking of an angel of Death for quite some wile now. The very first scetches of Death was quite brutal and now this.. people might as why such a calm picture. Well after all that has happend with my father dying of cancer and in the same year my grandmother of stroke I at first saw death as something that ripped the most close people from me.
Now almost 2 years after the first incident I have a different view of it. I think in the end Death was the only peacefull thing. Before and after it was worry, pain and tears, but the actuall moment was calm. For my father it must have been a relieve to have no more pain and my grandmother slumbered away. So I like to see death as something peaceful.
In the End it is our ultimate goal... one thing no one can escape...

So anyhow this picture actually really helped me thinking about it. I kinda do have a rather healthy way of dealing with things and in the end I take the words my Grandfather (my dads Dad) said to hard: Why always cry over things we cannot change... he is right.
Well anyhow, I really hope you guys like the picture as much as I do.


Ca

dat Maihunaa

p.s. Go visit me on my webpage (german though.. sorry)

www. maihunaa.com

Wow

The details, the wings, the dress... Beautiful work!
I'm sorry for all your losses

But it is a positive thing to see that drawing can be therapeutic in such circumstances

Reply

You know every death is somewhat a new beginning. I do feel sad that my dad never got to meet my fiancee but well.. it has taught me a lot those days. It helped me to reflect and just kinda see things in a different light. Well and at the end of the day there is always a little light (as long as it isn't a train coming down a tunnel I'll be fine! *g*)
Reply

breath taking-ly beautiful
Reply

Reply

Wunderschönes Bild und toller Kommentar!
Reply

*verbeug* vielen Dank Chili *knuddel*
Reply

wow, I love the details, the color and the style. Lovely!
Reply

Reply