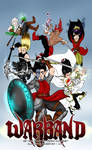 1. PATREON
You can read full pages of WARBAND on my Patreon website as soon as they're finished. I publish the comic pages there right after I'm done drawing them, so this is the quickest way to get the story. Subscribing to my Patreon costs as little as $1 per page, and it makes me feel great about creating this story and motivates me to get it done. Long time subscribers to my Patreon will get a free copy of the WARBAND books once I'm able to publish in dead-tree format, so sign up as soon as you can!
www.patreon.com/magusferox
2. WARBANDCOMIC.COM
About a month after the page has been published on Patreon, I'll publish them on my websites. WARBAND is still a webcomic that's free to read online, it just takes a very long time for the free version to update. Be sure to subscribe to my Patreon to get the story as soon as it's drawn! You can read it on my personal website here:
warbandcomic.com/
3. TAPASTIC.COM
WARBAND is also available on Tapastic, and can be read here:
tapastic.com/series/WARBAND
It's released on Tapastic around the same time it's released on the warbandcomic.com website. If you're a Tapastic user please do subscribe!
4. DEVIANT ART
On DA, you'll see preview snippets of the Patreon pages in my status updates. Then, when I'm ready to publish a page for free online, I'll upload the page to my DA gallery and to my
WebComics-ROCK
gallery.
My WARBAND Comics gallery:
magusferox.deviantart.com/gall…
My WC-R Gallery:
webcomics-rock.deviantart.com/…
Happy reading, and please do let me know if you enjoy WARBAND! Feedback keeps me alive and running!