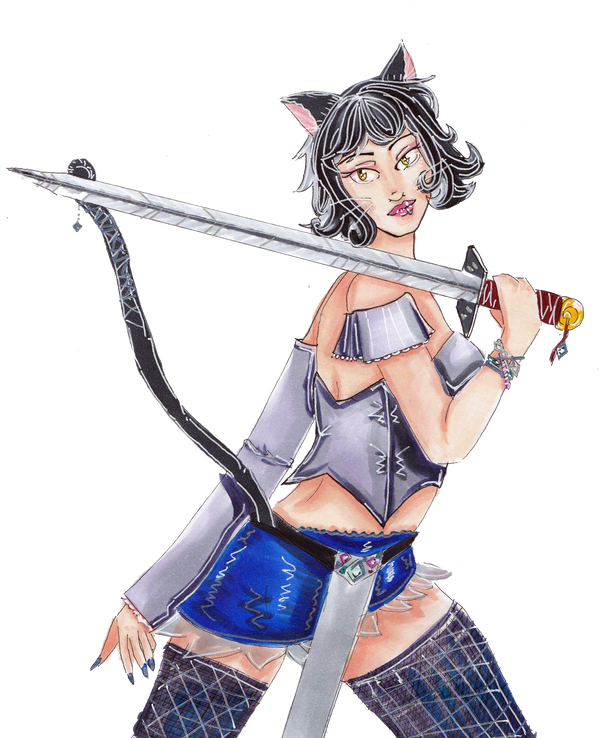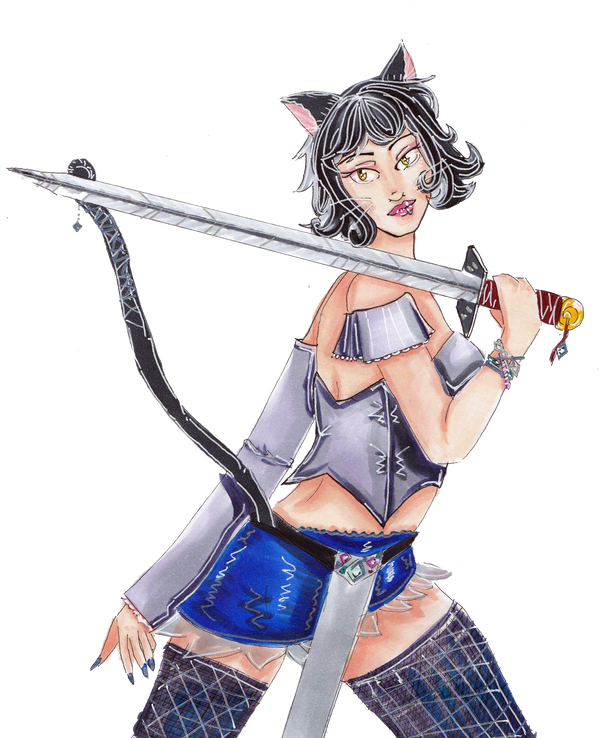 Watch
So Super pleased with how this turned out!
I found an old duotang with drawings in it from WAY BACK WHEN and decided to redraw one of the characters.
So this would be Kaleigh, and she is the queen of cats.

I drew this one without a reference, but the pose felt really familiar and I'm not sure if I've seen it somewhere before?
This is a nice piece. The pose really takes advantage of space for a good composition, and you have an attractive style. I feels there are a handful of technique issue here, and overcoming them will help your good art rise to the level of excellence.

Although the pose is very solid; the gesture and expression don't tell us anything about the subject.

There are a few anatomy issues: the length of the left arm, the size difference between the legs, and the way the subject's wrists bend.

Your colors are good, but the shading feels unfocused with light hitting the subjects from differing places. A bit more contrast will also help.

I really dig the flow of the sharp, bright lining in the hair, but elsewhere in the picture it looks unclean and squiggly. I think these sharp highlights give your style a unique and bold feeling, so it's a good idea to give all of the line work the same level of attention you did in the hair.

Once again, this is pretty good. Keep up the good work.
The Artist thought this was FAIR
4 out of 4 deviants thought this was fair.

Woah, amazing, what do you use? Copic markers or something else?
Reply

Thanks! I use copic multiliners and markers, and then a white sakura gel pen for the touch-up.

Reply

Ive been staring at this for a while lol. It really is lovely... Is that the copic markers? O___O The grey parts are amazing.....and....and that skin

Stunning

<333
Reply

Thank-you so much my dear!

It is indeed my copics.

Skin is actually my thing to colour with them.

Reply

I like it! Although her hands have an odd stiffness to them.It's hard to see the third whisker on the right side. The opaque white on the socks/tights seems to need a little more opacity and boldness. Other than that, beautiful! The bulge on the right thigh looks a little out of place... The sword on the bottom seems to not be as shiny as a sword can be. Although a metal in shadow will be darker in general, but there will still be a little bit of a gleam. I love her eyes and piercing! So pretty! With the bracelets, they seem to be the tighter kind. Perhaps if the skin bulged in aliiiiitle bit by the bracelet, it would look tighter. (first crit) wanted to add crit but mobile is being bad.
Reply

Thank-you so much for the crit! It's very much appreciated and it's good to know what to look out for in the future.

Reply

Welcome

Im sorry if I ws a little tough. My best bud is very rough when she sees ny art, and I hope I haven't picked that up too much.
Reply

Nope, it wasn't too tough at all! I love that you're honest about it. I prepared myself as soon as I asked for critiques.

Besides, I really just want to improve and your comment is super helpful, so thanks again.

Reply