edit to add: yes the printed minky is washable! I didn't wash mine, but according to spoonflower "Wash separately in cool or warm water using a gentle machine cycle. Machine dry using a low temperature or permanent press setting and remove promptly to avoid wrinkles." Although please don't machine wash a plush, ahah. Just the fabric.
------------------
So I recently got the chance to play with printed minky! Here's a sort of review about it
Bought from: spoonflower.com
Price: $28/yrd. Very expensive, but for a very versatile product of this quality it's definitely justified.
Shipping: Only $6 to Canada, with tracking, took about a week and a half to arrive once shipped, no duties. A+
File prep: spoonflower has very simple requirements that are easy to follow. I scanned my pattern pieces, cleaned them up and colored them, then I copied them into a file that was set to spoonflower's specifications (150dpi, set to the width of minky. I added length as I needed it). To make sure my pieces were going to turn out the right size I drew a 1"x1" square on my pattern before scanning and used that with photoshop's rulers to scale my pieces to the right size.
Print Quality: Excellent. Very clean and crisp print. Not a hair of minky out of place. Colors accuracy exceeded my expectations. As it's been said by other artists, because of the way dye sub works, the ink does not reach the base of the fabric but it does soak a few mm in so the print isn't strictly on the very surface of the fibers.
Fabric quality: As good as I expected. At first I thought it was shorter minky than regular Shannon but the fibers are just laying super flat, probably a result of the printing process. It's very soft, but not as fluffy as Shannon minky. Feels a little thinner. Because the fibers lay very flat it's actually pretty difficult to brush it against the grain, which is a good thing in this case. The fabric doesn't feel clumped or stiffened by the ink at all, like it would with paint. Same texture on printed and unprinted areas. I would not mix printed minky with shannon's because the textures are clearly different(unless I'm going for different textures of course).
Down sides: Dark colors will show the white base at seams and points. Light colors will show it too but it's not as noticeable. I would not print a dark plush.
My biggest worry is how this fabric will hold up with time. I wonder if with age it would start showing more of the white underneath the print.
Also, unless someone can show me a method to line up embroidery perfectly every time I WOULD NOT DO EMBROIDERED EYES AGAIN. It looks great but lining up the eyes with the print was a nightmare and it ended up taking a few hours to embroider two eyes. o___o so unless I made the eyes into sew-on patches, they would also be printed.
And finally, onto some detail pictures!
Finished plush;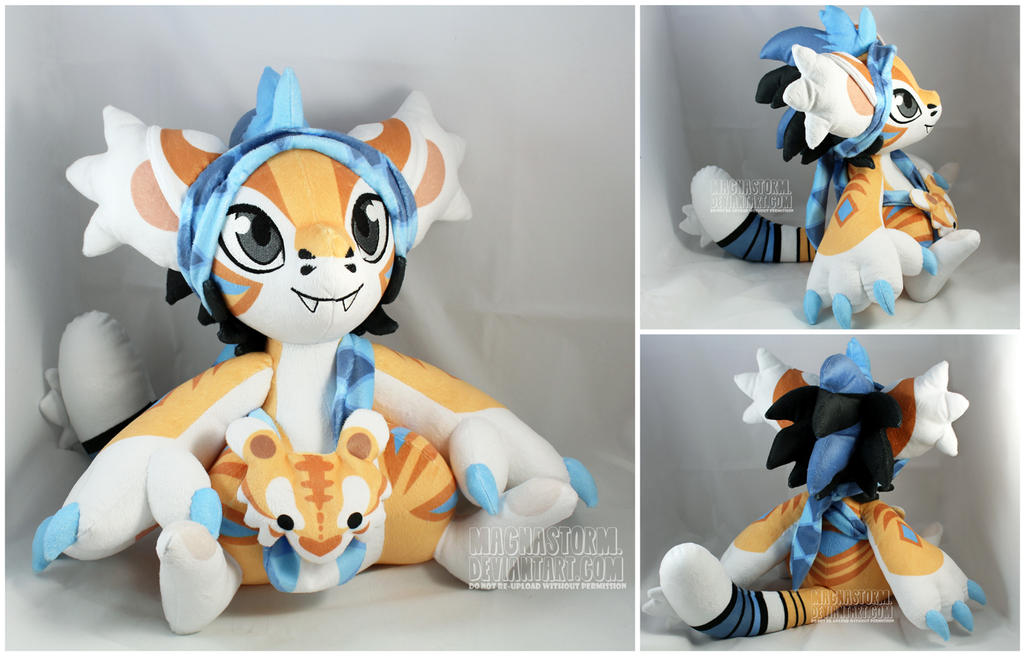 a few closeups to show print quality. Super crisp.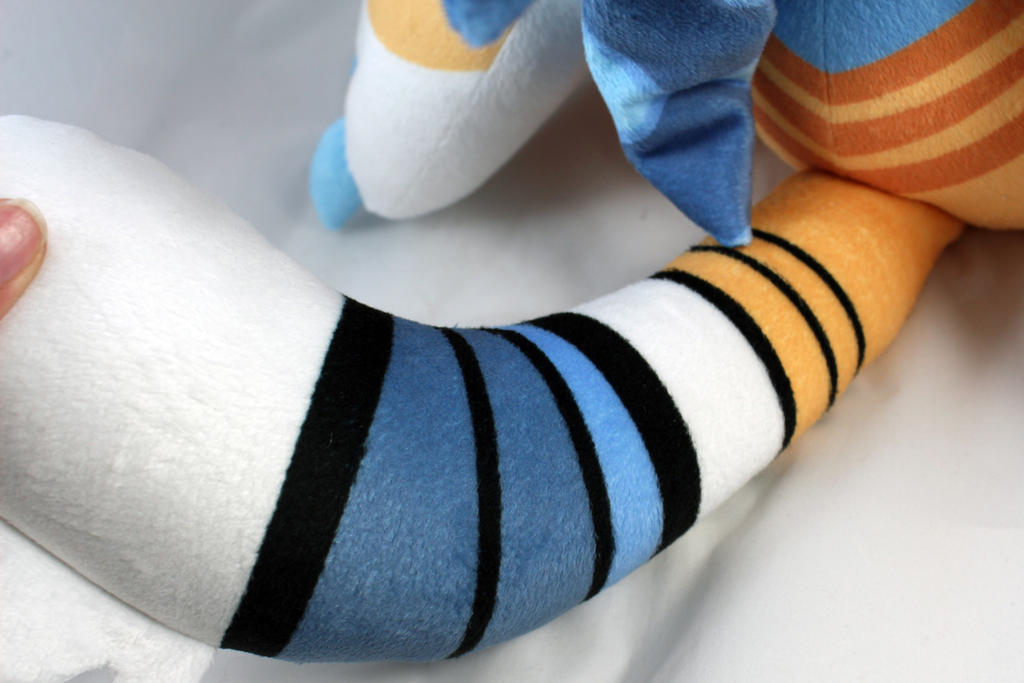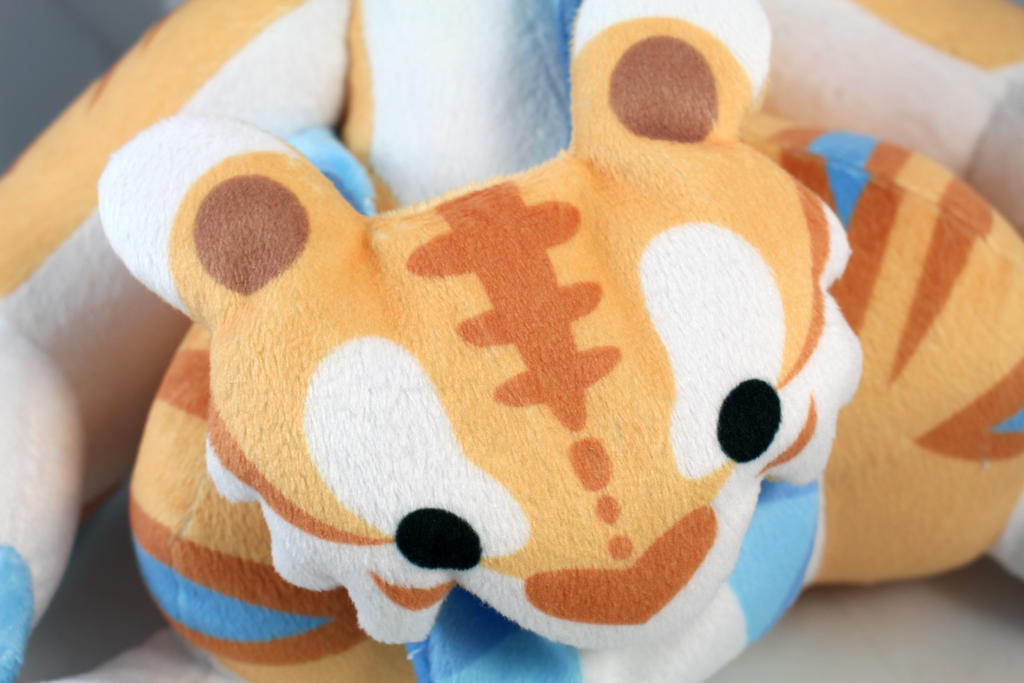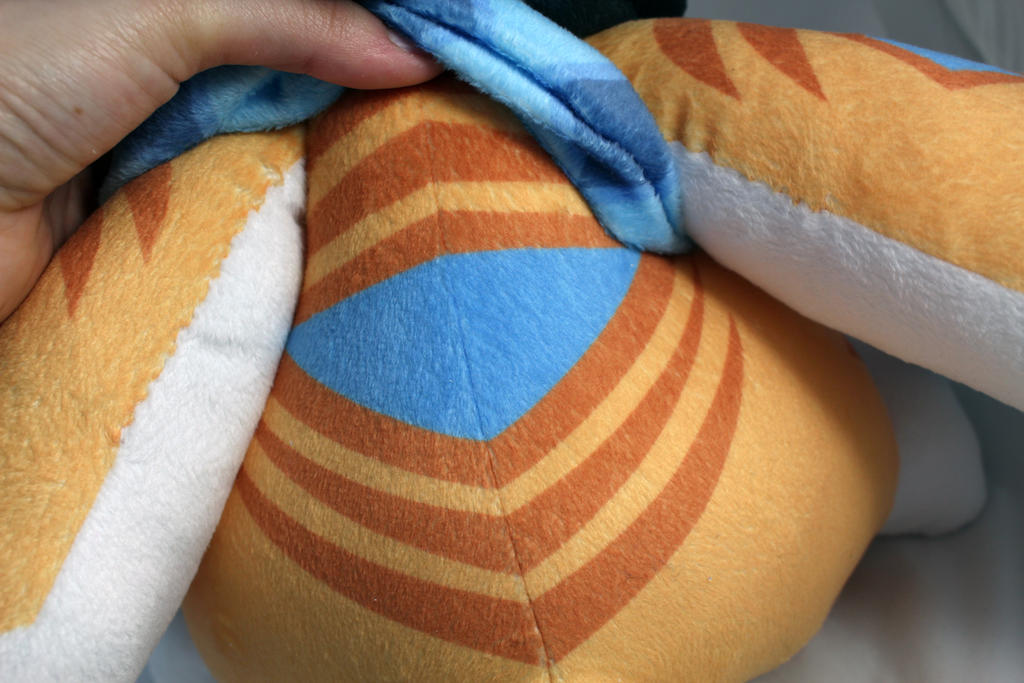 White pokes through the seams, especially at the tip of spikes.
Brushing your seams minimizes this, though doesn't completely get rid of the white(these are brushed seams). Filling with a marker in a matching color might be a solution, but I'm iffy about using markers on plushies.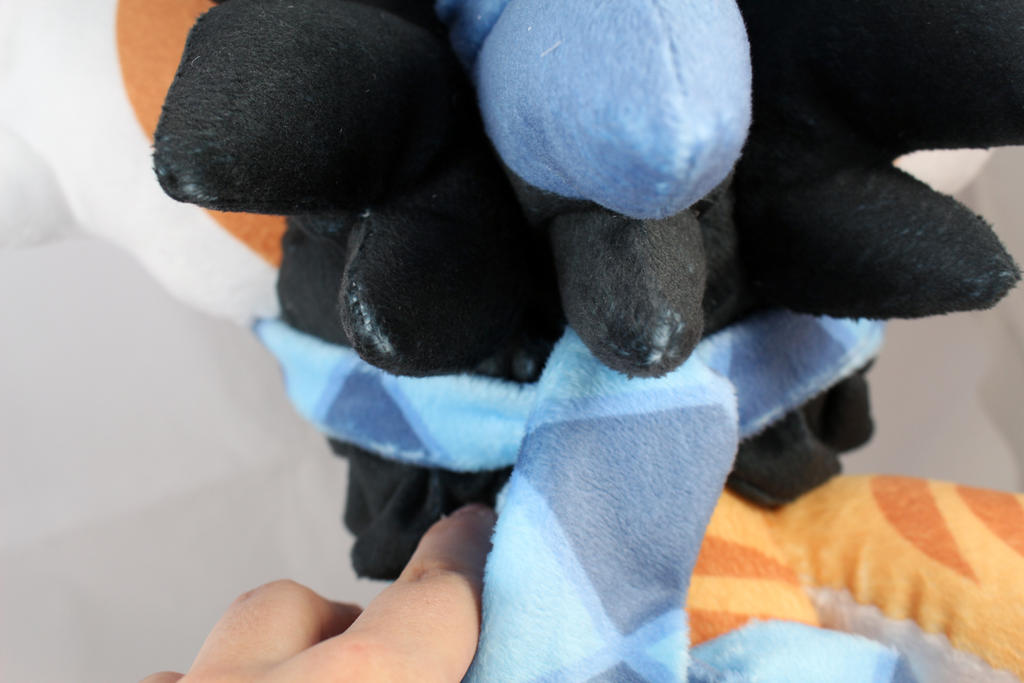 Comparing to a plush made with Shannon minky. At a glance they're very similar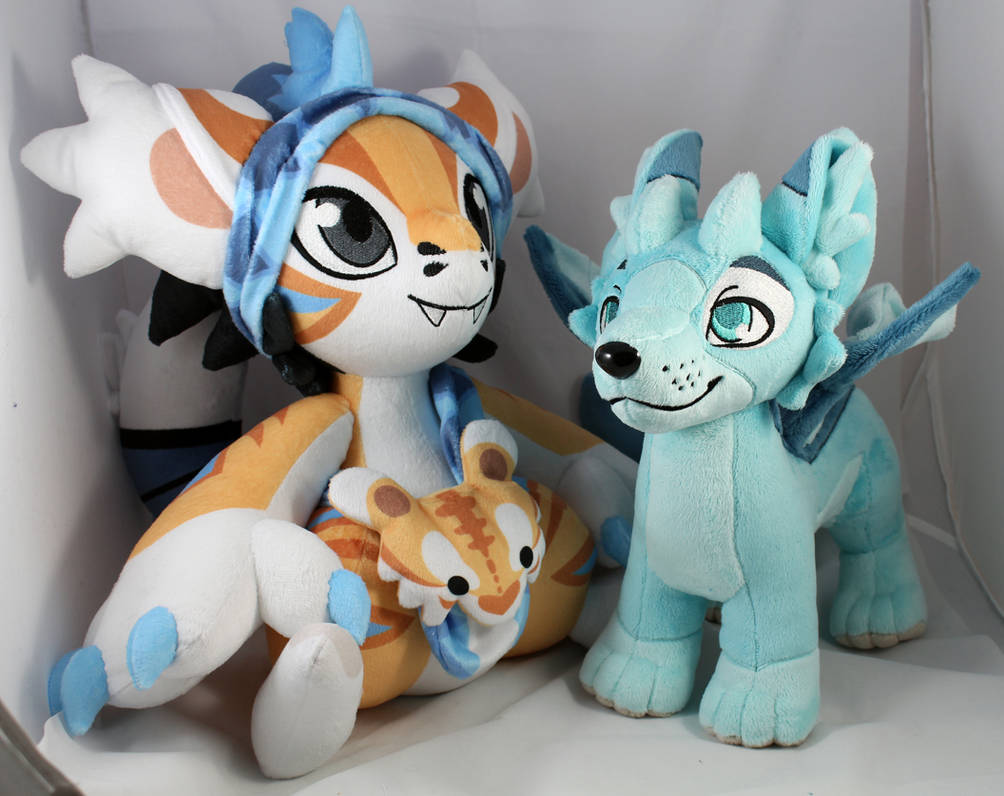 Closeup to show the difference in texture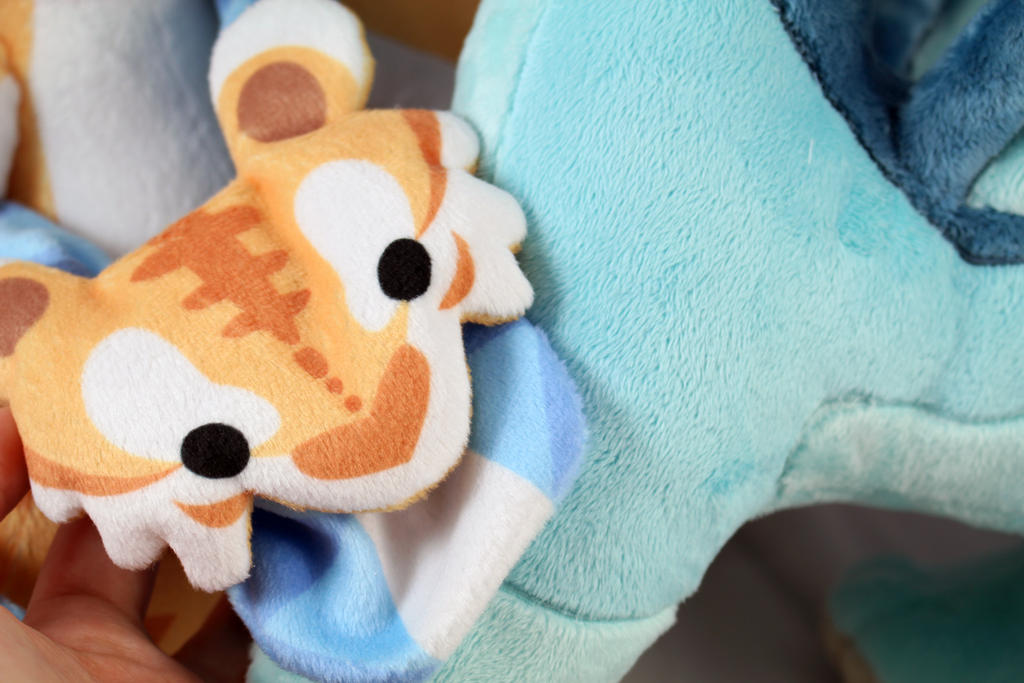 So here ya go! Overall I'm very happy with the results and it's something I would definitely do again. As a matter of fact I have one more printed plush I need to assemble, and that one has GRADIENTS!! The white showing through dark colors is definitely the worst part of printed minky, but considering the overall look and possibilities printed minky opens up (I repeat--GRADIENTS!!) it's a drawback I'm ok with. Printed minky will be available for commissions by request!