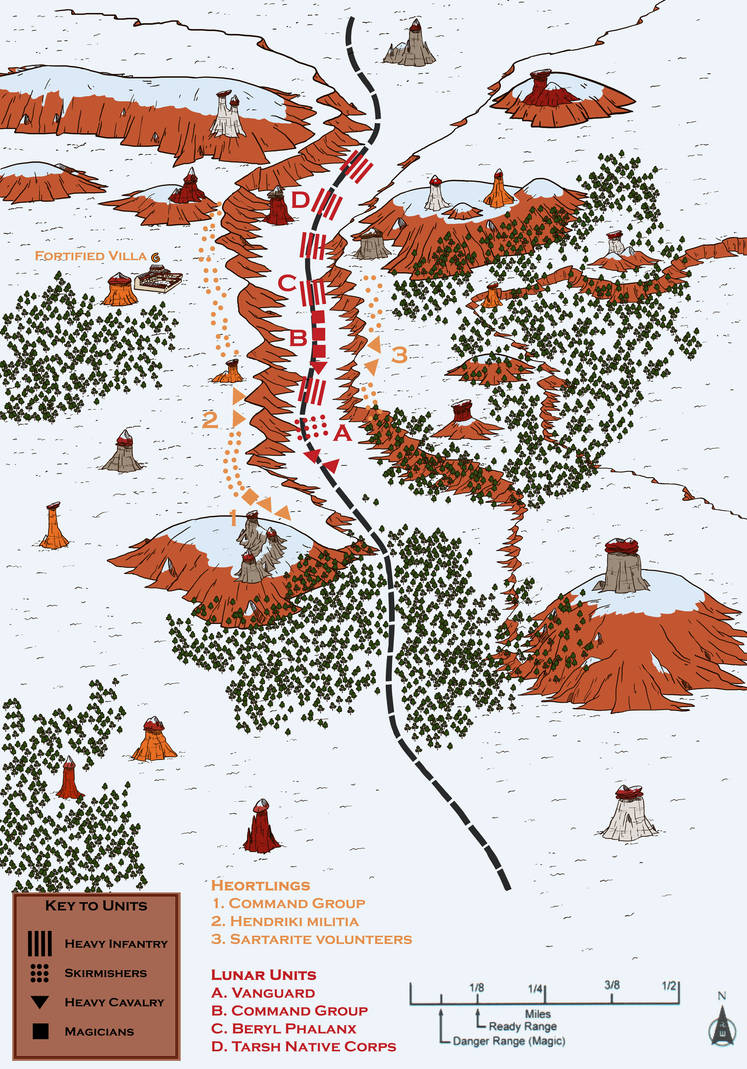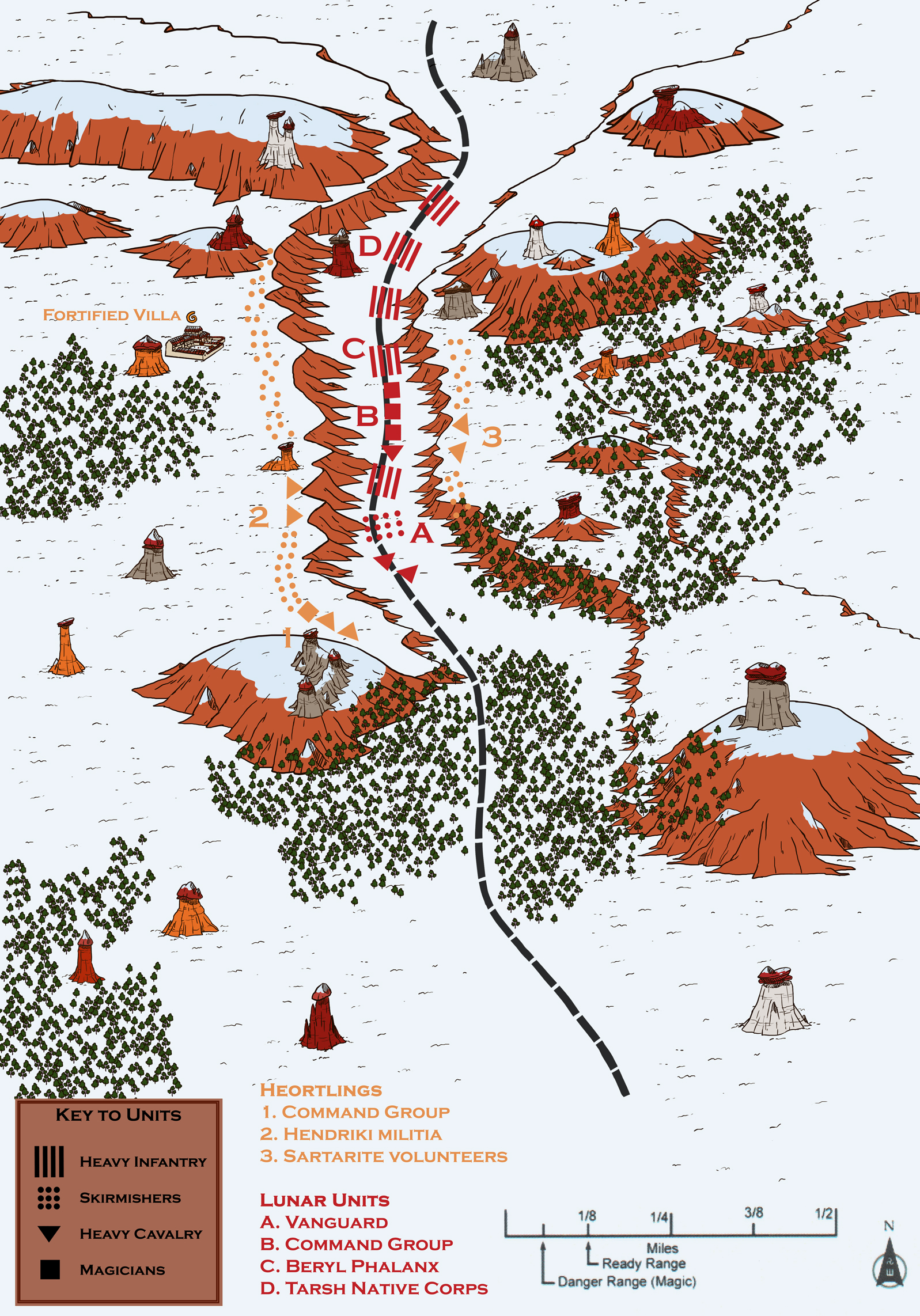 Another piece I did for Moon Design's HeroQuest: Glorantha ->
www.glorantha.com/product/hero…
This is a map showing one of the decisive battles in the liberation of Sartar - the battle of Auroch Hills. The Auroch Hills are, well, a hill range in Sartar. During the Windstop, the magical catastrophy in which Orlanth the Thunder King was chained in the Underworld, the Orlanthi hero King Broyan summoned the Lunar Army to this pass and ambushed them. The Lunars were destroyed in the fight and, through an important heroquest, King Broyan managed to partially free Orlanth from his chains, bringing back the rebel's magic.

what do their armor look like?
Reply

No offense, but while I do like talking about Glorantha, have you considered doing some research yourself? For example, check out this:
artofglorantha.deviantart.com/
It's a group that I've set up to collect Glorantha pieces here on Deviant Art. If you go to Favourites there's a folder specifically for the Orlanthi and Heortlings, where you can see various depictions of them.
Reply

what kind of weapons do the heortling wield in battle?
Reply

It depends. When on the open field, Heortlings usually fight in a shield wall. When ambushing people, like they did in this battle, they would use spears, javelins, swords, axes, slings and whatever other weapon each warrior would have. They have nothing approaching a standardized weaponry or armor. (Neither do the Lunars, technically, although at least every regiment that their army is composed of has it's own internal traditions, armor and weapons)
Reply

Reply

Ah, I see.
The Heortlings are a fictional culture in the setting of Glorantha (
www.glorantha.com/glorantha/
). They are a loose confederation of hill and mountain clans of herders and farmers, who worship Orlanth, the Gloranthan god of the Air, Storms, Clouds, Thunder and Violence. As such they are people of both extreme independence, who despise any attempt to control or enslave them, and of extreme violence. Heortlings are willing to settle almost any dispute either with fists or swords. A central philosophical concept in their culture is "Violence is always an option." Since Glorantha is a very rich and detailed fictional setting, the Heortlings have a complex and comprehensive culture, history and mythic cycles written out about them, so summarizing them in a post is going to take a while.
www.glorantha.com/docs/orlanth…
You might find some more information starting here, and exploring the rest of the website.
Does this help?
Reply

who are these heortlings?
Reply

Reply

Very interesting art. A new top quality original work for Glorantha

Reply

Reply

I have to confess that Jan Popsil and your work renewed my passion for Glorantha. Thus, this is I who bows and thanks

Reply

I am glad to hear that! Have you considered joining
artofglorantha.deviantart.com/
the Art of Glorantha group I set up here on DA? It's...kind of inactive, most of the time, but I try to add new Glorantha art I find around here to it.
Reply