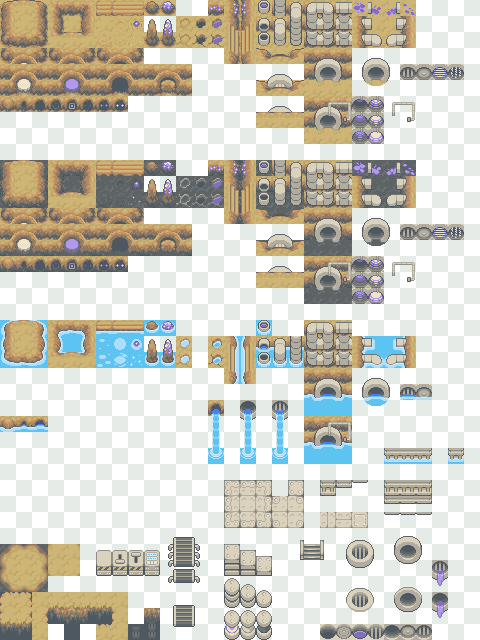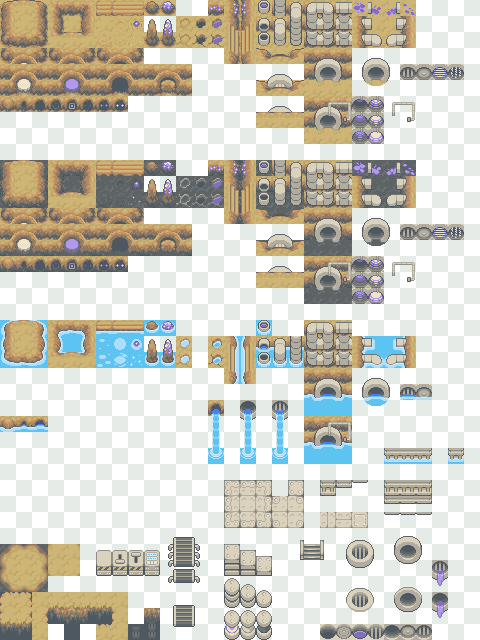 Watch
Free for use and editing for NON COMMERCIAL PURPOSES.
- - - - - - -
Made with Paint and Photoshop.
Tiles are 16x16 pixels

I tried to keep the color count low on this one. (Something like 20 or so) to see if I could get a more cohesive look. I think I sort of got that. I know some don't care for the lightness of the color scheme and lack of dark colors, but you should be able to correct that fairly easily to match your own aesthetic. It's slightly incomplete because I added the water tiles last minute and didn't want to make all those edits. If I find time or energy I might try to animate the water, but no promises.


Awesome tiles!!
Which purpose do you attribute to the white (or purple) colored tunnels/pipes? I see you drew a mechanism to activate the pipe, and I wonder what you imagined when you made it

Reply
DON'T READ THIS. YOU WILL BE KISSED ON THE BEST DAY OF YOUR LIFE. NOW THAT YOU'VE STARTED READING, DON'T STOP. THIS IS SO FREAKY.
1)Say your name 10 times
2)Say your mom's name 5 times
3)Say your crushes name 3 times
4)Paste this onto 4 other games
If you do this, your crush will kiss you on the nearest Friday possible. But if you don't paste this, you will get bad luck. SEND THIS ON 5 DIFFERENT GAMES IN 143 MINUTES. WHEN YOUR DONE, PRESS F6 AND YOUR CRUSHES NAME WILL APPEAR IN BIG LETTERS. THIS IS SO FREAKY IT ACTUALLY
Reply

I'll certainly be looking to use these somewhere
Reply

Nice job!
do you think interior tiles?

Reply

They'll probably work best as interior and not exterior
Reply

Reply

I love it, thank you so much!
Reply

Reply

Reply

These look amazing! Nice job

Reply