*This story is read from right to left, manga-style.

_____
PREVIOUS: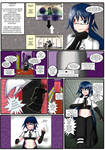 ___
COMMENTARY:
This page had its difficulties in the making, but it wasn't particularly harder than the others thus far to make. It ended up taking so long because life got me exceedingly busy out there.
The different angles I was attempting to portray gave me trouble, still. I also wasn't sure what onomatopoeia to use for an energy beam blasting...
Image details
Image size
1278x1806px 4.37 MB