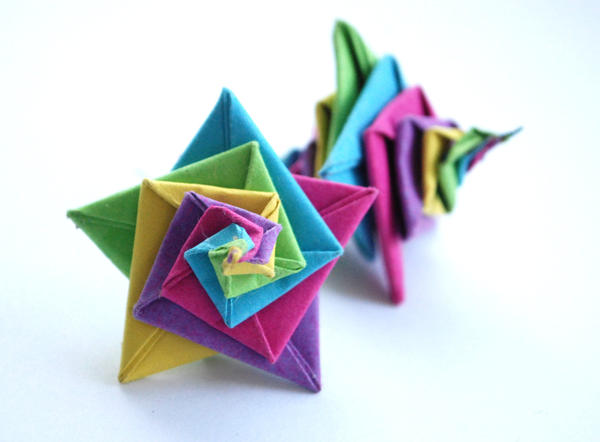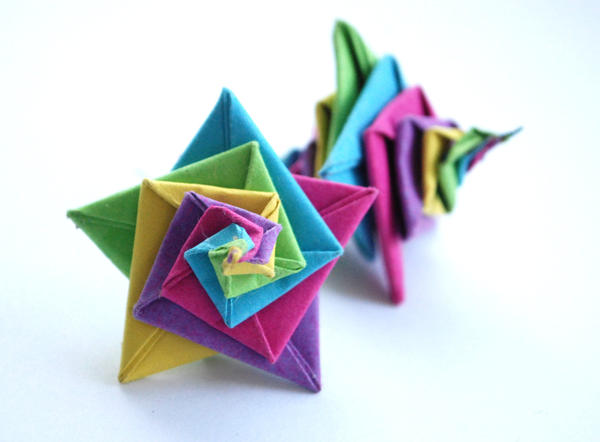 Hello! Some time ago I found somewhere diagram for origami spirals. I liked them very much and choose to miniaturize them and make them into earrings. But my soul is hard to satisfy, so I started to look for different ways of expresion. So,here it is - result of my experiments, my own, star origami spirals. Each is made from 5 folded elements - each made up of colourful paper what gives rainbow effect. They are aprox. 4 cm (1.6 inch) high, and aprox. 4 cm (1.6 inch) wide. Attached, silver-coloured earwires match with overall.
What do you think?


Made to order!
price: 18.99$/1899

+shipping
Measurements:
Spirals are aprox. 4 cm (1.6 inch)high, and aprox. 4 cm (1.6 inch) wide
Remember, that the earrings are made of paper, so they are vulnerable to atmospheric conditions - they shouldn't be wear in the rain.
all details-->
magexp.deviantart.com/journal/…
Edit:
O my God~!! DD!!! My first in life, I'm so happy!!!!1 ;3;
Daily Deviation
Given 2014-05-30
Star Spiral Earrings
by
MaGeXP
The suggester said:
"
These earrings are both beautiful and creative. The artist recreated a popular pattern and created something unique. Colours are also great, so bright, and help to show the form of the spiral.
" (
Suggested by NitkaAG and Featured by cakecrumbs
)
I love these. The spiral effect works wonderfully, as are the rainbow colours. It's amazing how you've made them into earrings; you don't see origami earrings every day! It's also quite tasteful, and I know myself and a number of my friends would wear these!

I do however notice that they are very thick and might hang off the ears in quite an undesirable fashion. However, I understand that it may have been the only way to make them.

Overall, it's very cute, and also cool, and it balances out nicely. Good job, well done, they're really nice earrings. Great!
The Artist thought this was FAIR
14 out of 16 deviants thought this was fair.
These earrings are perfect. I love their design and technique. If I had it, I wear them all day. Are they made of paper? Really cool idea. I think, they might be good for a party. My friends are amazed and asking me "How did the artist do that? That's awesome!" I'm asking myself that too. I'm really amazed of that technique that you did those earrings and these a bit "pastel" colors. They are really pretty and cool! They need some more compliments! Maybe they can be in sold in shop

. Really expensive shop! And again... That technique!
The Artist thought this was FAIR
13 out of 13 deviants thought this was fair.