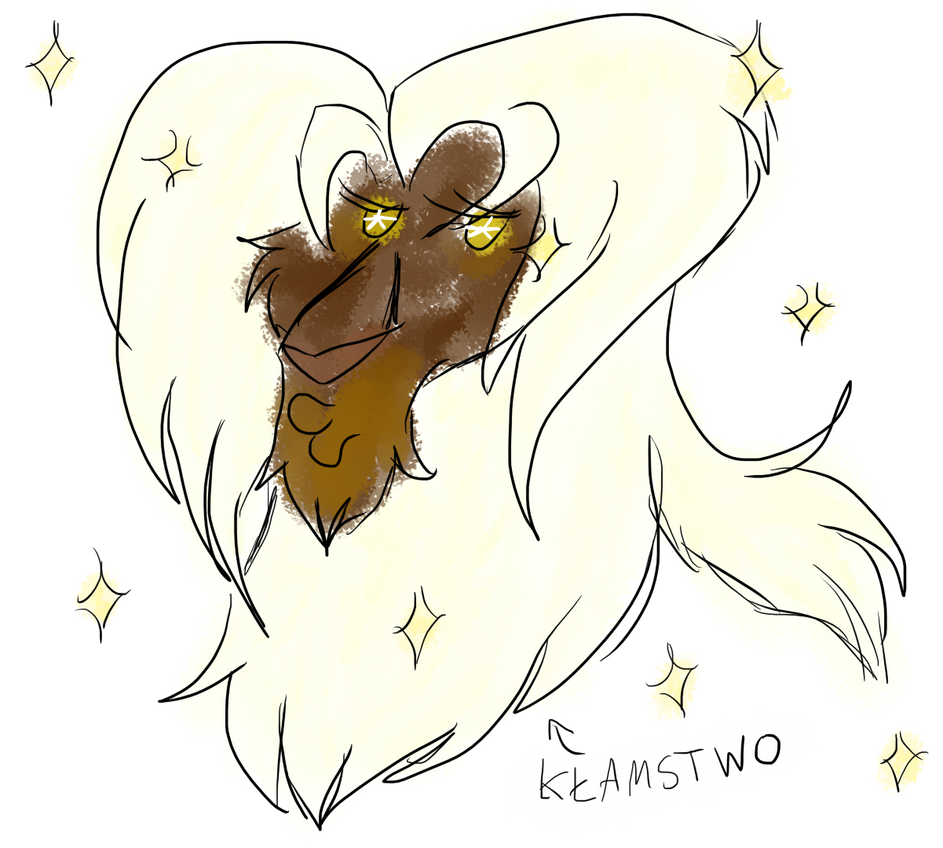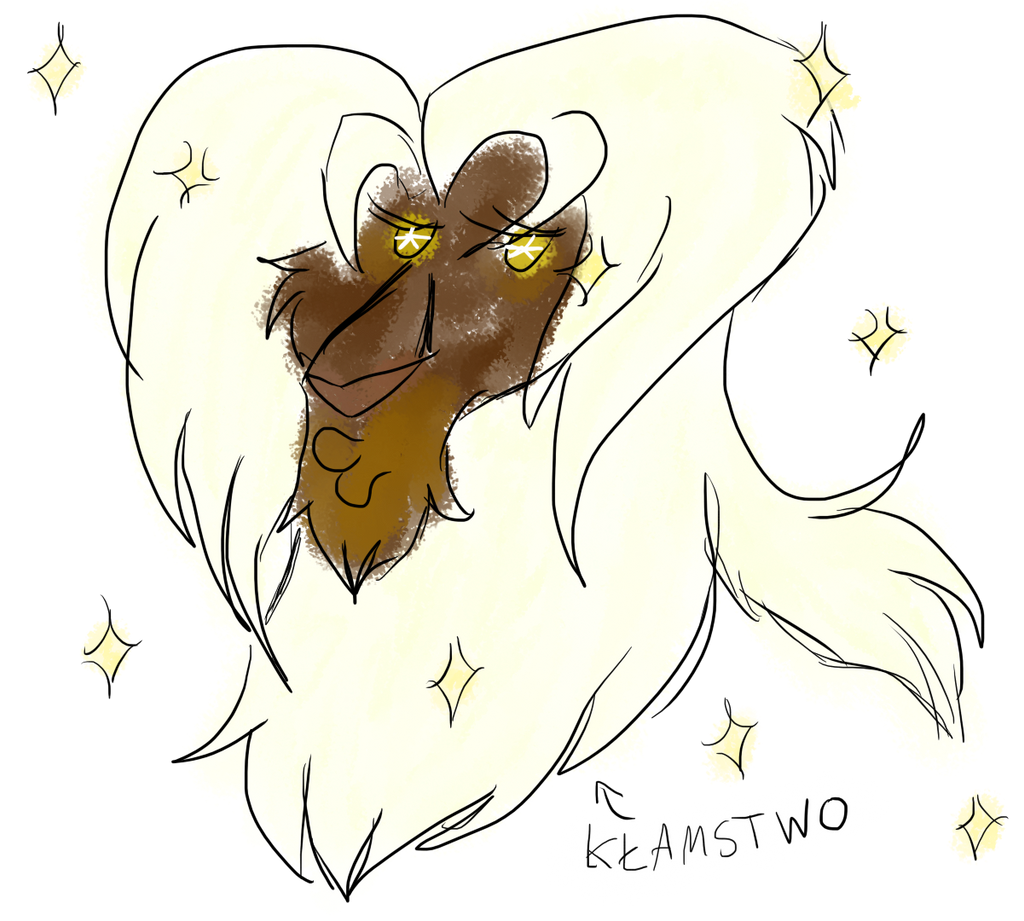 A while back me and my friend recorder two-part podcast about a novel titled "
Iron Lyons. Forges of Dawn" by E. M. Kinsey
(

). In order to make our videos a little bit more interesting, me and my friend drew several derpy pictures parodying various elements of the book. This in one of said pictures.


Lochan - a prince of Asian lions with whom Uhuru falls in love at the very first sight. Because, you know, a hot guy is what matters the most to every single woman who just nearly drowned, is starved and dehydrated, had almost all of her family taken from her, and whose supposed best friend is currently dying. Priorities.
The text next to Lochan's mane says 'a lie', since real-word Asian lions don't have manes nearly as long as Lochan has. But hey, at least he's hot.


Pierwsza część audycji o Żelaznych Lywach i Kuźniach Świtu (bez spoilerów): youtu.be/zC89RNaQmic

Druga część audycji o Żelaznych Lywach i Kuźniach Świtu (ze wszystkimi spoilerami świata): youtu.be/Y2DUrIwiEEA

Remember, the mane's a plot device. He lived and died with it as we needed a recreation of Kimba wearing his dead dad's mane redone from Uru wearing Kipendo's mane and now Uru wearing Lochan's mane. The white maned red lioness spooking her enemies with her dead lover's somehow taxidermied and not creepy to wear's body is totally a 100% not creepy as hell thing at all.

True love is wearing your dead hot lover's "face".
Reply

In the original comic it was quite fitting. After all, it were the Pale Ones who sent Uru the skin of her beloved as a form of a twisted mockery, so there was some morbid but poetic justice in her delivering them punishment, wearing Kipendo's skin. Meanwhile in the book... it just doesn't make any sense. As much as Uhuru tries to pin Lochan's death on the Pale Ones, the white lions didn't even have a clue that Lochan existed. They literally had nothing to to with him and his demise! However, the most insulting was the part where Uhuru and her bonechewer insisted that wearing Lochan's skin is the right thing to do, even though Lochan never consented to this. I mean, it wasn't even something acceptable in the culture he came from! It's like a cannibal insisting that eating your deceased friend is OK because you don't know everything about the different kinds of meat that sausages are made of. Oh, and lest's not forget that earlier Uhuru was disgusted with ritual scarification and now, suddenly, is on board with wearing scalps. Looks like she's tolerant and understanding toward different cultures only when it may benefit her directly.
Reply

Oh no doubt, the recycling of the plot was like an acid trip. Like starting TLK off with Mufasa's death then time leaping back before it all happened. Let's not forget them tiggerisians had dang good aim got him in the heart with a knife. I know it can happen, but rib cages exist to protect from stuff like that normally.

It's because he's white, or his mane is white so a white mane on a red body. . . I literally got nothing. Had he a black mane or anything else he'd be worm food. It's so left field I can't even.
Reply

if i could 'like' comments.... oh how hard i would spam it on this one...
Reply

Oooh, go on, I wanna hear why.

Reply

it's just the blatancy of her recycling plotlines even when they don't make sense. mostly. and also becaue wearing your lover's skin isn't creepy.
none whatsoever.

Reply

Oh no doubt. It was done once and kind of worked but in working it only made Uru look like a very creepy person from a serial killer show or worse(Ahadi abuse not counted, my lord!), and putting Lochan into random Kipendo shoes just sort of got me, he was stabbed in the heart. Stabbed. These are feral animals and one just flung their darn knife and managed to get it between those ribs perfectly as opposed to good old Kippy who just had every part of him shredded save a convenient amount of his mane because you know, that would work.
Reply

stabbed in the heart. what. i haven't read the book and that. knife throw?? heart?? you broke my damn brain i.... wHAT?? WHAT

RINJA WHAT ARE YOU DOING
Reply

Rinjapine has them evolve to almost have thumbs but they're completely feral and run and walk on all fours but can rear up like bears. . . or lion- lyons, something. Anyway this love interest he has them thrown in jail and shit and when they get out the pirates they assist attempt to kill Uru by throwing a knife at her, the knife goes into Lochan's chest and somehow instantly kills him and Uru is like nooo, not my white-maned lover who could only grow weed with his magic! Then the tigers run off on their boat or whatever I forget, anyway, point being Lochan the not Kipendo dies from knife to the heart. Then he's buried but other lyon goes "I got this for you" and hands her his removed mane and they're like wtf, but thanks.
Reply