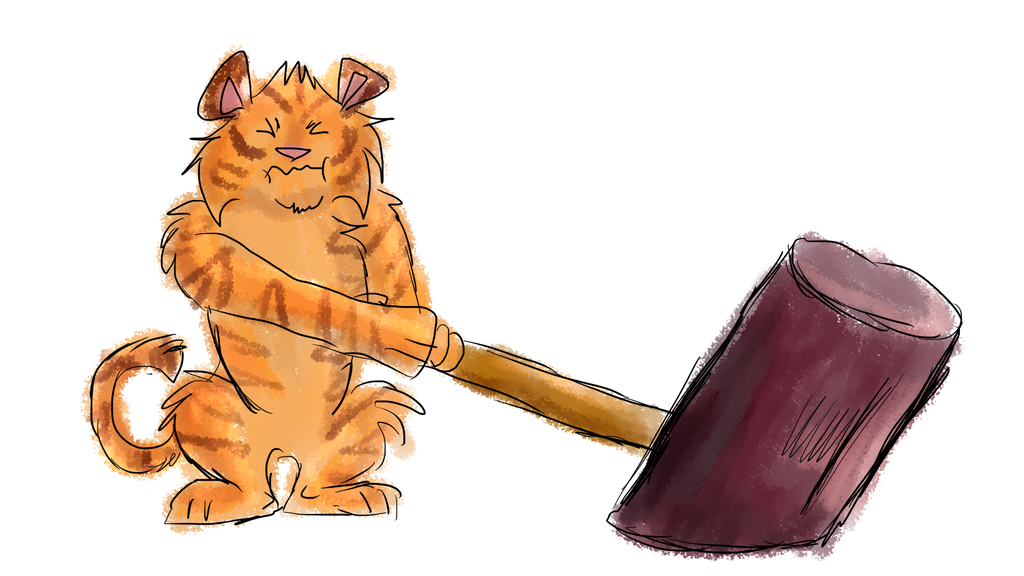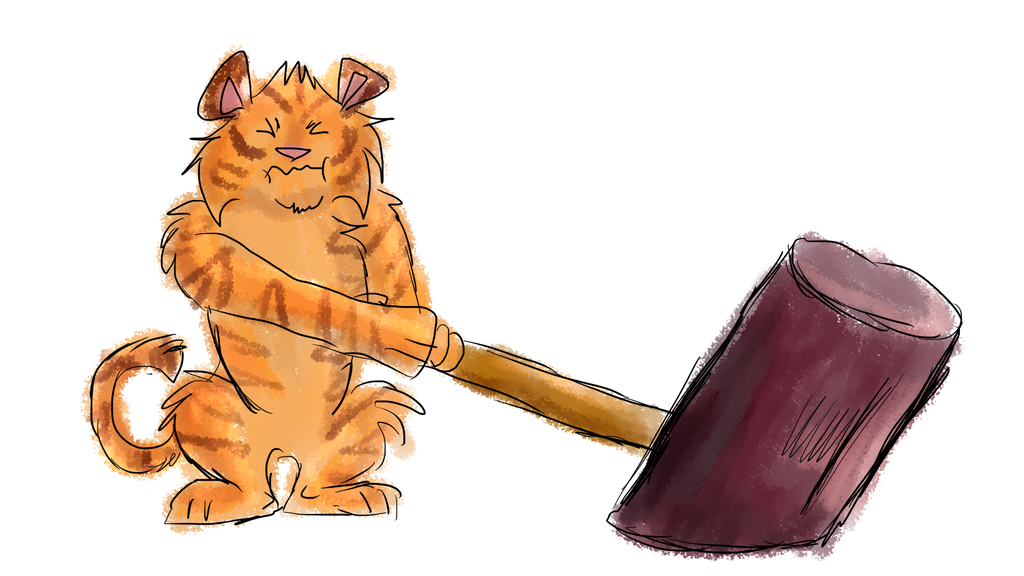 A while back me and my friend recorder two-part podcast about a novel titled "Iron Lyons. Forges of Dawn" by E. M. Kinsey (

). In order to make our videos a little bit more interesting, me and my friend drew several derpy pictures parodying various elements of the book. This in one of said pictures.
Meet Ming Hou, a tigress who is a blacksmith (hence the gigantic hammer) and one of Uhuru's allies. Even though Ming Hou is one of the more interesting and likable characters in the book, there still are some things about her that bother me a lot.
First of all, the book builds up the fact that she's related to someone Uhuru knows as this HUGE deal. That's why I initially thought she was Yu Song's sister, since up until this point he was the only major tiger character. But no, Ming Hou was reviled to be a sister of Tai Yang who barely appeared in the novel and had little to none personality. And yet Uhuru acted like these two ladies she barley knew being related was a huge shock and a total game-changer, I never could quite understand why.
Secondly, the readers are supposed to believe that Ming Hou is unable to sell anything she makes, because no one want's to buy from a female blacksmith. Okay, but why? Do everyone, regardless of species, believe that females lack physical strength needed in order to forage equipment of a high quality? Or is the lack of mental capabilities the main concern? Perhaps there is superstition that a weapon or armor forged by a female is cursed? Why is it OK in this part of the world for a female to be a warrior or a pirate but not a blacksmith? And if female blacksmiths are so unheard of, how did Ming Hou learn her trade in the first place?
Thirdly, what did Ming Hou do in order to gain some customers before Uhuru showed up? Did she try to approach female pirates and warriors, counting on some sort of solidarity? Did she offered anyone free equipment in exchange for publicity and exposure? Did she try selling to people in secrecy so they wouldn't have to worry about their honor getting damaged? Or did she just sit on her tail whole day, complaining how she's unable to sell anything and that's totally the society's fault?
Last but not least, it really bothers me how by the end of the book Uhuru treats Ming Hou almost as if she was a traitor only because the tigress refuses to take part in genocide. Remember that Ming Hou is a craftsman and a trader, not a warrior. Additionality, she never even met the Pale Ones, no wonder she has no desire to slaughter them! Instead, she offers to stay behind with Uhuru's young cousins (one of whom is badly injured) and protect them, like a good friend would. At yet Uhuru has an audacity to claim that Ming Hou cares about nothing but profit and left Uhuru when the lioness needed her most.
F**k you, Uhuru. Stuff like this are exactly the reason I hate you so much.
Pierwsza część audycji o Żelaznych Lywach i Kuźniach Świtu (bez spoilerów):
youtu.be/zC89RNaQmic
Druga część audycji o Żelaznych Lywach i Kuźniach Świtu (ze wszystkimi spoilerami świata):
youtu.be/Y2DUrIwiEEA

Crap, you just reminded me that Uru had so little understanding of the fact her family -what remained of it- needed protecting. I remember Ming just being so hyped up because oh cool a good tiggerisianaaaahdshdsdsds(needs some y's in there), but really it just. . . I didn't care. I didn't get the whole armor shit in the first place, why they were wearing armor, why they had swords, so much of that just felt thrown in. Plus Erin Rinjapine Kinsey lord of weird lyon poses on two legs while insisting they're doing all of this on four and this is fully a feral lion(lyon) book cannot write any manner of explanation good enough for how a feral animal that sometimes stands on two legs but mainly walks on four could swing a hammer or forge anything!
Reply

I think that armor and opposite thumbs could have been inspired by Philip Pullman "His Dark Materials" books. The series features a species of sentient polar bears who are able to use one of their claws as a thumb and became famously skilled at smiting. Those fictional polar bears alternate between walking on two and four legs (depending on the occasion) and forge their own armors. It's said that each suit of armor has a piece of its owner's soul inside.
However, in "His Dark Materials" this worked just fine, because the books were consistent on the matter. Meanwhile, "The Forges of Dawn" couldn't make it's own mind. Once felines are unable forge metal and need to employ primates, other times big cats can handle smiting equipment just fine. Generally, I was under the impression that "lyons" remembered that they can use dewclaws as thumbs only when the plot demanded it.
Reply

According to E.M Kinsey -this might be retconned now or changed- this was meant to read as a feral book. So basically TLK, Jungle Book, etc. But it reads like you said, like they were just randomly remembered for plot purpose and pirate "coolness".
Reply