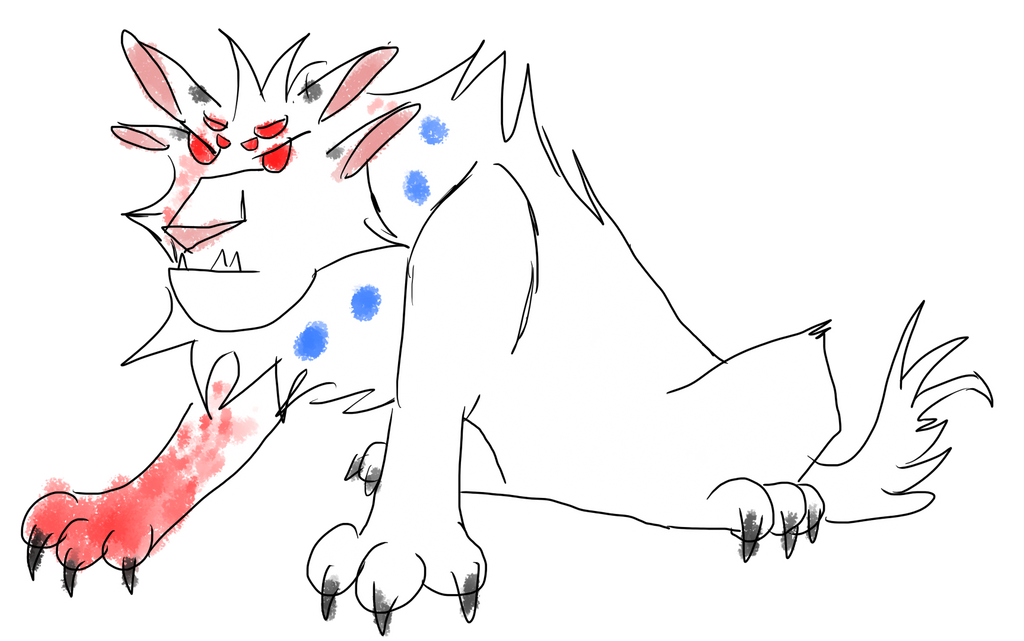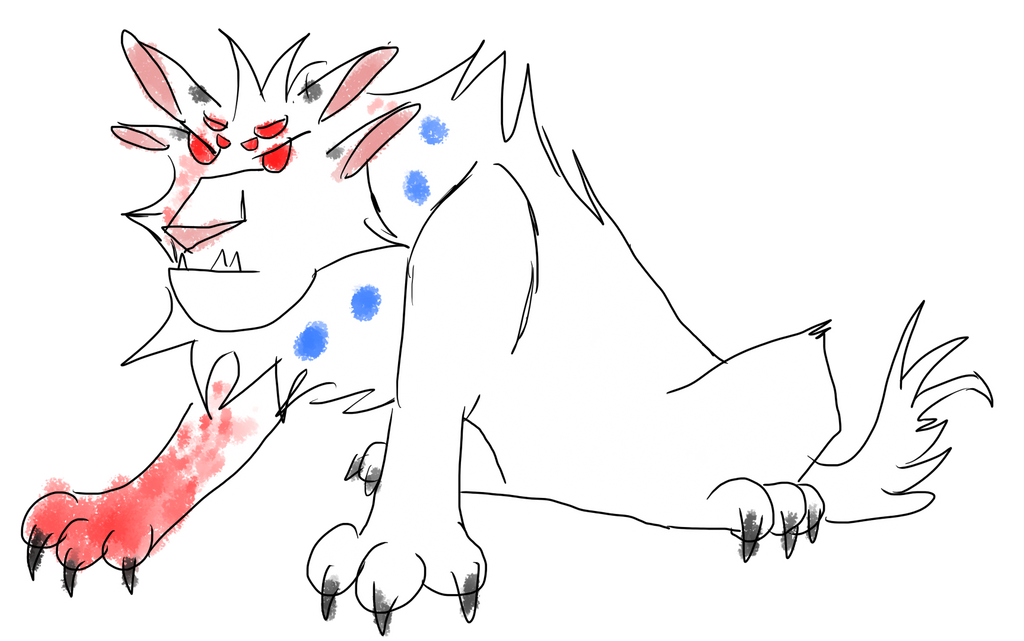 A while back me and my friend recorder two-part podcast about a novel titled "Iron Lyons. Forges of Dawn" by E. M. Kinsey (

). In order to make our videos a little bit more interesting, me and my friend drew several derpy pictures parodying various elements of the book. This in one of said pictures.
The very last picture I drew for the podcast. This is Kudisan, Vireka's mother who was changed into a Hound (a type of a magical mutated monster) and serves as Vireka's mount. Yes, you heard me right, the villain of the book is literally riding on top his mother. Vireka is mounting his mom.
Pierwsza część audycji o Żelaznych Lywach i Kuźniach Świtu (bez spoilerów):
youtu.be/zC89RNaQmic
Druga część audycji o Żelaznych Lywach i Kuźniach Świtu (ze wszystkimi spoilerami świata):
youtu.be/Y2DUrIwiEEA

Can we discuss how Erin is trying to redeem/make us sympathize with this bitch of a female bad mother of the year by saying her heart was broken a few times so she became a badass bitch of an asshole scumbag wants her sister dead and turns her daddy into a hound bitch all over reasons such as.
She's a kid and can do what she wants.
Bad parenting.
The man I loved tried to kill me.
The man I mate with is someone I don't love.
Generic bitchiness because no reason.
Reply

Sorry for replying so lately, I had to catch up on reading all the short stories before replying. I thought I might have missed something... but it turned out I didn't. In spite of having read all of the available materials, I literally didn't notice that Kudisan was being redeemed until you pointed it out. I... don't think this plot point is being executed very well. However, I have to admit, the idea itself isn't that bad. I liked the interactions between Kudisan and Kamaria at the beginning of the Escape. They really seemed like siblings who enjoy irritating each other so I could totally see the reveal that Kudisan really cares about her family but and ended up being manipulated and unable to express it properly... if only the whole thing would have been competently set up instead of just suddenly coming up and contradicting everything.
Also, the short story about Kudisan's dreams sucks. Actually, it's hard to call it a short story. It seems more like an idea for a story that the author scribbled out quickly in order to not forget it.
Reply

As has been shown in Ahadi, Uru(original not the book one), Njama, and other characters, Erin believes in redeeming everyone even Vireka, Kudisan, etc. She always, always has to incorporate things to dig for pity or insight in a monster's head. It was so obvious with Scar in her TLK fanfictions she saw Mufasa as evil and Scar as right or wronged or insane thus he was innocent. While Kudisan was done well originally, backtracking and releasing canon materials showing her as human and wronged and so forth is a bad way to do this. The author likes to focus more and more in depth of dead characters and think that will give us a reason to pity them despite how they turned out. These kinds of monsters don't deserve pity. She's trying to set Yu Song up for pity with some of the material -like the comics- as well and it's. . .

It's really bad imho.
Reply

Wait, I was supposed to feel sympathy towards Ahadi? Wow, I didn't pick up on it at all. When it comes to Njama, I don't think she needed any redeeming at all, since all of her actions were perfectly justified (not to mention she was a CHILD when she used the magical fire in order to stop a whole nation of Hitlers).
I noticed that many fanfiction writers have a tendency to make all of the positive characters into complete jerks so their one favorite characters (plus, optionally, their love interest) looks better. As if an antihero wasn't a thing that exists and can be written. It's especially visible in case of Scar, since in canon materials it's pretty obvious that he is extremely narcissistic, immature and everything he does, he does just to strike his own ego (that's why PrideLands goes to hell as soon as he takes over, he just wanted to have power, not to do anything much with it). There is literally no way to change him into the perfect paragon of everything that is good and holly. Rinjapine must have knew that, since she gave him that mental disorder/curse/whatever that was supposed to explain why he lost himself and became evil.
Reply

The whole thing with Siti and Ahadi's many backstories, yeah. There's also supposed to be pity for her sociopathic sun lions or Sun Kingdom lions or whatever. She did a deep backstory on Ahadi and in several ways said he didn't deserve the abuse Uru gave him and wasn't all bad but Uru loved him too late and stuff. It was one of those things that often pissed me off. The justifying or sympathy for terrible people, even in fiction, is super gross to me.
Reply

Yeah, you're right. It kind of make it look as if Ahadi had the right to do all the atrocities he did and it was Uru's fault. To be honest, the whole plot point of older Uru deciding to give Ahadi a chance and fall in love with him came out of nowhere. They both hated one another for Pete's sake!
I've read the story for the psychotic sun lion Kinnsley wrote in Iron Lyon universe. I really enjoyed the first couple of parts... up until the empress's death and funeral. After this point of the story everything feels extremely rushed.
Reply

It came as a plot point to stick to semi-canon and just was flat out random and how to make Taka and Mufasa how they are in her eyes.

The story isn't hers, it was written by a fan and much of it is her taking from the many now-stored chapters of that person's works and building a graphic novel and etc. I remember reading the exact story she is rewriting by someone else who was a loyal fan. I'm trying not to cringe over the plagiarism as I get gifted characters became hers, but when someone wrote many many stories for them. . . it's plagiarism simple and bluntly and her profiting off it will sour me greatly.
Reply