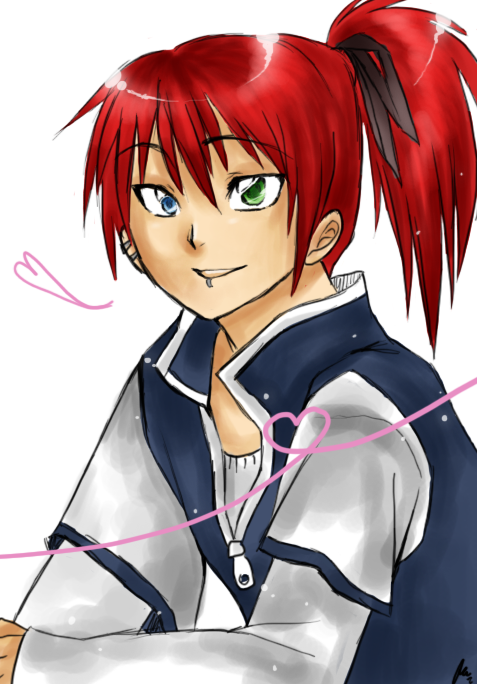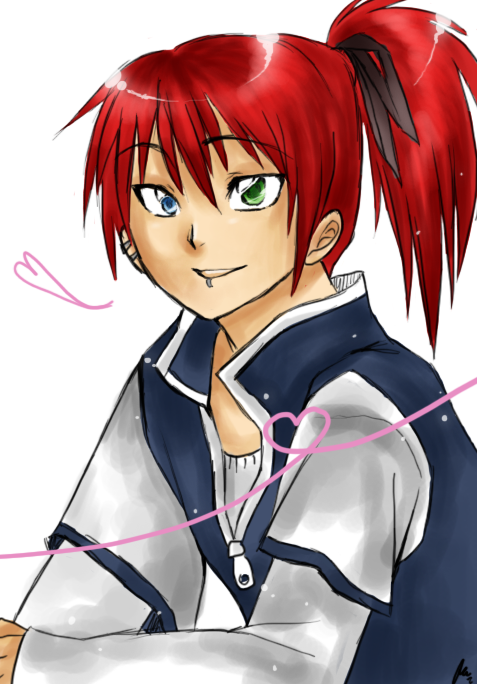 Watch
KJSDKHFSDJ HAPPY SUPER LATE BDAY HARUBAAAAAAAAA

!!!!!!!!!!! <333333333333333333333333
agagag I dont think I've ever drawn Ayden before ;0; BUT I LOVE HIS CHARA DESIGN<3333
wwww Haruba you didn't think I wasn't gonna draw you something did you?? XDDDD HAPPY BELATED BIRTHDAY~~ I hope you have happy days, FOREVER~!!

*add (whydoIalwaysfindmoreafterI'vecommented? *orz*)
I LOVE THE WY YOU COLORED HIM, ESPECIALLY HIS HAIR--- *get's murdered!!*
Reply

NOOOOOOOO it's okayyyyy ><///

My brother looked at them too and told me that the other eye looked green (because I drew it too thin/slim) so my fault but I actually like this wayyy <3333333
BUT HE'S SO CUTE AND HANDSOME IN YOUR STYLE THAT I CAN'T SEE ANY FLAWS HERE *drowns you in million hugs!* *///u///*<44444
Reply

WAHHHHHHH MA-MADGIIIIIC, YOU'RE SO SWEEEEEET Q//////[]/////Q *DROWNS YOU IN LOVE* <44444444444444444444
Sucha handsome Aydennnnn



!!!!!
I love his expression so much, makes me want to pinch his cheek ;////<///;~~~~<3
And althought he has blue eyes, heterochromia actually looks good on him!! 0u0 *might wanna change... maybe?*♥
As for your first try, Ayden came out so good in your style fffff SORT OF CUTE X HANDSOME <333333
I-I'M SPAZZING NOW BUT HONESTLY THANK YOU SO MUCH MADGIIIC T//////[]////T and don't worry about the lateness, you made me something anyway ;//x//;// (and what Isu said completes it) *SNIFFF* ILYYYYYYYYY DEAR!!


Reply

Awwww Aydennnnnn
I was never in hetero collab but I read it like a stalker XDDDDD
I'm starting to really love your male drawings Mad

She's going to love it~
Late birthday presents are the best, in my opinion <3 Because it means that the person cared enough to bother doing something for you and yeah, they were late, but it brightens that person's day anyway xD;; Who's going to turn down a gift

Reply

That's really adorable and well done, I'm sure they'll be thrilled when they see it! C:

The way you've shaded it is wonderful, especially the eyes! It's just gorgeous overall, Mad!~ C:
Reply

AWWW/////
HE LOOKS SO POKEABLLICIOUS *//U///*

HIE EYES TT///V//TT I LOVE HOW HEHEHE/// IT'S DRAWN *///____///*

HIS SMILEEE ;///A///; FUFUFUFU LIKE ANGLE AS USUALL >V<
ADORABLE POSE TOO ;//3///;

omg man I missed her birthday OTL
Reply

It's okay Mayuuuu


Reply

LOL KJHFDG MAYU TTUTT<333333
Ty so muchhhhh ;0;

<333
Ack noooo ;m; w-well, birthday wishes are still valid for a week after the day right?? 8'DDDD /shot
Reply

brb jizzing bad. ;//u//;

BUT SERIOUSLY OMG HE LOOKS SO SEXY AHAHAH /TOUCHES VIOLENTLY you draw him so well nnnnggggg //////
Reply