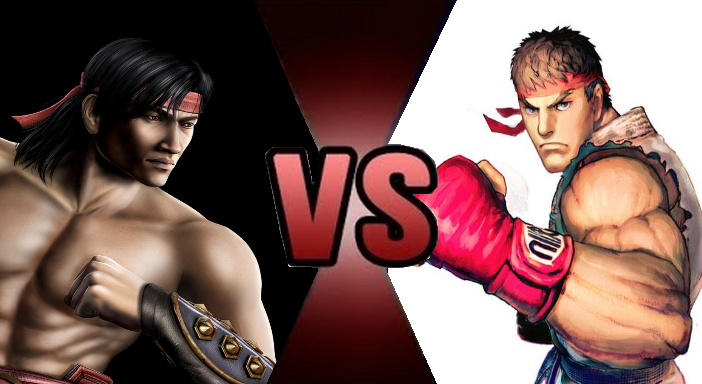 Madness: Alright, the votes are in and the combatants are set. Let's end this battle once and for all.
Insanus: IT'S TIME FOR A DEATH BATTLE!!!!!!!!!!!!!!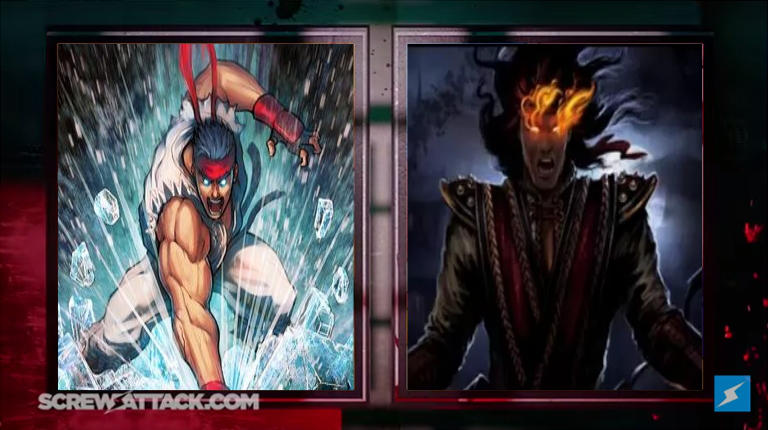 __________________________________________________________________________________________
Earthrrealm
The forest was relatively clear at this time of day. Nothing was heard except for the chirping of birds and the usual sounds of the forest. It was a perfect day. A perfect setting for a fight.
The crunching sounds of someone walking through the forest soon were heard, revealing a brown haired man dressed in a white karate gi and a red headband. Notably, the man was walking barefoot, ignoring completely the forest floor beneath him and if it was hurting his feet at all, he didn't show it.
Ryu had come to this particular land for a purpose. He had heard tales of a hero known as 'The Chosen One'. A warrior monk who won a 'Mortal Kombat' tournament, famed for his legendary skill and power. Whoever he was, it was clear that he was someone who could truly give Ryu a challenge and help him improve his skill. Now the only problem was finding him.
Suddenly, Ryu heard someone walk right in front of him. Stopping, Ryu waited carefully to see who was coming towards him. Within short time, the figure revealed itself fully. It was a dark haired man also wearing a red headband like Ryu, but the only difference was that this man was only wearing red and black pants, spike gauntlets, and a red belt with the symbol of a large dragon's head on it. The man also lacked a shirt, showing off his muscled physique after years of training.
Ryu could somehow already feel that this man was the same warrior he was searching for. Unbeknownest to him, the man, Liu Kang, had actually been coming to him as well. Liu Kang had felt of some great power, a dark energy of sorts, coming towards his home in the Shaolin Temple. Liu Kang was sure that this man was the source of all that dark energy, even if it was so faint. Nevertheless, he was a threat to his home and Earthrrealm, and he had to be taken out. Liu Kang assumed his combat stance at Ryu, letting out a serious look on his face.
Ryu responded by tightening his headband and taking a combat pose of his own.
The battle between two legendary fighters was about to begin.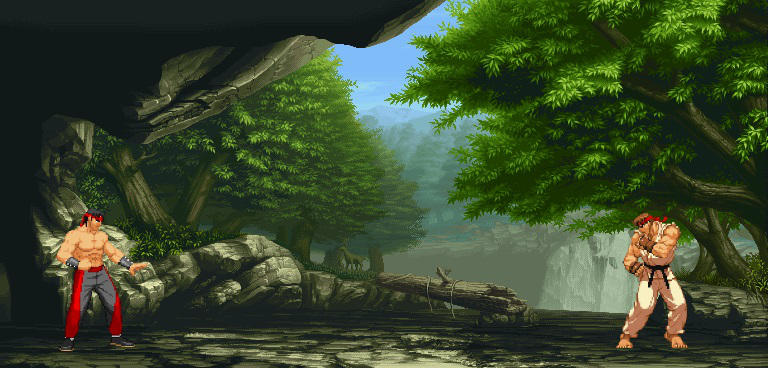 FIGHT!!!!
To Ryu's shock, Liu Kang's first move was a very quick and sudden kick from afar. And it was
very
quick. The Shaolin Monk flew at Ryu with a yell, striking Ryu and knocking him back before he could even try to block.
Recovering quickly, Ryu prepared himself in an instant against Liu Kang's flurry of punches and kicks. Instinctively blocking every punch and kick, Ryu kept up this tactic until he could find an opening in Liu Kang's attacks. At last finding one, Ryu delivered a powerful punch into Liu Kang's gut, knocking the wind out of him, if only for a moment. But that moment was enough for Ryu to start his own flurry of attacks of his own. Striking with great power with each blow, Ryu hit Liu Kang with much force that the monk was already having difficulty trying to defend himself. Suddenly, Ryu crouched down and unleashed a special move...
"SHORYUKEN!"
Liu Kang was sent flying into the air by the force of the uppercut. But even as the blow struck him, Liu Kang altered his movement in mid-air so that once he was near the ground, he would be landing on his feet. Ignoring the pain at his jaw, Liu Kang retaliated by holding his hands outward and firing outward a dragon-shaped fireball.
Ryu reacted quickly by ducking the fireball in time, the projectile singing a single tip of his hair. As he got up, Ryu's eyes opened in shock as Liu Kang soon began to fire more fireballs in every form of elevation. Ryu began to move quickly from side to side, up and down, and every direction to avoid the flurry of flames that were flying towards him.
Beginning to actually tire from dodging, Ryu began to cup his hands together to fire his own projectile. As he began to move away from the fireballs, Ryu charged up his special projectile until it was ready. When Liu Kang fired his next Dragon Fire, Ryu countered at last with his own projectile...
"HADOUKEN!!!"
Liu Kang looked in shock as Ryu fired a blue energy blast that struck through the Dragon Fire and flew at him. Dodgin in time, Liu Kang decided to fire back by enhancing the strength of his own Dragon Fire and fired a far stronger fireball at Ryu, this one being black and much faster.
Of course, Ryu had already something special for that. Ryu had begun to charge his own next Hadouken, but this one was a surprise. At the right moment that the Dragon Fire approached, he launched his own Hadouken...which was not a blue energy blast like before, but a true fireball.
The two fireballs clashed into a fiery explosion that forced both men into covering their eyes of the explosion. As the smoke cleared, the two saw that both were still there standing, neither of the two averting their eyes from the other. Knowing how tough this battle would be, the two tightened their headbands once more, cracked their knuckles, and resumed fighting.
Charging at the other with yells, Ryu and Liu Kang began to attack the other with a fast and powerful series of punches and kicks at the other. Both struck one another with varying blows: punches to their chins, kicks to their sides, and all sorts of blows. As Liu Kang attempted a punch, Ryu blocked it. As Ryu tried a kick to Liu Kang's face, the Shaolin Monk in turn, countered it.
Liu Kang decided to pull out a secret move of his own. Finding an opening, Liu Kang's fist suddenly set itself aflame and he struck out. Ryu barely dodged in time, but the fire still managed to singe a bit of his gi. Putting the fire out quickly, Ryu barely had a chance to do anything before Liu Kang struck out once more with flame enhanced punches.
Dodging at every strike, Ryu heavily attempted to avoid the flaming death at the hands of Liu Kang, though it was slowly getting tougher. The heat emanating from the Shaolin Monk's fists began to cause Ryu to sweat and tire. And eventually, one of those punches made its way into Ryu's side.
Ryu grunted in pain as he jumped back from the strike. Putting out the fire quickly, it seems for Ryu that now he also had fight with greater force. As Liu Kang rushed at him with flames blazing, Ryu struck at Liu Kang's chest with a side kick, stunning him for a brief time. Just enough for Ryu's counterattack.
Rushing forward, Ryu struck Liu Kang's gut with overwhelming force, knocking the air out of him and sending him slightly into the air. In an instant, Ryu then struck into Liu Kang's chin with his fist, literally shutting his mouth. The Mortal Kombat Champion could feel as if his own chin was breaking under the strike, but this pain was soon over quickly as Ryu lifted him with his fist still at his chin and sent him flying upward.
"SHORYUKEN!!!"
Liu Kang was sent flying once more, this time, landing on the ground in a flat thud. As Liu Kang got up once more, his eyes burned with anger and determination. Getting up once more, Liu Kang charged at Ryu once more. Ryu, in turn, charged as well before jumping and began to perform a spinning kick at Liu Kang in mid-air. Liu Kang jumped as well and began to kick at furious speeds at whatever was in front of him. Both performed these kicks at each other at the same time before...
POW!
The Tatsumai Senpukyaku was an effective kick, but during the spin, Ryu had his back turned at the wrong moment, causing him to be struck by a series of rapid kicks from Liu Kang's own Bicycle Kick. Landing on the ground with a thud, Ryu barely managed to get up before Liu Kang struck once more with another Bicycle Kick, stomping at Ryu's chest so furiously that the Street Fighter could almost feel his own ribs break.
The air getting knocked out him left Ryu vulnerable enough for Liu Kang to finally end this battle. Flipping over and performing a cartwheel kick at Ryu's head, Liu Kang rose quickly and uppercutted Ryu's chin at all his strength, cracking it sharply. Ryu now fully understand the same pain he dealt to Liu Kang, but was soon taken by surprise as the force of the blow sent him flying into the air as well. At that moment, Liu Kang struck out with his leg, breaking Ryu's jaw entirely. Falling to the ground, Ryu struggled to get up, but the battle had now left him dizzy and too tired to put up a defense.
It was now Liu Kang's chance to end this. Shouting a great war cry, Liu Kang ingnited his fist on fire before rushing at high speeds at Ryu.
Ryu's eyes reeled open in shock and pain as Liu Kang's fist when
through
his chest, burning through his organs and leaving a gaping hole in him. Gasping harshly, Ryu breathed in weak, short breaths as he fell once Liu Kang removed his fist from him. Liu Kang raised his bloody fist in victory and soon began to walk away. He had destroyed the threat to Earthrrealm, and now, he could return to defending it once more from Outworld.
It was over....
No...
Ryu laid on the ground in pain, but his determination kept him alive in spite of the horrific wounds he now bared. Gritting his teeth, Ryu struggled with all he had to keep his mind from entering into the darkness of death, but he knew that he was too injured beyond belief to continue living. As his mind slowly began to fade away, Ryu began to see his life flash through his eyes...
His childhood. His training with Master Gouken and Ken, the closest thing he ever held as family. His fights with Sagat, Bison, Seth, and so many others. His promise to eventually train Sakura. His promise to fight Ken again. His desire to become stronger...
Ryu's eyes closed as he seemingly accepted his fate....
NO!
Ryu's mind still struggled to get up and keep fighting.
I have too much left to live for! Too many promises to keep! Too many opponents I need to fight! It can't end this way! It won't end this way! IT WON'T END THIS WAY!!!
Ryu's eyes bolted open, but they were no longer its usual brown and full of life. It was now glowing red and full of absolute bloodlust and rage. And his body soon began to glow with some dark energy.
Liu Kang was only a few feet away when he felt the dark energy emanating from Ryu. The Shaolin Monk turned back in shock to see Ryu slowly getting back to his feet, the wound in his chest nearly healed and his head held low. Ryu's head reered forward to Liu Kang, and much to the horror of the Mortal Kombat Champion, he was fully alive, but at the same time, filled with nothing more but the desire to kill.
Ryu roared with rage as he was suddenly engulfed in dark energy, sending large wings around the area, forcing Liu Kang to cover his eyes from the blast. As the winds cleared, Liu Kang looked up and saw what Ryu had now become.
Ryu's skin had darkened, his gi had become black and tattered, his chest having a gaping hole, and his hair having become red and spiked. Looking directly at Liu Kang with his blood red eyes, the now Evil Ryu stomped stomped the ground with great fury before growling out a chilling threat to Liu Kang.
"Draw your final breath."
Liu Kang barely had enough time to properly go into a combat pose before Evil Ryu had rushed forward at blinding speed before delivering a brutal punch at Liu Kang's face. The force sent Liu Kang flying throught the air, before crashing into a tree. Shocked at what his opponent had become, Liu Kang realized that THIS was the true form of the threat to his home. This...demon in a sense was what was threatening Earthrrealm. It needed to be stopped, once and for all. Getting up on his feet, Liu Kang began firing Dragon Fires at Evil Ryu...
Only to look in shock as Evil Ryu simply swatted those out of the way with a swipe of his hand, as if they were nothing more but flies. Growling in disgust, Evil Ryu made his way once more to Liu Kang, slowly but filled with bloodlust. Liu Kang opted instead to rush forward and attempted his Flying Dragon Kick. It had helped to defeat Shang Tsung before...
And again, Liu Kang was horrified when Evil Ryu did nothing more but grab Liu Kang by the leg and begin to slam him around the ground before throwing him aside once more. As Liu Kang got up, he felt his entire body quake with fear at the presence of the monster he faced. Looking into Evil Ryu's eyes, he could see the pure rage and fury behind him. This beast was far more bloodthirsty than a Tarkatan, and even more ruthless than a Shokan! Rushing forward, Liu Kang ingnited his own fists aflame and struck forward. To his own surprise, he succeeded in striking Evil Ryu in the face with a burning fist. Liu Kang almost felt overjoyed that he managed to strike a blow...
Before his face fell flat when he saw Evil Ryu only give a sadistic grin, ignoring completely the flames at his face before he struck forward and delivered an extremely rapid series of punches and blows at Liu Kang's body, causing the Shaolin Monk to feel every bone in his body to break as well as causing him to spit out blood. The final punch into his face sent Liu Kang flying once more into the ground.
Getting up and panting, Liu Kang attempted to devise some way to just simply put this thing down. Coming up with an unorthodox idea, Liu Kang waited as Evil Ryu rushed at him before teleporting amidst flames before the punch could connect.
Evil Ryu soon began to look around the surroundings in confusion and anger, trying to look for the coward that he swore to kill. Looking in every direction, he seethed with rage and roared out, daring the bastard to fight him like a true warrior. Little did he know of what was above him...
SLAM!!!
Of all things, a giant Mortal Kombat II arcade game fell from the sky, slamming onto Evil Ryu, covering him entirely and seemingly ending his fate. Reappearing once more, Liu Kang gave sigh of relief, now truly believing that his opponent was dead. No one could ever have survived something like this...
And almost on cue, Evil Ryu hand ripped from the machine and punched Liu Kang in the face. The machine shook as Evil Ryu ripped himself out the arcade game and rushed forward to Liu Kang, picking him up by his throat before striking him in the chin with his other hand, performing a powerful Shoryuken on him once more. However, this time, Evil Ryu continued the onslaught once more, striking Liu Kang with another Shoryuken as he fell. At the end, Evil Ryu finished up his onslaught with a final Shoryuken, sending Liu Kang higher up into the air before jumping up as well, grabbing Liu Kang by the head in mid-air, and slamming his head into the ground.
The once mighty Mortal Kombat champion was now on the ground, bleeding and in pain, with Evil Ryu standing above him. Liu Kang was filled with fear of this beast of a man, but he wasn't just about to give in yet. As Liu Kang struggled to get himself up, he could hear Evil Ryu give a scoff, disgusted at how pathetic this man was to keep fighting. Liu Kang decided to use one last trick, one final move that he knew would end this battle. Liu Kang's eyes suddenly changed to that of a reptiles and his body was engulfed in flames once more.
Evil Ryu looked in shock as Liu disappeared and was replaced by something he would never have imagined. In place of his opponent was a giant green Chinese dragon that loomed over him and gave out a mighty roar. Most opponents would quake in fear of the sight of the monster in front of them, but Evil Ryu merely smiled before stomping on the ground himself, roaring in return as a challenge to the dragon.
The dragon unleashed a breath of blazing flame at Evil Ryu, causing the fighter to disappear within the fire. Liu Kang, now in his Animality, stopped and overlooked the flaming path where Evil Ryu once stood and roared in victory, believing the man to have burnt to death and be gone...
Only for the fire to be blasted back by the energies of the Satsui no Hado and out of it, Evil Ryu jumped into the air and unleashed a volley of dark purple Hadoukens that struck into Dragon Liu Kang, causing him to reer back in pain. Landing on the ground, Evil Ryu roared once more, challenging the dragon he faced with either great bravery or suicidal overconfidence.
Wanting to end this battle once and for all, the dragon rushed downward to bite Evil Ryu in half. But to his own shock, as soon as his jaws were near him, Evil Ryu grabbed the jaws of the dragon and held him back, keeping him from biting down on him. In spite of his full effort to try to bite him, Evil Ryu was keeping him fully back from finishing him off. And then, Evil Ryu did the impossible.
Using his full strength, Evil Ryu
lifted
the dragon and slammed him to the ground beside him. Downed, Liu Kang's dragon form quickly tried to maneveur itself back onto its feet before Evil Ryu could get to attack again. But by the time it did, it was already too late. The dragon looked in horror as Evil Ryu had finished charging up a final Hadouken.
Roaring, Evil Ryu launched the full beam of the Messatsu Go Hadou at Dragon Liu Kang, striking the dragon fully in the body with the attack. The dragon gave out a final roar of defeat as it dissipated back into flames, leaving a horribly brusied, bloodied, and beaten Liu Kang in its place. Now long capable of fighting, Liu Kang merely stood in place, dazed and too weak to do any more.
At that moment, Evil Ryu could hear a deep booming voice with only a single command.
"Finish him!"
Evil Ryu responded fully by unleashing his final attack. Charging up with the full power of the Satsui No Hado, Evil Ryu flew across the forest at blinding speeds and grabbed Liu Kang by the head. Liu Kang was concious enough to know that this was the end for him and closed his eyes, accepting what was about to come.
Evil Ryu only gave a final response to his defeated foe:
"SINK INTO THE DEPTHS OF HELL!"
A single blackness engulfed both. A series of horrific blows was heard. And then silence.
When it was all clear, the forest showed the end of the fight....
Liu Kang's body parts were torn apart, scattered across the area in a random mess. His own head laid on the ground a few feet away, his face with that of only calm. His blood surrounded the area, and much of it was on the ground, painted to resemble the kanji on Evil Ryu's back.
Evil Ryu himself stood in victory, breathing and panting with satisfaction. He had done it. He had won this battle and proved once more who he was. He was the strongest! He was unstoppable! He was the essence of violence itself! The Satsui no Hado! Smiling sadistically, Evil Ryu raised his fist in the air as the kanji on his back burned.
And then the sharp pain took hold.
Evil Ryu grunted as his head began to throb in pain and within short time, he was beginning to weaken. The Satsui no Hado had pushed his body to its limit and now it had to dissipate from his body. Giving out a final swear on this turn of events, Evil Ryu started to transform. The black tattered gi turned back to white. His skin and hair returned to their natural color. And Ryu's eyes lost their bloodlust and turned back to their original form. Evil Ryu was gone, and the original was back.
Tired from the battle, Ryu passed out on the ground. He had won this battle and deserved his rest. But he wouldn't realize his victory until after he had awoken.
The Satsui No Hado faded away. It was satisfied with this victory.
For now.
K.O.!!!

Ryu Wins!

FATALITY
__________________________________________________________________________________________
Insanus: AND ANOTHER FATALITY!!!
Madness: Ryu and Liu Kang were both matched evenly against one another and both fought to their fullest power. While Ryu could take a large amount of punishment, Liu Kang could take much more due to the more bloody setting of Mortal Kombat. Similarily, Liu Kang had the superior fighting style as it was more adaptable and ferocious due to the setting of the series.
Insanus: But Ryu had a bit of a better long range due to the varying forms of Hadouken. That and Ryu already had a bit of experience with Bruce Lee clones when he fought Fei Long.
Madness: The real issue in the fight was that Ryu knew an assassination art but did not know how to utilize it, while Liu Kang knew how to utilize his. His own pyrokinesis was a factor that seriously injured Ryu. But the overwhelming power of the Satsui no Hado and Evil Ryu was the game changing factor. Evil Ryu was a form that knew how to utilize his combat style to its true purpose: killing. Having Akuma's own immense durability, Evil Ryu could in fact dish out more damage that Liu Kang could take.
Insanus: And even with the awesome Animality, the dragon form of that size was essentially too big to move around well enough to counter Evil Ryu and seeing in that crappy movie that it couldn't take too much damage and the game's own lack of having Animality on Animality fights, it's not likely that it could take much either.
Madness: And taking non-canon into account, Liu Kang managed to fight the Flash and defeat him, while Ryu managed to fight against Asura, a being far stronger than the Flash.
Insanus: And uh, Liu Kang also got his ass kicked by Batman. Just sayin.
Madness: In the end, both combatants did well in their respective universe, but in the battle, it finally came down to Ryu to win.
Insanus: And here comes the raging fanboys of Liu Kang and Mortal Kombat.
Madness: The winner is Ryu.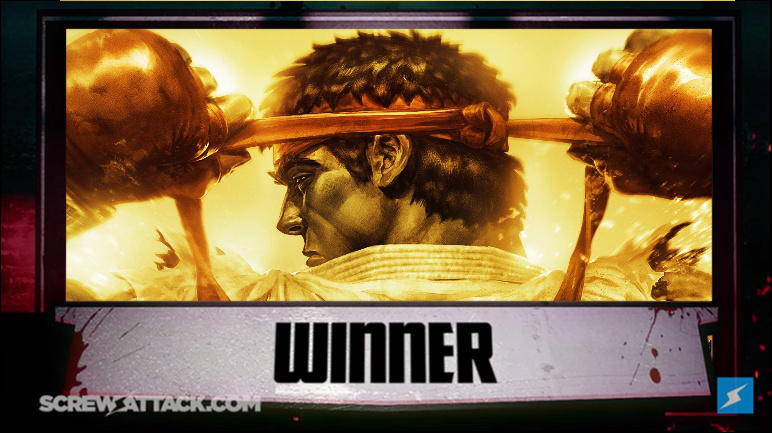 RYU
+Could match Liu Kang blow for blow
+Better long range attacks
+Could take quite enough punishment
+Experience with Jun Fan/Jeet Kune Do
+Evil Ryu was a BEAST of a warrior

LIU KANG
+Could take more damage
+Better close range
+Supernatural abilities were more damaging
-Durability of Animality questionable