13 years of being a deviant.
13 years filled with love and hate.
13 years of up's and down's.
As I became a deviant, I wanted to share my traditional art with other people, but it happened that most of you prefered my modeling stuff so in the past I did focused on that medium. In the beginning of 2018 I decided to become a retired altmodel and focus more on my traditional art and things I really love. Like paganism and history.
Now 2018 is nearly over and when I look back through this year, so much has changed. I've changed, my complete life has changed in a way of 180°. And I'm proud of if. So if you are looking here still for modeling photos, I have to dissapoint you: I'll fill this account again with traditional stuff!
Like my latest Submission: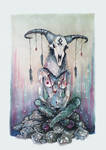 I also think about to Change my nickname here to "FroweVigrid".
Some of you might remember, this account started with the Name "FroweMinahild" and when I became more popular with my alternative modeling and started to have a small business, I changed my name in "madmoisellemeli". Let's see how I gonna decide!
How was your year 2018?
Are you Looking Forward to 2019?
Kisses, love and hugs
Méli