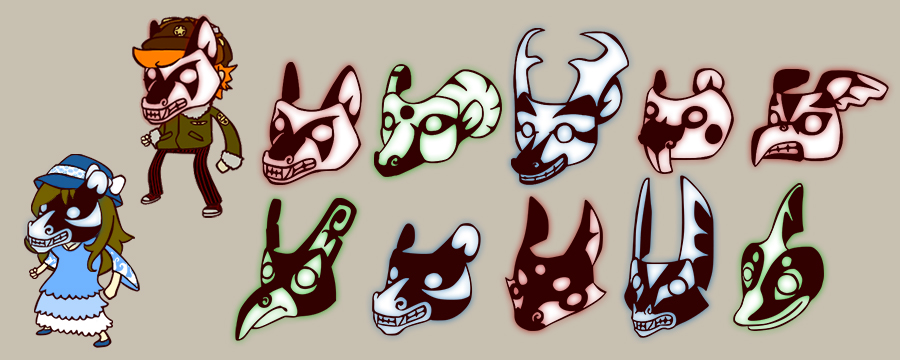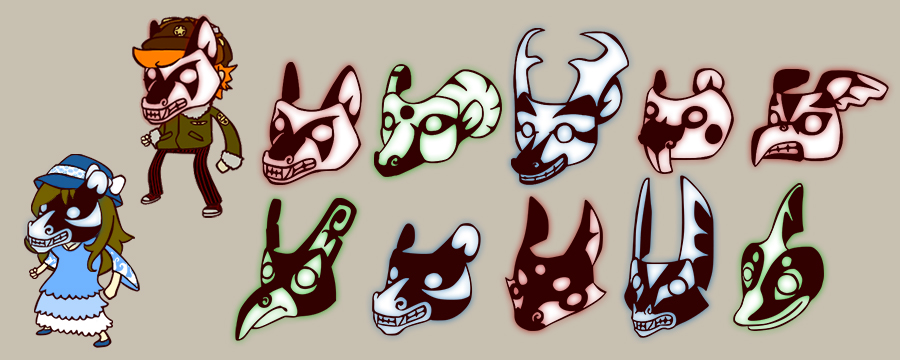 These are some of the Dreamers' Placidai for my MSPA End of Infinity.

Your Placidai is chosen based on your personality type, which is sorted by three factors:

~ Polarity

(one of two kinds - Positive, Negative)

~ Disposition

(one of five depending on polarity - extrovert/introvert, creative/unimaginative, responsible/irresponsible, agreeable/disagreeable, excitable/passive)

~ Demeanor

(one of three - Offense, Neutral, Defense)

Pictured are Cläus (positive/extrovert/offense) and Bryton (negative/unimaginative/defense)

…More on this topic later.

Reply

Ohhhh, this is really neat.
And tribal. :>
They kinda look like power ups, esp. with that heavy graphical look + color glow. But it's a neat twist how said objects can be outright equipped.

Reply

Thanks!

I'm basing the ancient Phantasmagoic attributes of this project on the art style of the northern pacific coastal native Americans. Mostly the Kwakwaka'wakw tribe, especially the Hunt family. Their work is amazing, especially Tom D. Hunt's masks. They're absolutely beautiful.
But yeah, the masks are pivotal items in this MSPA, so the colors and designs are chock full of meanings and symbolism. Tons of research in both psychology and native American lore blended together. The glow was just a way to get some color without being too over the top. :> Thankfully it turned out kinda cool.
Anyway, glad you like them!
Reply