I am Matthew Lim, and I am Malaysian...
I am now in the UK finishing my Masters, and about to embark in a crazy career in... anything. But I want to write and sketch whatever crap I get my hands on before the job starts.
My country is having this political
sandiwara
with speculation that the opposition will take over soon. Like the incumbents think they are better themselves: they had ruled the country since its founding...
As for me, I tend to have a crazy mind with twisted fantasies, and am putting it in writing or drawing [the latter is not my fave, but it is worth a shot]. I so happen to have a nack of colouring other peoples drawings and making a artful result of them... or so I think.


:thumb286432789:
Trust me... there are two exceptions... You only need to guess...
And unwittingly...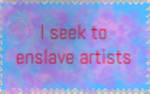 :thumb648084201: :thumb545116768:
Updating Profile...

Scout Armour being Deployed...
Favourite Movies
Those with action, or for the light hearted
Favourite TV Shows
Disney and Nick cartoons from the 1990s
Favourite Bands / Musical Artists
Beatles, Carpenters, ABBA... Too oldie? Then Disney movie songs... Too kiddie? Westlife and S club... Goners? Green Day and Linkin Park... Brother calls them noise for Noise Marines...
Favourite Books
Science, Sci-fi, medical, military... put them together and I will be in heaven... or hell for the rest..
Favourite Games
CNC Type games, the Bloody Warhammer 40K [pc version, but like the rules, art and the game itself]... Throw in some Final fantasy too...
Favourite Gaming Platform
Computer [Only platform available]
Tools of the Trade
Pencil, pen, paper, computer [SAI Artist or document processors] and a crazy mind!!
Other Interests
So many, but tends to be childish or serious depending on my attitude