We'll be hosting a Las Vegas deviantMEET!

Posted on June 30, 2014
DeviantART and Madefire are teaming up at Comic-Con, and we're hosting a deviantMEET of epic proportions.
Deviants, assemble!
Our first ever deviantMEET in San Diego!
Like any great duo of artistic avengers, deviantART is joining forces with Madefire to bring Comic-Con back to its roots and honor the true visionaries of the trade as they should be honored: with alcohol, loud music, and in-your-face art! On Wednesday, July 23rd, deviants age 21+ are invited to take over the Analog Bar and party until the Red Sun comes up. Join us as we rock out with the artists and creators who make the entire industry possible!
Analog Bar
Location: 801 5th Ave., San Diego, CA 92101
Date & Time: Wednesday, July 23rd at 10:00 PM PST
Admission: FREE, no one under 21 permitted
What to Bring: ID card, phones/tablets, sketchbooks, cameras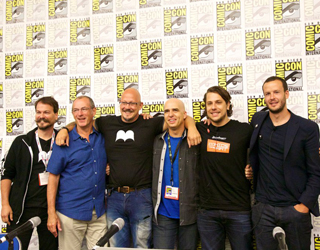 Stock up on Red Bull and aspirin, because we're kicking off Comic-Con in the best way possible. After Preview Night ends, you're invited to connect with deviantART staff, Madefire juggernauts, and fellow deviants, while rubbing shoulders with the amazing artists who populate Comic-Con's Artists' Alley. Hungry from avoiding food lines? Thirsty from the sweaty San Diego weather? Drop by the Analog Bar, and we will shower you with delicious food and adult beverages until you resemble the walking dead.
The Madefire crew will be unveiling some exclusive new Motion Books that you'll want to be the first to see, and a Madefire DJ will be scratching the records like Wolverine.
So come, eat, drink, and be geeky! Bring your camera for chance encounters with amazing artists, and get ready to get devious after dark. For obvious reasons, this event is exclusively 21 and up.