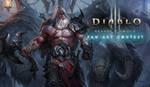 The grand prize winner of the Diablo III: Reaper of Souls Fan Art Contest traveled from Russia to California to meet with some of Blizzard's greatest creators! Read his interview about his trip to Blizzard HQ, and the detailed process he took to create his amazing contest-winning work of art.
The Winning Artist Behind the Diablo III: Reaper of Souls™ Fan Art Contest
Last year artists from around the world rallied the tools of their trade to portray the heroes of Sanctuary or Malthael preparing for the coming conflict in Diablo III: Reaper of Souls. There were over $11,000 worth of prizes and a two-night trip to Blizzard HQ in Irvine, California up for grabs, and by the time the contest drew to a close, an incredible 3,619 pieces of stunning artwork had been submitted!
From these entries, DeviantArt selected twenty-five semi-finalists, and from there the Art Director of Diablo III had the arduous task of selecting three winners whose work best embodied the spirit of the contest. When the dust settled, one piece stood out among the others.
This piece, "New Evil" by Andrey Kuzinskiy (Kuzinskiy), was declared the grand prize winner, and in the months thereafter, Andrey received his prize package, as well as a once in a lifetime reward for his efforts: an action-packed trip all the way from Russia to Blizzard HQ to meet the artists and developers that inspired him.
Kuzinskiy (Andrey Kuzinskiy)



I feel incredible emotion! A big thank you to the judges for awarding me with 1st place. There was a lot of good artwork in the competition! Still, I want to thank all the spectators and participants for your support and comments—without them my emotions would be less bright! Thank you very much! I am very happy!"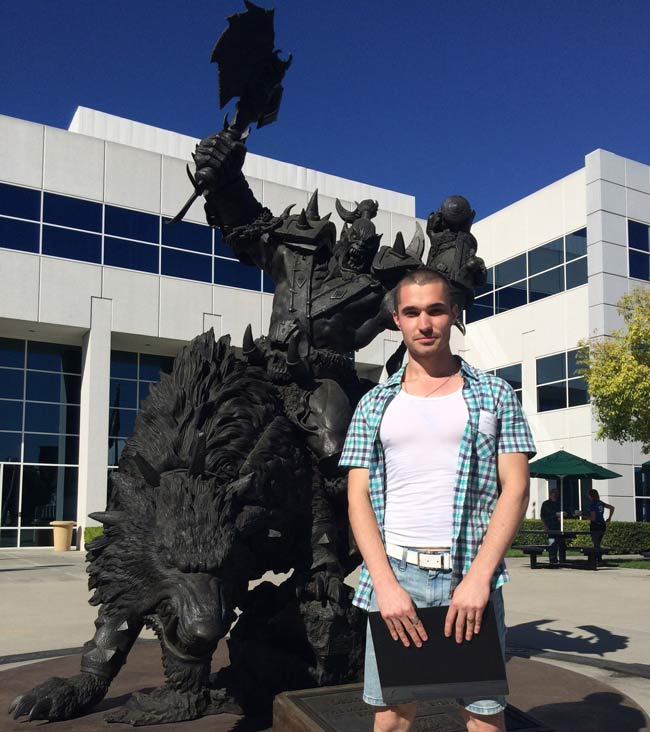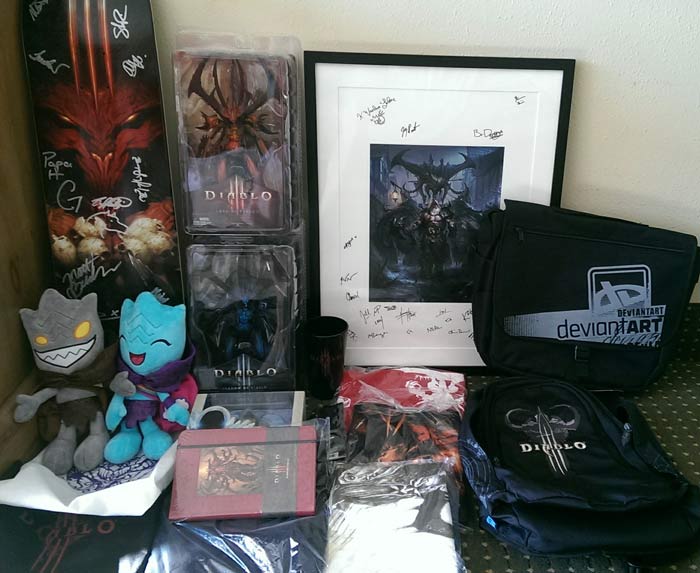 Video: A Journey to the Heart of Blizzard HQ
Interview with Andrey Kuzinskiy
It's clear from your gallery that you're an incredibly talented artist. What compelled you to enter the Diablo III: Reaper of Souls Fan Art Contest?
"Thank you, I'm very glad to hear that. My main goal was to test my strengths. I'm also a huge fan of many Blizzard game universes—especially Diablo III. That's why I did not have a second thought on participating in this contest."
---
What's your artistic background? How long have you been making art, and what sort of subjects appeal to you?
"I've been drawing since I can remember. I graduated from junior art school and later I got my bachelor designer degree at an art university. I was in my second year at art university when I tried CG art for the first time. It happened after I met artist Leo Hao. I bought my first tablet and started taking my first steps with 2D art. Leo Hao became my teacher during my last year at art university, and I've been doing CG art on a serious level for three years."
---
What inspired you to create your "New Evil" Barbarian piece and how long did it take you?
"I really like the atmosphere that Diablo III developers had created. It's a very important source of inspiration for me as a player and as an artist. I played the game for the first time as a Barbarian character because I really like that kind of character type, and I had no doubts about what character I should feature in my artwork. It's hard to say how much time I spent on this artwork in total, because I was working on it in my spare time on evenings after my day job, but my guess is that it took about 10–12 full working days, or 80–96 hours."
---
What is your artistic process for designing a piece like this? What steps do you go through in order to fully realize it?
"Usually I start by making rough sketches, but this time I really wanted to capture the atmosphere, so I started from colored rough speed paints. Unlike Diablo III with tints of flame from Diablo itself, Reaper of Souls has a different color palette with deadly touches of Malthael, the Angel of Death, which I did not hesitate to use. During my research for references, I saw a lot of artwork with dynamic battle compositions and I decided to go with a calmer, but not at all peaceful, direction. After these "mood" concepts, I started to work on contours and compositions. I asked myself questions and searched for answers to them:"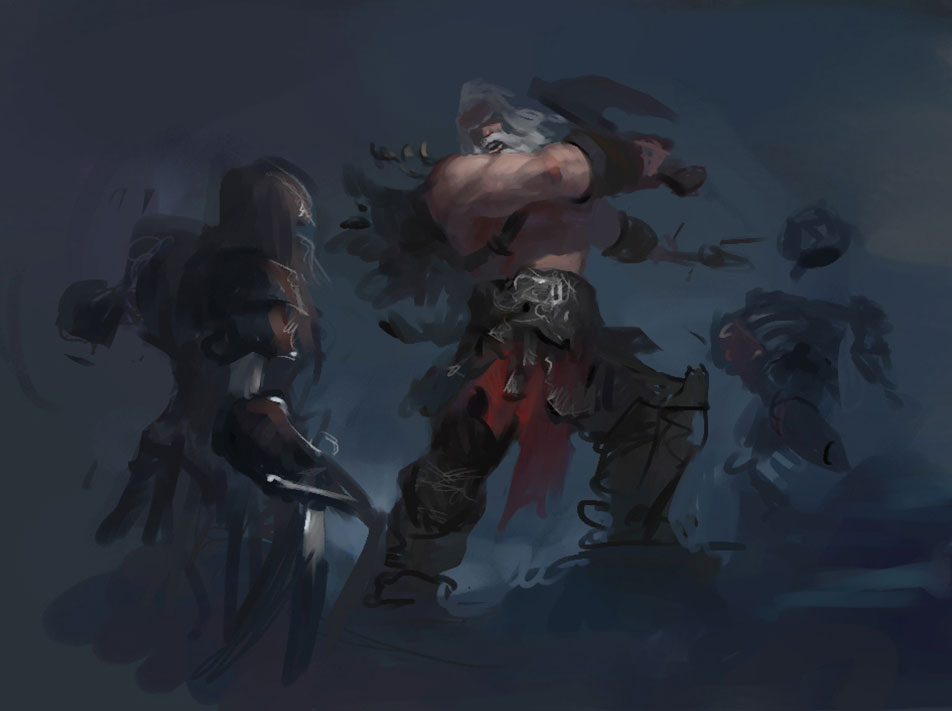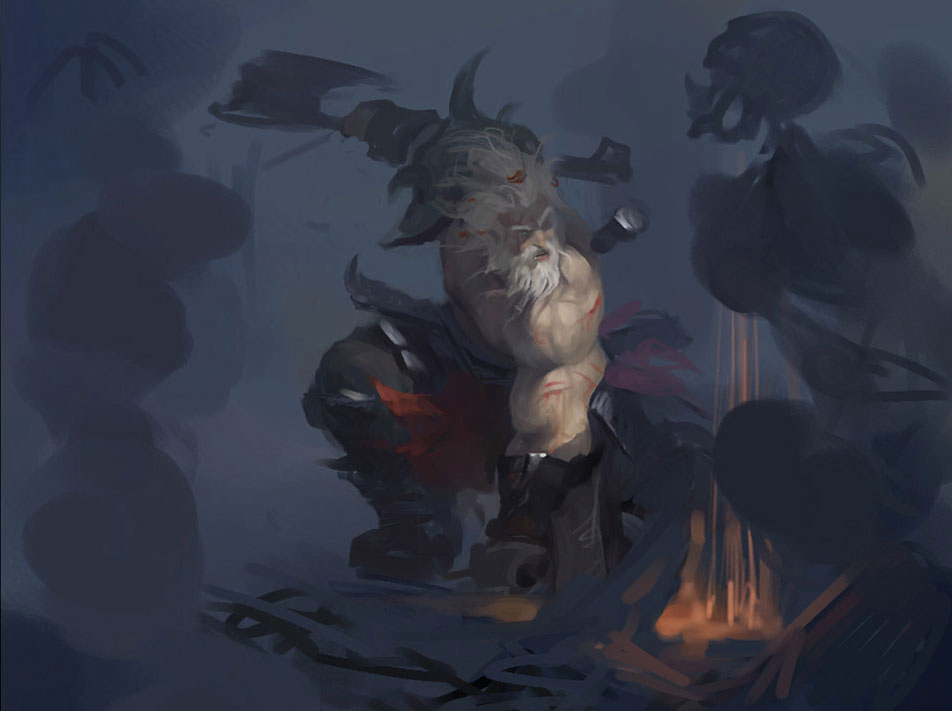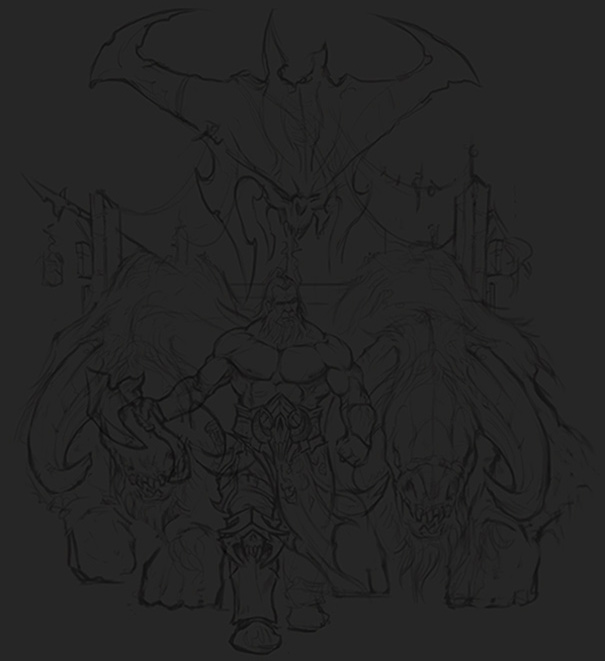 To Kick Off The Creative Process, Andrey Asked Himself...
"How do I show a new beginning?"
"By showing the end of an old chapter and the death of Diablo, and there is no better way of doing this than by showing a defeated Diablo. That's when I decided that Diablo's head, as a trophy, is a perfect storytelling piece."
"Who is going to drag this enormous head?"
"That's when I remembered these creatures from the game that look like bulls and thought that my characters could capture and tame them and use them for dragging heavy objects. So they drag this cart with the sinister silhouette of Diablo's head."
"But why would my character try to display this head so obviously, and not just keep it in the cart?"
"To show people that evil has fallen and there is nothing to be afraid of anymore."
"But where are all the people and why is it so silent?"
"Fog is fading out and you can see some garbage lying on the street and, among this, something that looks like the bodies of missing civilians. And suddenly our Barbarian understands that a new evil has risen, and he has to be ready to fight back with danger lurking in the mist.
"All these parts of a story came together in one piece in my head while I was working on this artwork. After I finished the contour of the main details, I started to fill it with main color and tone. I put light sources on the scene and started to add more details. In my next step, I covered up the contour on the new layer by adding a next pass on details and finishing up with color correction. I enjoy working on details, and that's why I never use textured brushes. I paint everything from start to finish with one brush."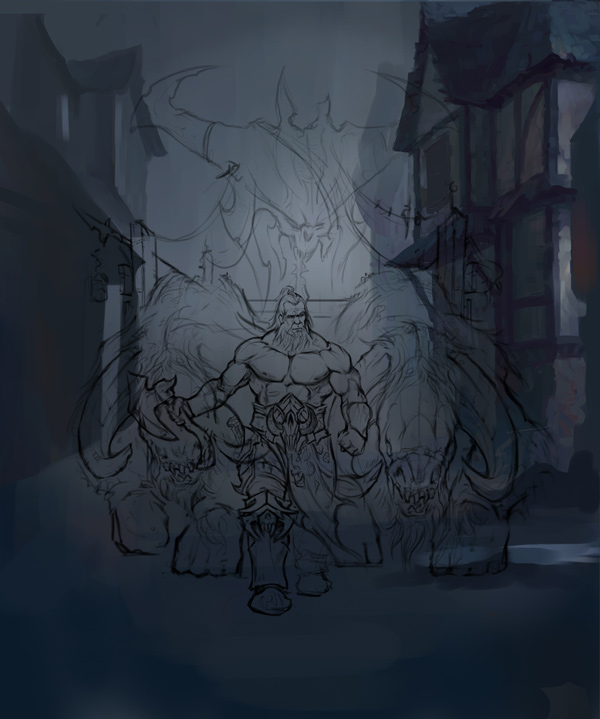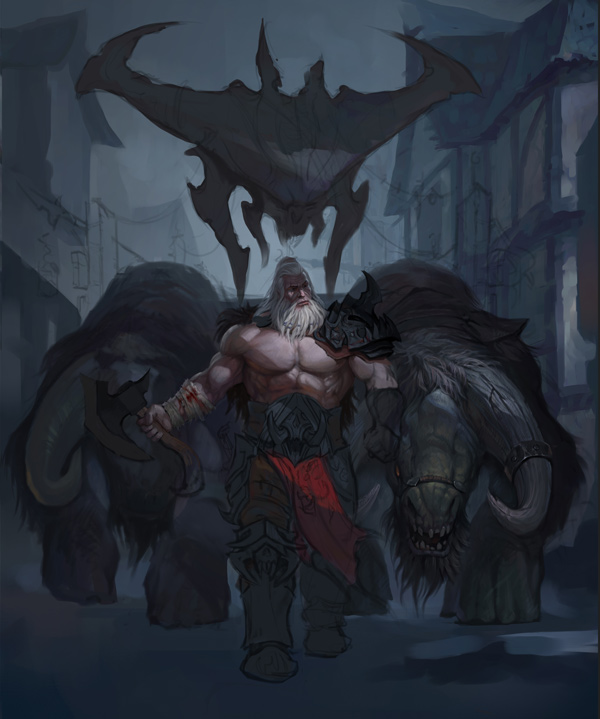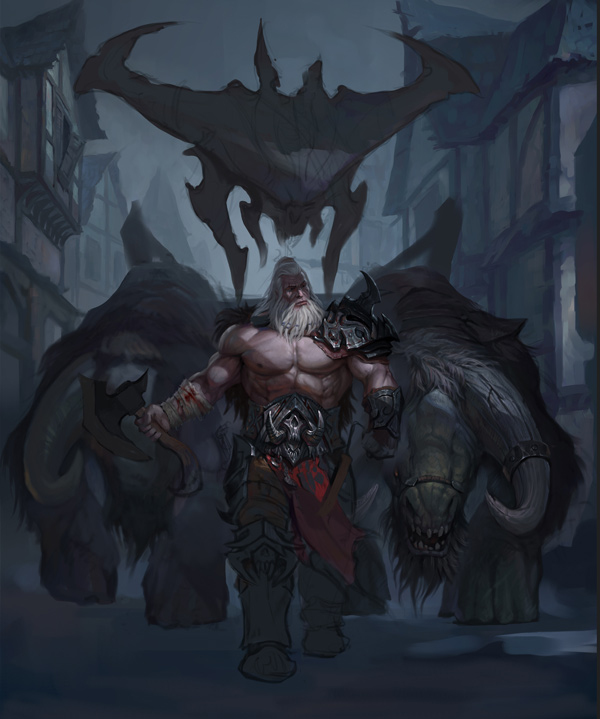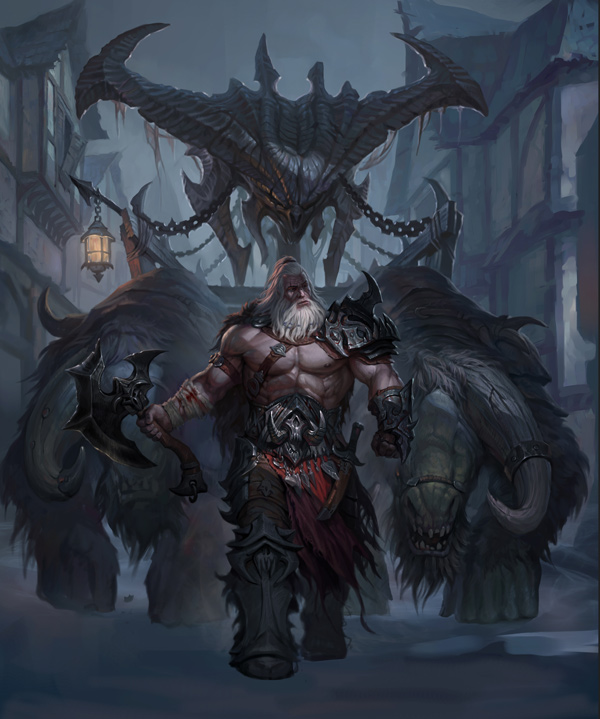 We know that a lot of time and love goes into creating epic fan art. What's your favorite detail that you included in your "New Evil" piece?
"I set a few goals for myself, but my main goal was painting a human body. I think that knowing human anatomy allows you to create more realism-based fantasy creatures. That's the reason why I really enjoyed working on the main character."
---
As part of your prize, you had the opportunity to tour Blizzard HQ and meet with many artists and developers from all over the company. What were some of your favorite memories from your tour?
"That was a very emotional day! It's a very hard question because from the first to the last minute of that day my heart kept pumping like crazy. Every moment and every event of the day was like layers of a huge and delicious pie of memories. Huge thanks to Blizzard and Deviant Art for that fantastic day!"
---
What were some of the things that surprised you the most during the tour?
"It was a pleasant surprise when I discovered that Blizzard employees can bring their pets to the office. I don't know if it's a common practice here, but it was something new to me. I really like animals, but I don't have any pets right now yet."
---
What tips and advice do you have for aspiring artists, particularly those that are just getting started?
"An artist isn't alive until he or she allows himself to make mistakes and learn from them. If there are no weak spots or mistakes in your artwork, then you don't have anything to learn from, and that means that the artist inside of you is dead. Love what you do, and do what you love!"
---
Enter our newest epic Blizzard fan art contest today
Now's your chance to join the fight for Nexus! Assemble the mightiest heroes from across Warcraft™, Diablo™, Starcraft™, and more in our Heroes of the Storm Ultimate Fan Art Contest!
---