Description
Hand-bound book, with edges of pages randomly hole-punched. Covers/spine: polymer clay, acrylic paint, Pearl Ex, thin copper sheet, brads, and random metal things I found in my dad's workshop (from top to bottom: a part from a hair dryer, a spare wheel from a remote-control car, a screw thing for adjusting the height of a shelf, a large nut, an aperture I made from the thin copper sheet, a part from a pool cleaner, and a part from a blender).

SOLD

www.etsy.com/listing/277271054…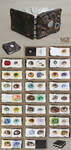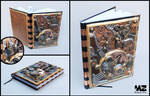 instagram.com/madeleizoo/

MadeleiZoo - YouTube

vimeo.com/madeleinemathis

etsy.com/shop/MadeleiZoo

facebook.com/madeleizoo/

madeleinemathis.com

Madelei Shop | Redbubble

MadeleiZoo's Store | Society6
Image details
Image size
2765x4497px 1.05 MB
Date Taken
Apr 16, 2016, 2:25:17 PM
would you be willing to make another one with lined pages? it doesnt have to be the same i do want copper and gears and stuff but i also want it to be unique and about 2 inches thick not including the hard cover. this journal will be going on tour with me as i go to speak about being the victim if lifetime human trafficking and this will be my thoughts journal along the way so it will be seen by many if you would like me to give you credits i will. but first i need to know if you are up to the challenge and how much you will charge???? my email is the fastest way to reach me @ pipersurvived061616@gmail.com.