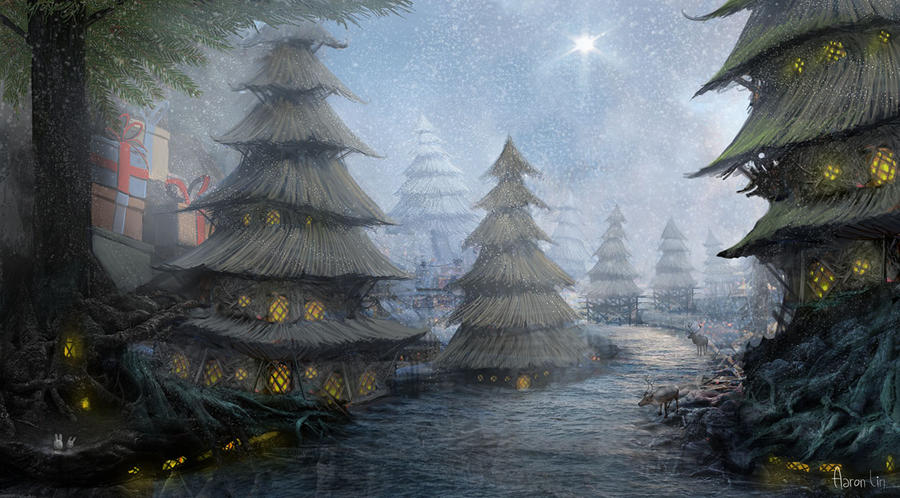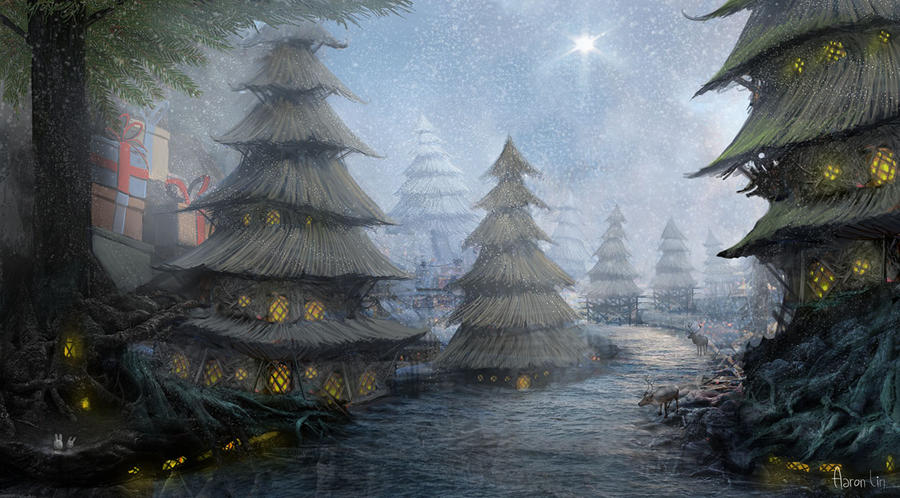 Blessed Christmas to all and have a awesome 2013

Matthew 2:9 (NIV)
After they had heard the king, they went on their way, and the star they had seen when it rose went ahead of them until it stopped over the place where the child was.
This picture is beautiful.

It captured my attention as I was scrolling through my feed, and I ended up doing a double take and scrolling back up to it.

I love the creative work that went into it. The lovely little homes t hat look like trees (Christmas trees!) if you don't pay attention. The lights from the windows could almost look like Christmas lights wrapped around the tree. It's such a cool, imaginative, idea!

I love the soft, winter colores that were used as well - it makes me feel like we're looking upon this scene early Christmas morning.

The attention to detail is also very good, from the texcure of the trees, to the flurries of snow, to the reflections in the street - it's all wonderful.

So far this whole critique has simple been praise, but I look at this and struggle to find anything wrong. The only thing I might be tempted to change would be the giant Christmas presents in the corner. I feel like it's a little distracting and changes the natural forest-y tone to the picture, but I also like how it looks like the presents under the tree so I understand why you did it.

Anyway, I really do favor this picture. It's made me smile, and I've enjoyed examining it closer as I wrote out this review. Good job and keep up the great work!
The Artist thought this was FAIR
8 out of 9 deviants thought this was fair.
This picture is so detailed, so beautiful that I can't keep my eyes of it. There are so many things to look at with two bunnies at the bottom left, reindeer by the river, presents by a tree used as a house, in fact many of the trees are used as homes. You can see roots from the tree buildings and the snow, so many flakes of snow. You can even see the reflection from the river. Only one star appears from the sky, but it is a very beautiful star. A star of Bethlehem as people like to call it.

Many people out there should greatly appreciate this artists efforts in creating this. For this must have taken much thought and much time. One should just stop what he or she is doing and look at this peaceful picture and wonder, what inspired this artist?

One can only wonder what the inhabitants in their homes are doing. Are they having dinner? Are they getting ready for bed? Are they partying on Christmas eve? One can only wonder.
The Artist thought this was FAIR
3 out of 4 deviants thought this was fair.