I don't need to tell folks about what's going on here in the US with the President of the United States. It's all over the news.
But Trishbot and I decided that we needed to do a little more, so she did a nice render showing MacroLass and Hypnotica showing solidarity for the real world marchers in Washington last weekend.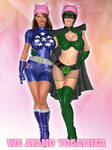 Like she said in her own post, we're not political at Metrobay Comix. This is just an artist and a writer as people showing our position on an important event in our nation's history.