I'm on a roll, here. Got to keep the momentum going!
Voila - thing #3:
Mix bold colours. They may look like too much on the palette, but they will work better in the painting.
I know a professional artist that has an outstanding eye for colour. He sees colours where mere mortals like myself see monotone. I was inspired so much by his abilities that I resolved to work on a piece that would attempt to emulate them. The experience was an eye-opener. The practical side of me fought it every step of the way. My head was chock-full of contradictions - every time I mixed a colour I would instinctively attempt to kill it with the opposite end of the spectrum. Even as the paint was going on the canvas I was balking (mentally). As the process continued my resistance started to wane. I was beginning to understand the importance of colour and how the role of art (my art at least) is not to represent reality, but to augment it.
The result of my inner battle was one of my most favourited pieces on dA: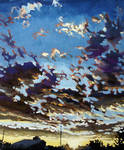 I'm glad I lost/won.
Thing #1:
maccski.deviantart.com/journal…
Thing #2:
maccski.deviantart.com/journal…
Why am I posting this stuff?
maccski.deviantart.com/journal…
Take a look at my Facebook page...if you like it, please "Like" it!
www.facebook.com/MontrealArtis…
Thing #4 on it's way....