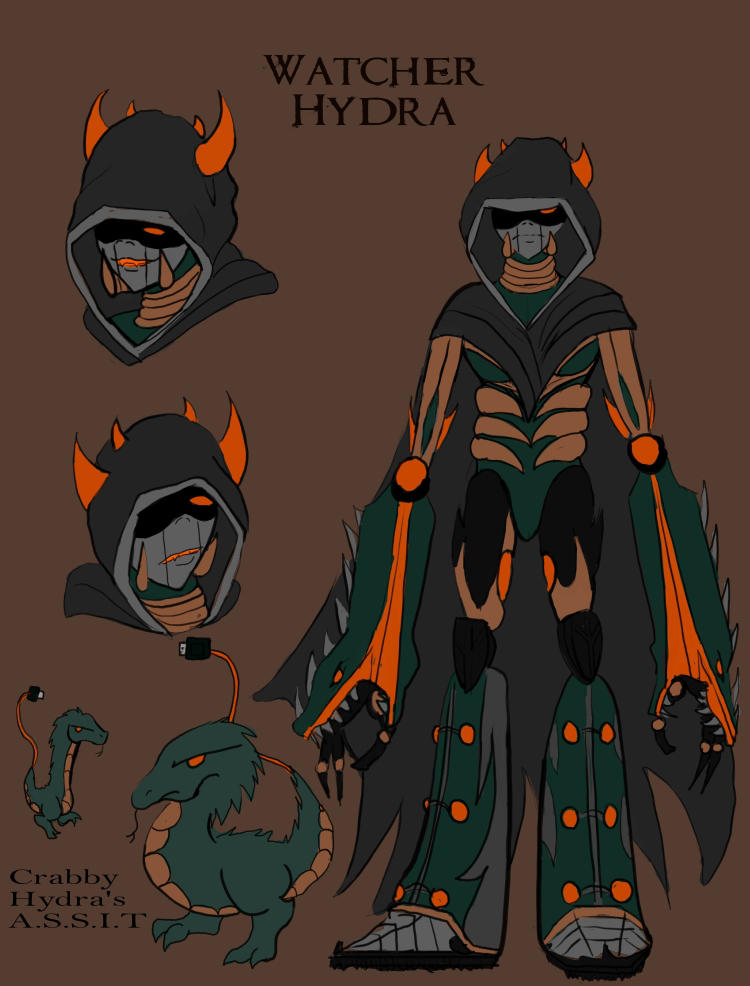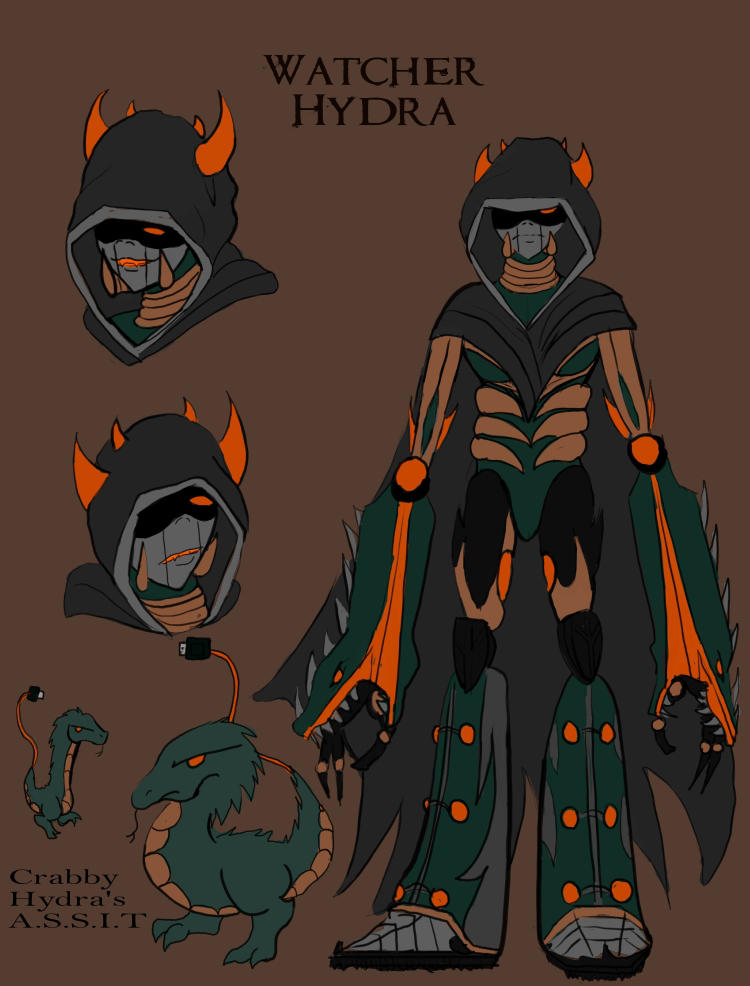 Watch
Watcher Hydra's concept art :3 actually like how the little bugger turned out XD

He is one of the shorter Watchers at about five foot six but he likes to be small. Short is better for his style. Of all the watchers none can regenerate like he can and if you chop of one of the arms, he grows multiple ones >:3 just like the hydra of legend XD

His assist Crabby is a very tempermental ASSIT that speaks in grunts and growls and snaps at people constantly. Some say it is because of the amount of techno music Hydra downloads and listens to..... XD

anyways enjoy!

Watcher Hydra and Fantasy is Dead is Copyright to me ^__^

Dur borrows various pieces of armor from around the Sarghress Fortress, mounts his noble steed (a giant tiktikki), and issues the challenge, "Watcher Hydra, I challenge thee for possession of the impossibly cute Crabby! PREPARE THYSELF FOR BATTLE MOST FIERCE! URAH!" >:3

rushes into battle!

(i thank Mellamo for the opportunity to use the hostile smiley, mahahaha! lol)
Reply

Hydra: *Deadpan look lifts arms and fires his lazors, with missle launchers, attack blades, and hydra-lik regeneration in the wing*....I'm TRYING TO LISTEN TO MAH TECHNO! I'M NOT SHORT XD"
Reply

Freaky... I like it. Maybe Crabby is crabby because he has only 2 limbs?
Reply

that may be why XD Hard to do stuff with your feet ._.;
Reply

In an attempt to better understand Crabby's situation, Dur tries to eat a taco with with feet...
Reply

OH. MY. GOD. Mellamo, please direct to whatever horrifying nether realm you keep getting this AWESOME designs from!

Hydra's design is perhaps the most complex and original one yet, love his skeletal form and serpentine face and arms. I especially love his smug expression in the upper left corner.

Oh, and I wants a Crabby of mine own! PLEEZ WITH SPICY SPIDER LEGS ON TOP? "chibi Dur performs the puppy dog pout"
Reply

Hydra was a fun one to do ^^ Hopefully the others will turn out just as well ^^

and your own Crabby? >:3 ASSIT belong to their owners. If you want it you have to fight Hydra for it >8D
Reply

Reply