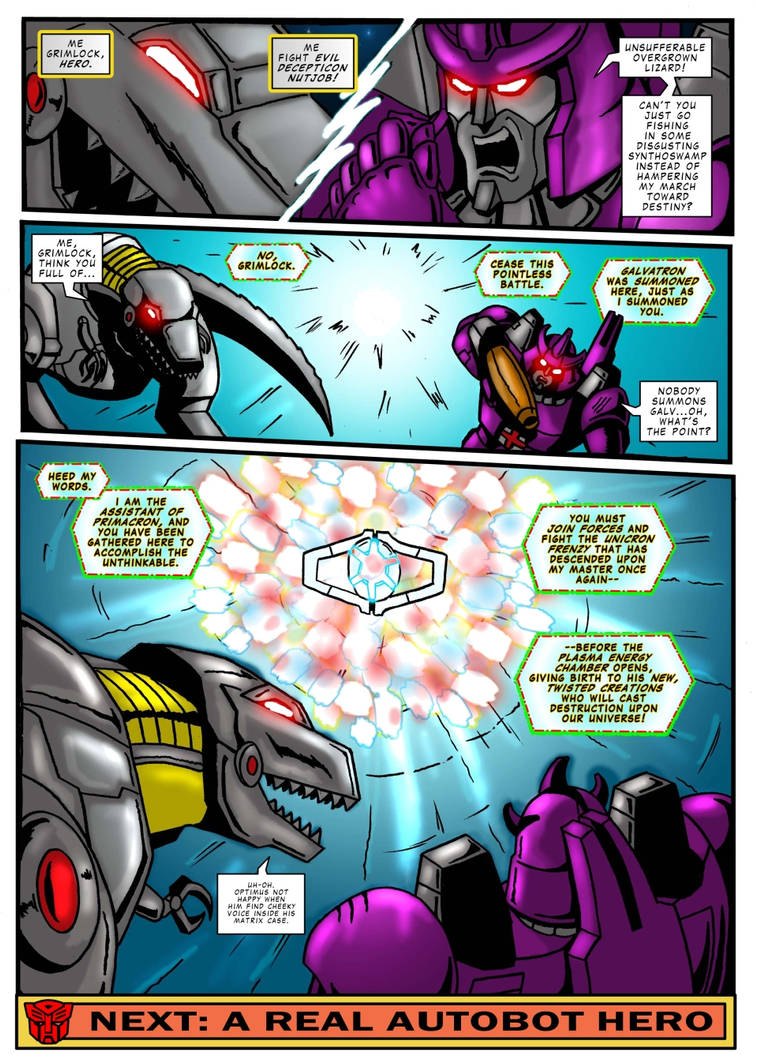 TRANSFORMERS: GENERATION 1
CALL OF THE PRIMITIVE
PREV <
PAGE 5 >
> COVER
> GALLERY
Art by James Marsh

Story and lettering by me

NOTES
As you might remember,
"Grimlock's New Brain"
shows that Dinobots like fishing in synthoswamps.
By paraphrasing "Nobody summons Megatron", Galvatron pays tribute to
Transformers: the Movie (1986)
!
AS everybody already understood, "Cheeky Voice" is Primacron's Assistant. In
"Call of the Primitives"
, his shattered remains gave birth(?) to the Matrix Case which then left for other places (Cybertron?).
The Assistant's essence remained behind, but now it can be temporarily reunited to the Matrix Case.

Dino's are not lizards

they are birds ((aparently))
Reply

Yes, they seem to be common ancestors of both the species.
Reply

Reply

Hey, your avatar is Dean!
And thank you for reading, btw.
I'm pretty fond of new theories about dinosaurs and my fancomics often point out how we got their resemblance wrong for decades!
Reply

yes XD

and np. And it is strange how we got so many things wrong from decades. But what do you except when all you have to work with is millions of years old bones, footprints, and rocks?
Reply

That was 1 of my favorite episodes!! Grimlock pwned ALL of their asses!!
Reply

True! For some reasons, the cartoon writers realized that Grimlock had the potential at being leader... just like in comics.
Who knows, maybe season 4 woud have had a Grimmus Prime.
Reply

Grimlock and Galvatron vs the universe!
What could possibly go wrong?

Loved this short story, can't wait for "A Real Autobot Hero"!
Reply

Grimlock and Galvatron teaming up to save the universe?
...We're doomed. We're screwed!
Also, 'Nobody summons Galv...oh, what's the point?' Pure gold, man!

Reply

Oh, dignity - when did Galvatron have it?
Reply

Very cool comic story and comic! I like how it ties in with quite a few G1 episodes and really love all the references you added in!
I like the style of drawing and colouring of the artist, it gives the classic G1 feel when reading and looking at the comic.
As far as I can remember wasn't it episode 24 - Season 3 - Grimlock's New Brain, that we see Grimlock and the Dinobots fishing in a synthoswamps?
What I really like about this last page 5 is the panel 2 and 3 how you made some colourful and cool dialogue boxes for when "Primacron's Assisant" is talking, it compliments well with the drawings and it's just great!
Thank you for sharing another G1 story, it never gets old when thinking about the possibilities on how it can tie in with the G1 cartoon!
Excellent effort you two two! and can't wait for "A Real Autobot Hero"!
Reply

OMG, you're right about the swamp: thanks!

And thank you so much for enjoying the story and leaving such spot-on comments. You saw into everything we were trying to convey to the readers!
Reply

Haha, you're welcome!

My pleasure! Hehe thank you! Yes my memory bank is fully aware of the great memories it holds for episodes like "Call of the Primitives". Glad I could help!
Reply

Lol, nice job. Call of the primitives was one of my favourite cartoon episodes.
Reply