Dear Moz Watchers! Some.VERY.big.news.
I'm proud to announce that the legendary Heavy Metal Magazine will be serializing the entirety of my graphic novel 'Salsa Invertebraxa' in 6 bi-monthly chunks, along with some awesome comics from big hitters including DC mega-scribe Grant Morrison!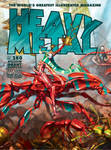 This month see's the herald of his first issue as Editor-In-Chief, as he steers HM into taking a renewed leap into the punk-fantasy-phasmagoria that it was famous for.
There's a great twist if you're already familiar with Salsa and its ultra-ultra-widescreen format, as I'll be re-mixing it into the traditional comic 'portrait page' format, along with a few tweaks of text here and there, lets just call it the Salsa Vertical Metal Remix, so this will feel and play a little different than the one you already know

And if that wasn't enough to give me arrhythmia, I scored a cover too with one of the 'Prophets of the Ghost Ants' illos! Jeff Krelitz reminded me I've just joined the ranks of Moebius, Giger, Bisley and Richard Corben- one of the most prestigious honors that can bestow an artist.
The EW article has it all, here's the link!
EW Heavy Metal feature