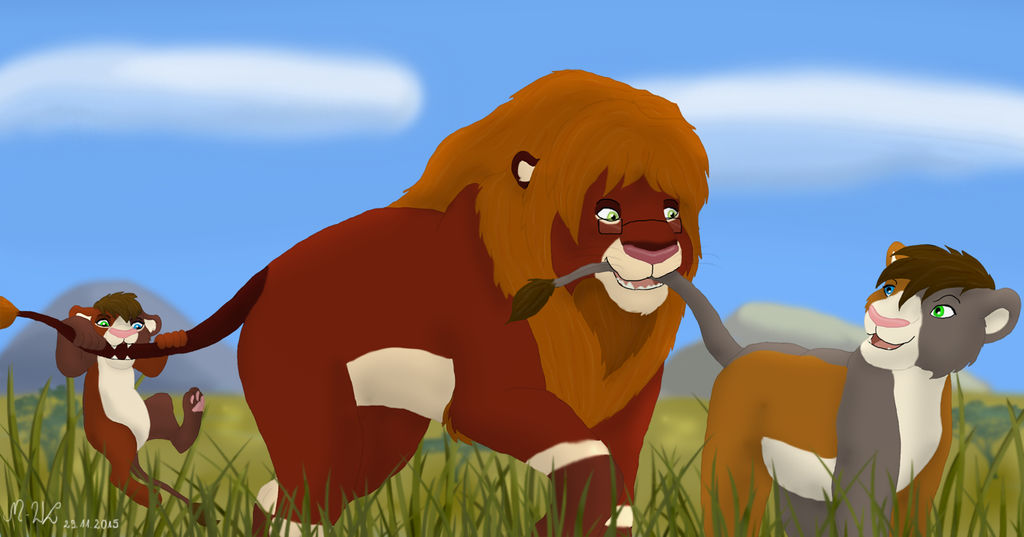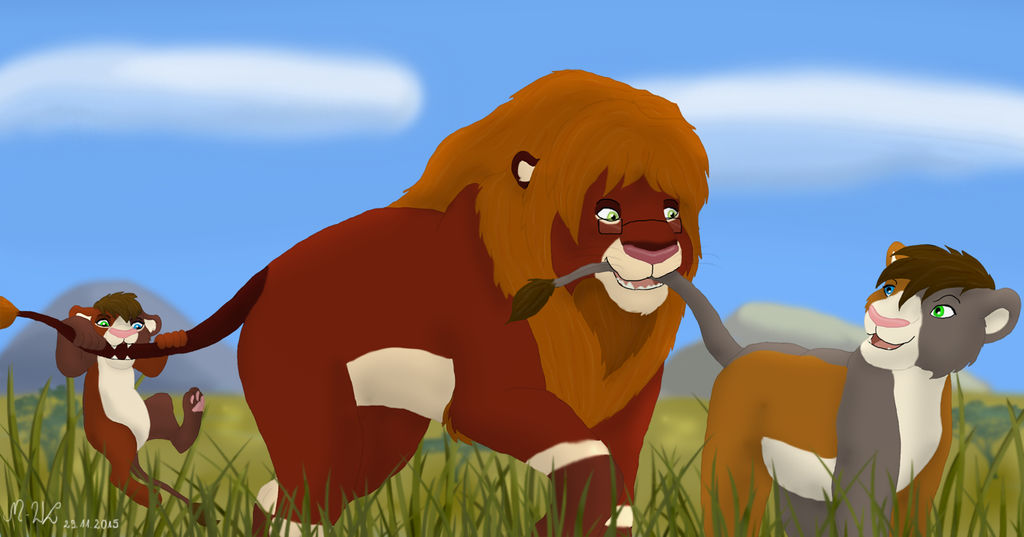 Watch
Kalla went for a walk. On the Lion's Glade was something quietly. Too quietly... Suddenly she felt that somebody had grabbed her tail.
"Keddy, what are you doing?", asked Kalla.
"We're playing elephants. We need a female who would lead our herd. As you know, elephants keep tails during the walk".
Kalla looked for him. The view of the hanging daughter amused her.
"Ok then", laughed Kalla. "So where I have to take you?"
"To the waterhole", answered Layla. "I'm thirsty"
"Follow me, elephants!", cried Kalla and everybody went to the waterhole.
Cute, family play. It isn't?

Kalla, Keddy, Layla and art (c) me
PL
Kalla wybrała się na spacer. Na Lwiej Polanie było coś cicho. Za cicho... Nagle poczuła, że ktoś złapał ją za ogon.
- Keddy, co ty robisz? - zapytała Kalla.
- Bawimy się w słonie. Potrzebujemy samicy, która by prowadziła nasze stado. A jak wiesz, słonie trzymają się za ogony podczas wędrówki.
Kalla spojrzała za niego. Widok zwisającej córeczki ją rozśmieszył.
- No dobrze - zaśmiała się Kalla. - To gdzie mam was poprowadzić?
- Do wodopoju - odpowiedziała Layla. - Pić mi się chce.
- Za mną, słonie! - krzyknęła Kalla i wszyscy ruszyli do wodopoju.
Słodka, rodzinna zabawa. Czyż nie?


Czyżby Keddowi się przytyło czy napakował na siłce

?
Reply

Wiem, źle go narysowałam... Powinien być szczuplejszy

Reply

Fajny art, czy ten lew nosi okulary?
Reply

Rozkosznie

Szczególnie podoba mi się jak narysowałaś małą- tak fajnie dynda

Reply

THIS IS SOOO SWEET!

<3
I REALLY LOVE HOW YOU DREW THEM AND I LOVE THE POSES AND THE BG!

^^
Reply