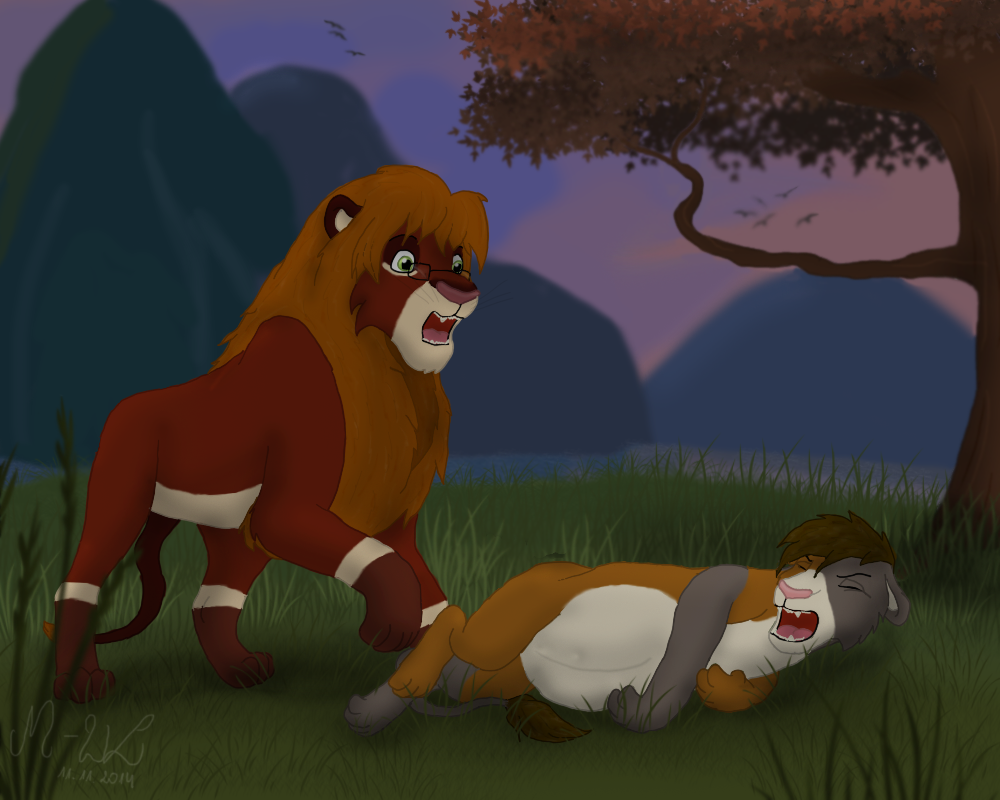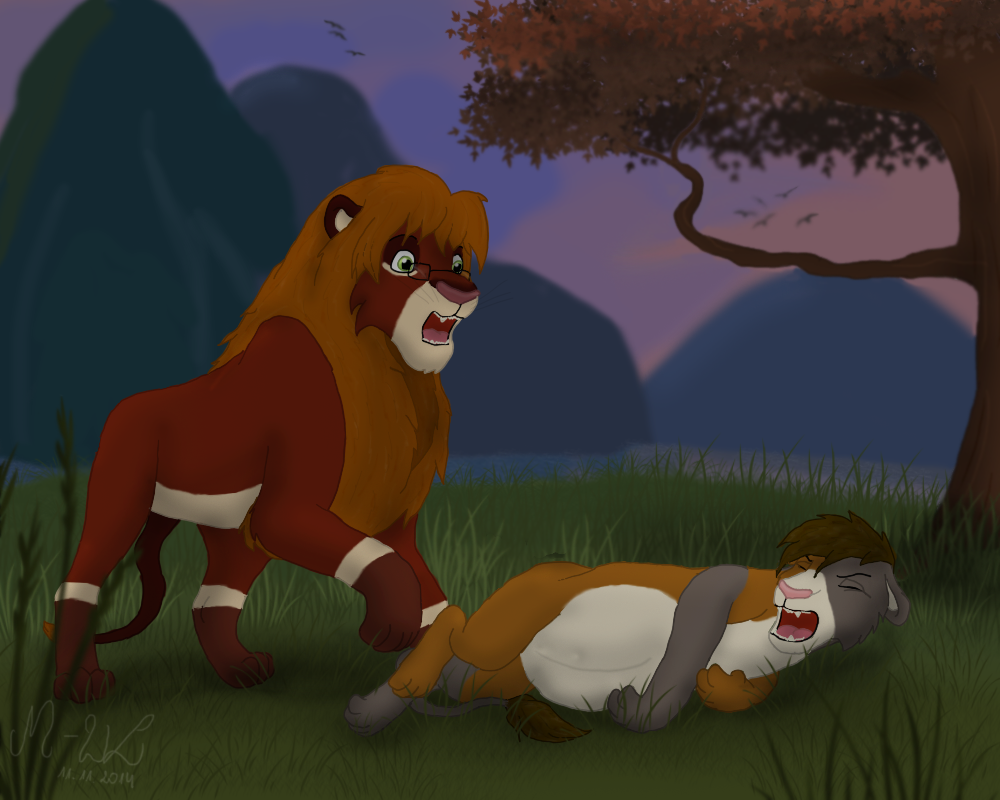 Watch
Kalla and Keddy were on the walk this evening. It was formed late and they decided that they wouldn't come back to the herd, but will be sleeping on a glade. The evening was warm, it doesn't herald on rain. Apart from that Kalla was pregnant and she couldn't walk much.
They lay down on the grass. Suddenly Kalla felt such a contraction, as far as she flinch.
- Darling, cub again is fidgeting? - Keddy laughed.
- No... I have a stomachache... - she answered barely. - Probably it starts...
- What is being started? - a surprised lion asked.
- Bir... - Kalla didn't complete, because she felt an intense pain and after a moment started screaming.
Keddy got up panicked.
- What's happening?! A cub is born?! Now?!
- Supposedly when?! Aaaaaaaah!
- What am I supposed to do? What am I supposed to do?! - out of nervousness he thumped with paws in the place. - Honey, what I am supposed to do?!
- Mmmm... Stay here and you will assist in the birth... - gasped Kalla out.
- Me? But I... I don't know how... I will go for somebody...
- Calm down and be a lion! - she shouted upset. - There is no more time... Stay by me, please... Only don't faaaaaaaaaaaaaaaaaaaint, aaaaaaaaaaaaaaah! - she felt another contraction.
Keddy still panicked, he got it poorly, but he took a deep breath. He lay down by his wife and with fear looked at the birth. Gosh...
Oh my, in the end I found time and mood for drawing the cubbirth. I should was to do it a year ago, but somehow I didn't have a chance

. Finally Kalla is giving birth! It will be a boy or a girl? Or maybe twins?

Kalla, Keddy and art (c) me

grass and leaves brushes (c) charfade
PL
Tego wieczora Kalla i Keddy byli na spacerze. Zrobiło się późno i zdecydowali, że nie będą wracali do stada, tylko będą spać na polanie. Wieczór był ciepły, nie zapowiadało się na deszcz. Poza tym Kalla była ciężarna i nie mogła dużo chodzić.
Położyli się na trawie. Nagle Kalla poczuła taki skurcz, że aż wzdrygnęła.
- Kochanie, dziecko znowu się wierci? - zaśmiał się Keddy.
- Nie... Brzuch mnie boli... - odpowiedziała ledwo. - Chyba się zaczyna...
- Co się zaczyna? - zapytał lew zdziwiony.
- No por... - Kalla nie dokończyła, gdyż poczuła silny ból i po chwili zaczęła krzyczeć.
Keddy wstał spanikowany.
- Co się dzieje?! Lwiątko się rodzi?! Teraz?!
- A niby kiedy?! Aaaaaaaa!
- Co mam robić? Co mam zrobić?! - ze zdenerwowania tupał łapami w miejscu. - Skarbie, co mam robić?!
- Mmmm... Zostań tu i odbierzesz poród... - wysapała Kalla.
- Że niby ja? Ale ja... nie wiem jak... Pójdę po kogoś...
- Uspokój się i bądź lwem! - krzyknęła zdenerwowana. - Nie ma już czasu... Zostań przy mnie, proszę... Tylko nie zemdleeeeej, aaaaaaaaaaaaaaa! - poczuła kolejny skurcz.
Keddy nadal panikował, zrobiło mu się słabo, ale wziął głęboki oddech. Położył się przy żonie i ze strachem patrzył na poród.
O matko, w końcu znalazłam czas i wenę na narysowanie porodu. Powinnam była zrobić to rok temu, ale jakoś nie miałam okazji

. W końcu Kalla rodzi! Będzie to chłopiec czy dziewczynka? A może bliźniaki?