Here's a closeup from
my coloring
coloring of some
great line art
by
reptileye
. This one was a lot of fun to work on, and hopefully I did it justice! Three sexy Overwatch babes... what's not to love?

Tracer and D.Va have succumbed to Widowmaker—probably through some sinister trap—and now they're forced to lick her delicious curves. But from the look of them, I think they're starting to like it.
This pic is part of a set. Here are the others: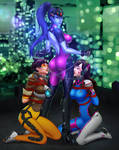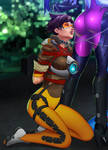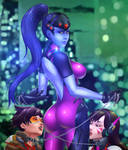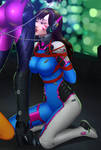 Interested in commissioning your own kinky scenario?
www.deviantart.com/lyxella/jou…
Pixiv:
www.pixiv.net/en/artworks/9400…
Twitter:
www.twitter.com/LyxellaMorvaKa…
Patreon:
www.patreon.com/lyxella
Image details
Image size
2754x1725px 5.8 MB