Happy Halloween 2018! (feat. Alisha and Minerva)
Victor in spotlight!
The former Angela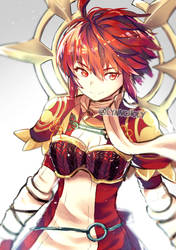 Hinoka: Blue Sky Warrior
Mirrored Worlds|sdlroW derorriM
HnK: Scholar Phosphophyllite [01]
Forbidden Barrage [Catadioptric]
Improvement meme with Yukima
Nanachi and Mitty
A smol salty witch
Commission: Utsuho Reiuji
The Ultimate, Absolute Secret God - Okina Matara
Another - Misaki Mei
Illusionary White Traveler - Narumi Yatadera
Ordinary Magician Marisa Kirisame
Shrine Maiden of Paradise Reimu Hakurei
Princess Mononoke - San
Fanart: Rossdraws' Nima!
A deep-mountain encounter - Nemuno Sakata
Maka Albarn Fanart
Niko - OneShot
Ram and Rem - Re:Zero fanart
Ran Yakumo
Under the same sky