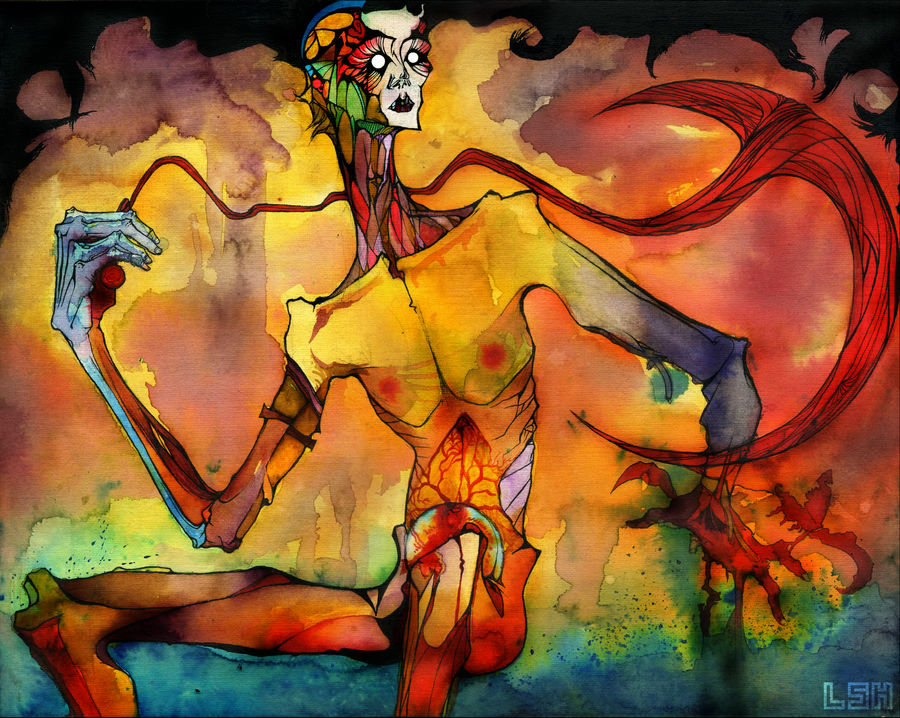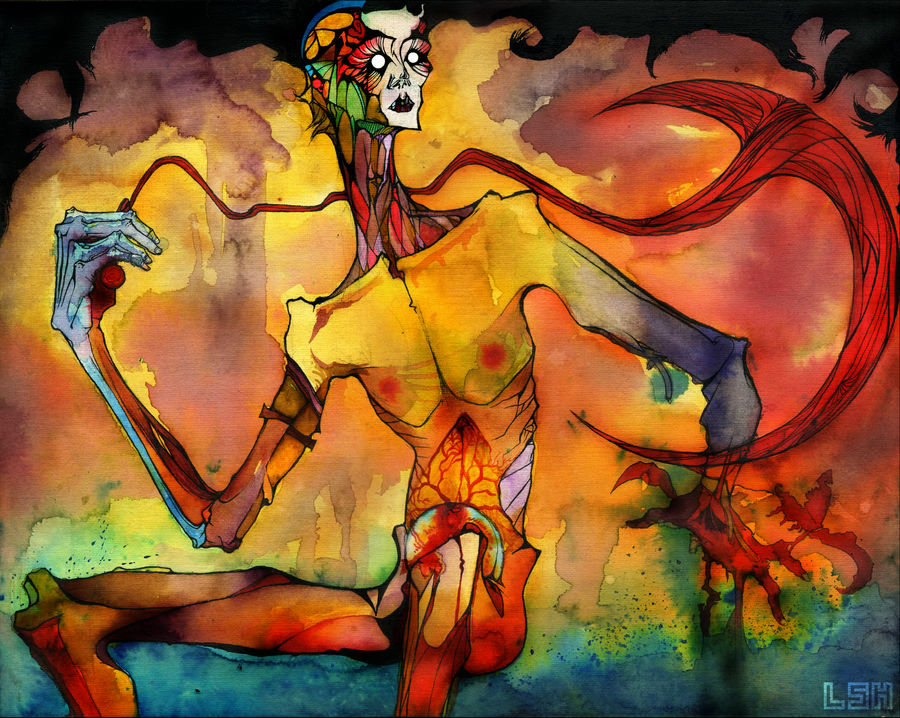 Watch
The Philosopher's Ego. 6/08
Inks, Watercolours and Pens.

A piece i drew and left under my desk for a few months before painting and inking it all in one night right before school. I was still inking in the lines on the train to school the next day.

the sketch was simply just an appropriation of someone else's idea, the style is influenced by Egon Schiele and was originally just a study on how he drew legs and torso's.

When i pulled it out of my desk months down the track i saw so much more in it and i filled it with a few more idea's.



Intentions:

this piece is very reflective of how my life was working at the time. I felt like with every step i made forward i was taking two back, much like how with the growth of the power and knowledge the philosopher gains from his right hand, he loses power in his left.

the piece is very colourful, most specifically in the cranium. I created a stained glass effect because i wanted to convey the way i saw the philosophers brains process of thought.

there's also a second face amongst the stained glass head of the figure, which echo's Rodin's "thinker". I thought the combination of this and the imagery of the right hand allowed for the viewer to see how the figure is creating his thought. I wanted the lines in the moon scythe to seem like veins, bark and electrical cables.

I hope this helps - Lyndsay.


--------


Holy Man-titties i got a DD!


Supreme thanks to for the suggestion and to Snowmask for featuring it!

I'd also like to mention that I am selling prints of this upon request. So if you're interested, please contact me!
Daily Deviation
Given 2009-01-21
Brilliantly prismatic, thus evermore evocative of stained glass and its very transcending nature,
Philosopher's Ego, The
by ~
LyndsayHarper
is definitely a visual experience of wild intensity. (
Suggested by

MerelyMarquis

and Featured by snowmask
)