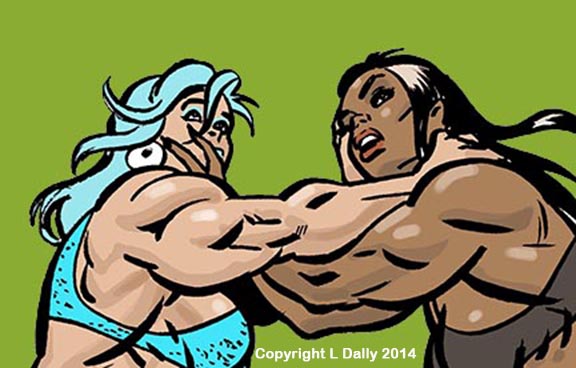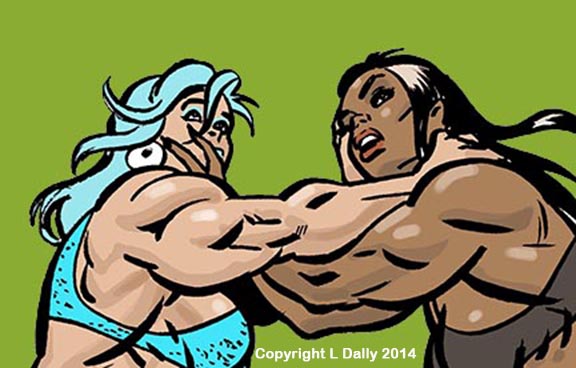 Watch
Gentlemen. she's back. A new Quadra-Blu episode will be up today (10/10/14) at www.Quadra-Blu.com. The final frustration with the Circ De Strength (for both the readers and the characters alike) will be coming to an end over these next two episodes. What you see here, another ambiguous clip from the episode, shows how girls with big arms don't always see eye-to-eye (especially with fingers in them!). Hand-drawn inkline colored in photoshop.

Oh man I stepped away for a while, I come back to see this? Oh happy day!
Reply

Let them wrestle, please!!

Reply

Glad you're back. People wondered what happened to you.
Reply

Thanks so much Crimson-e. I had to focus on this estate planning graphic novel I'm doing w' no distractions. As much as I love doing the Quadra cartoon, I need to find something that will make $$$$. The writing/art is done on that book and marketing it begins. But I didn't want to abandon the Quadra girl and everyone whose invested some interest in her.
Reply

As terribly boring as an estate planning graphic novel sounds

(I'm assuming it's instructional), I know your drawing will elevate it. Is it for the American market?
Reply

Yes. Mainly for adult "children" to sit-down with their parent(s) and make a practical understanding of family-owned property and how not to lose it. It's very biographical based on my father's death and my experience w' him. I'm not sure where on DeviantArt to post any exerpts from the book, but thanks for asking!!!
Reply

Can't wait to check it out after work.
Reply

Just a suggestion, but you should post an announcement about the resumption of the Quadra comic @ Amaz0ns forums.

Reply

Reply

Reply