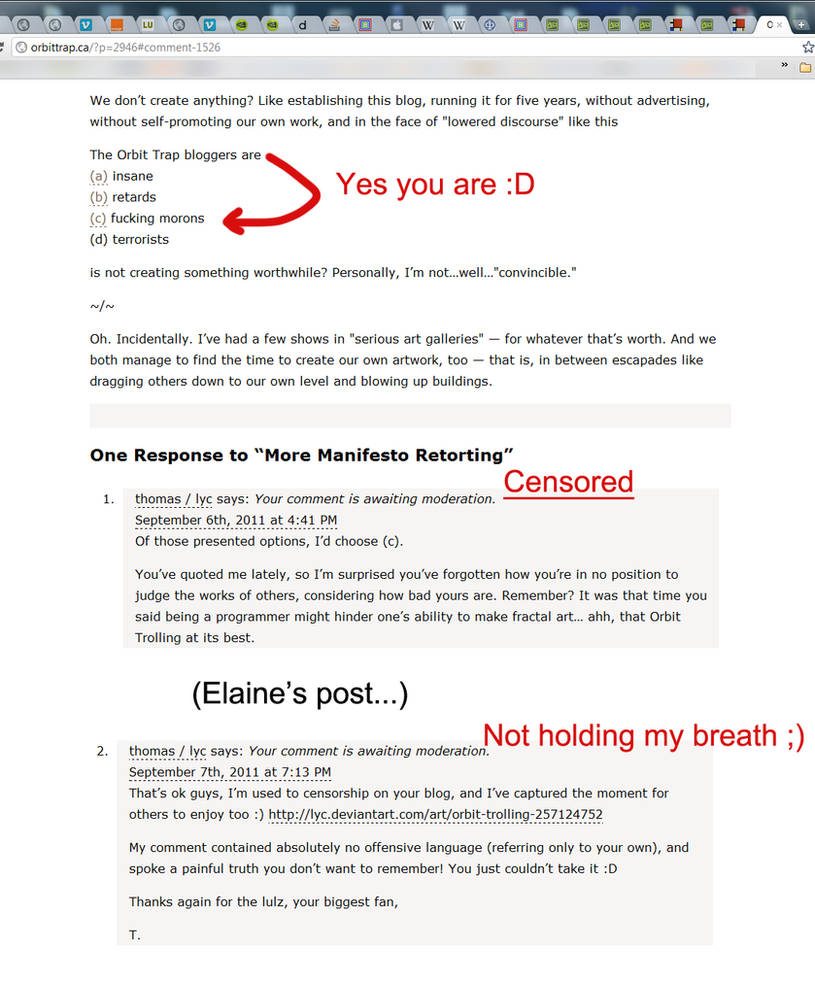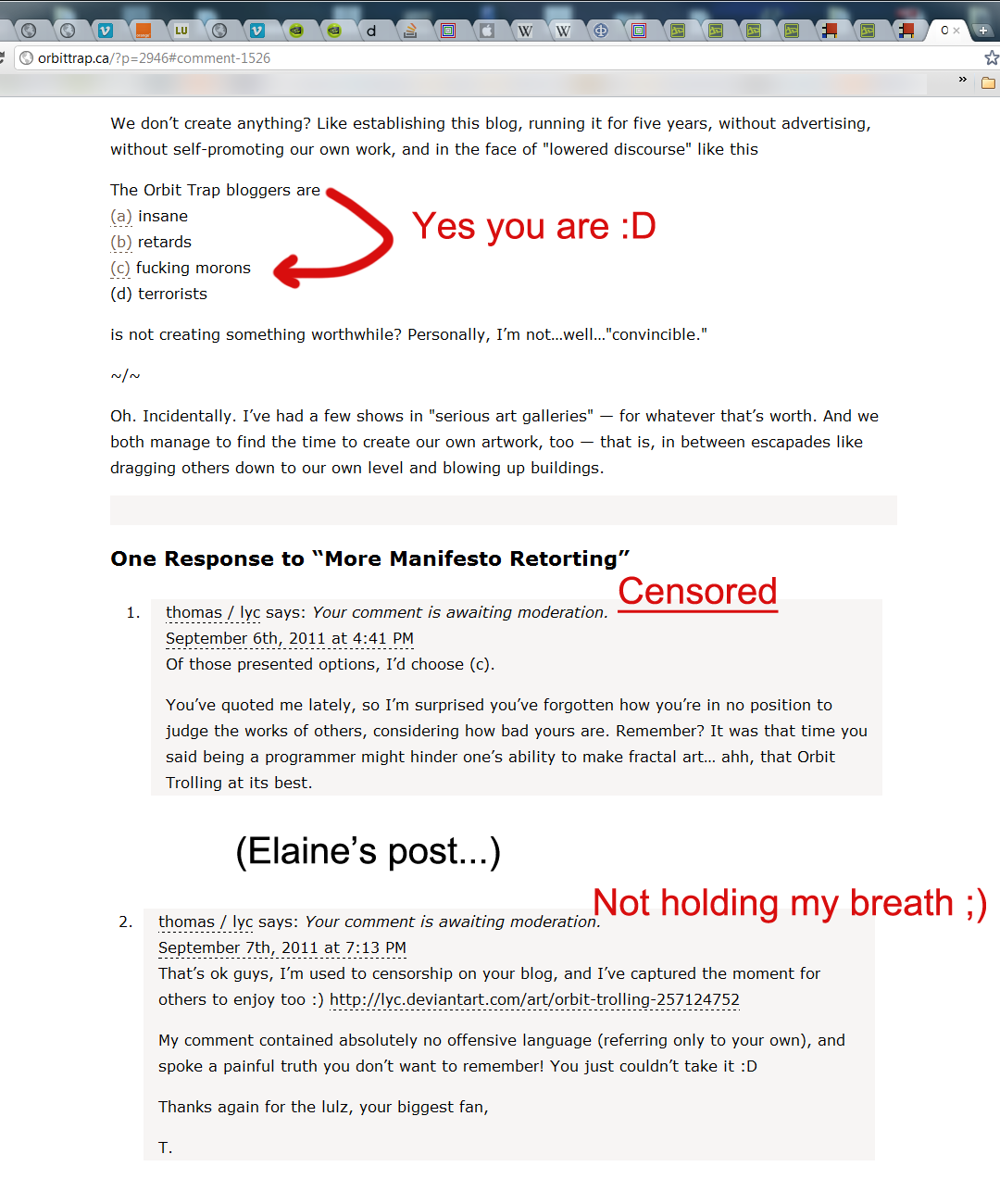 Watch
your comment is awaiting censorship

they're old hands at this game:
orbittrap.ca/?p=241
edit:
now with 100% more censorship and 100% more drama!

I deleted lycium's (Thomas Ludwig's) original comment to my posting about Fractal Art isn't Rocket Science. But his expansion on the theme expressed in his original Orbit Trap comment grew to become an interesting work of art and well worth reading...

You actually took on with this guy? At least he didn't click the delete button this time and actually respect other's opinions.

...

What is your view of a piece of art? Do you amaze by the pattern, color, texture of its? Or do you wonder how it was made and wonder who had made it?
Reply

Now there are even more tabs at the top.
Reply


WTF?

what a time waste, hilarious discussion about bureaucratic bullshit

from the real-life, studied artist point of view, that original manifesto, similar to the dA concept btw, is either just an expression of mental illness, or that of a massively indoctrinated mind, grown up in a overall sick, labeling obsessed, fascist society like that of the US

YOUR stuff is fine art (at it's best)

or scientific, or both, same with colloid- , macro-, astro-photography, or digital painting, who cares what ppl say, YOU (the artist) name/define it ...

just to add, during the 80s a friend of mine (fine art student) collected fingernails, shit, masturbation & other body fluids, which he shrinkwrapped and hung on the walls of galleries (later even museums) - he literally gave a shit on what ppl said - nowadays he's fine arts professor, irl

Reply

I agree with Jess

!!!
Reply

I'm a computer science student! Does this mean my fractals will start looking like crap? ):

[/troll]
Reply

Do mine look like crap too, as I'm a CS Student as well?
Reply

I have now completely given up on Terry as well as Tim - originally my electronic relationship with Terry was very good but as soon as he took a dislike to anything vaguely involving commercial fractal software it soon deteriorated.
If you look in his own blog (not Orbit Traps) back a few years you'll find a section where he was discussing dinosaurs and their demise and he posted a (tongue in cheek) hypothesis that I made up (or maybe remembered from some obscure source) and sent him in which dinosaurs developed space flight and left, carefully erasing all traces of their advanced technology so we would be unable to follow even when sufficiently evolved - them knowing how warlike and uncivilised we would become.
Recently I contacted Terry with regard to discussing his comments on OT privately - but he said he was only interested in chatting/messaging publicly !
IMO it just goes to show that he's lost all perspective.
Reply

I find the amount of tabs at the top to be very amusing

Reply