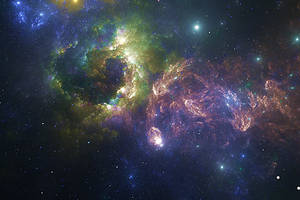 8K Wallpapers 7680 x 4320 dpi
8K - 7680x4320 dpi wallpapers of all styles I make that come on a monthly basis.
---

Description
Finally some proper lava scene. When I say Ice Age 3 for the first time (year ago) I just told myself I have to try lava falls some day. Now that day has come.

I used lot of references (snapshots from Ice Age, Star Wars: Revenge of the Sith and some lava photographs from google). It's not perfect, but I'm happy with the outcome and I enjoyed the progress.
I came up with some own techniques (there ain't so many lava tuts anyway) and it was fun.
The scene itself, it's just concept of some ancient sanctuary with shape of really epic big head, that's constructed on the lava waterfall. You can see the city, I hope you recognize it's a city (it's my first, drawn city, with matte painting techniques and without textures). The city gets energy from the heat and also from lavamill (just like watermill, but in lava

), I realize that might be silly, but it just occured my mind during sketching, so I added it as a funny element.
Hope you like it.

~ 9 hours in Photoshop.. more and more hand (mouse) drawing, but still minor things
Stock of the head:
[link]
Rest of it is either from cgtextures.com or my own textures / painting.
Image size
1316x1905px 3.43 MB

This is beyond awesome. Love the idea, love the concept behind it

I love the city! The lavamill is just awesome