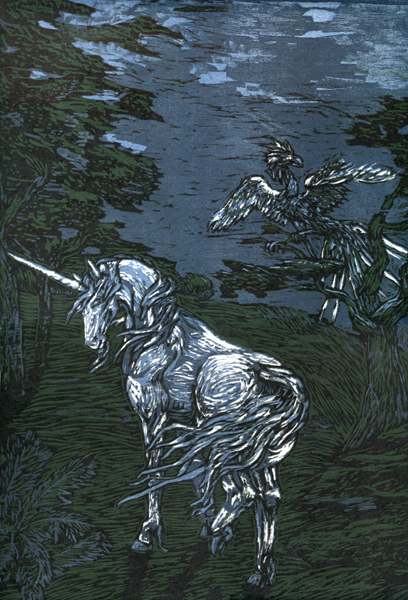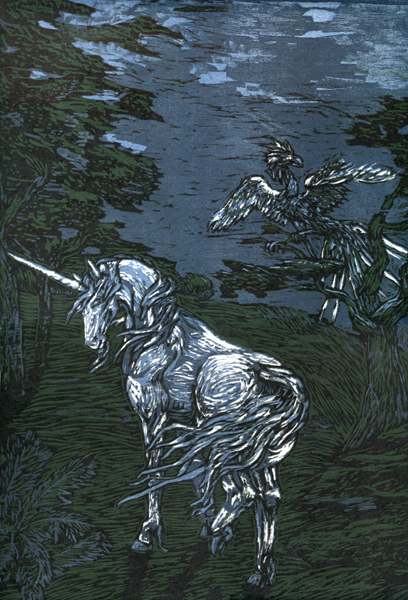 Watch
This is a four-color reduction woodcut print I made back in 1999. I was slightly disappointed in how dark it came out, but I've grown to like it.
15"x22"
Full bleed, on fine, translucent japanese printmaking paper.
This is one of four artist proofs, and i also have five original limited edition prints of these, which i will soon put up on my Etsy account for sale.
[link]
Edited 4-30-09: Better quality scan instead of bad photo.

wow this is amazing, it reminds me of an illustration from an old childrens fairytale book.


Reply

Reply

i always liked the way woodcut pieces looked... this one is no exception... i don't think its too dark at all... the detail is great... its a shame the photograph has a bit of glare on the top right... good work!
Reply

i think i recently took a better picture of one of the prints in this edition.. maybe i can upload it sometime. it isn' a very good photo.
I love the theme, and the imagery in my head about the piece. i'll probably do another image of some kind in this line someday.. hm.
thanks for the comment.

Reply

Reply

O_O d00d...that's AWESOME!!!
Reply