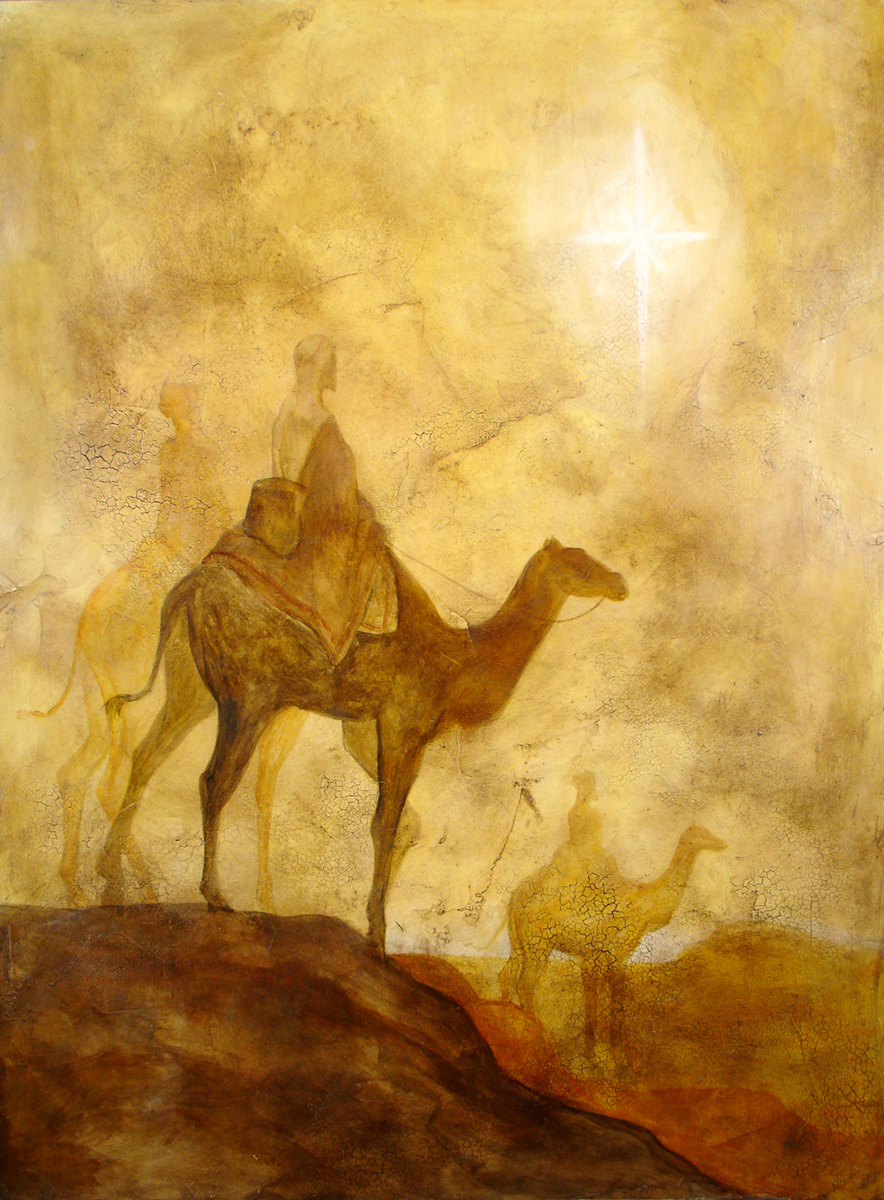 This is based on a tiny printout of a picture from a christmas card that my boss found online somewhere. i have no idea who did the original christmas card, so i don't know who to credit as inspiration. therefore, this art is not entirely my own, as it was referenced. If i ever see the christmas card online, i'll link and credit it.

Disclaimers aside, this was a lot of fun to do. it's on a 3' by 4' piece of masonite, sanded and primed. I applied a material similar to venetian plaster to the board, aged and crackled it, then painted the image on with colorant and glaze. I put pearl mica powders on the star, though you can't tell from the picture, then waxed the whole thing. It has a wonderful polished texture to it, and the wax brought out all the cracks nicely.

I plan to do several more, smaller pieces of my own art in this manner. it has helped a little in chipping away at my art block.

there are details of the cracked texture in my scraps.

Reply

I love this one
It brings deeper feelings and it is lovely executed
I don't have time and/or patience for so complicated creation process

it is truly amazing work
Reply

This is one of my favorite illustrations of its subject ever. Truly. The golden overcast, the opaque riders and the solar cross star...it makes me teary.
Reply

Thank you so much for your kind compliment. That means a lot to me... It is still one of the most enjoyable-to-work-on pieces i've made.
Reply





GREAT ART!!!

Reply

This is the best I've seen in some time... Congratulations.

Reply

Thanks for the comment.. i had a good time with that method.. i think i should go back and play with it some more.. <3 Thanks for reminding me about it.

Reply

So, I think this is brilliant. The colouring, the distant shadowed second and third wise men, the luminosity and aging... Plus, you don't often see people using historical techniques with plaster and mica any more, and I think it's completely fantastic. I think the wax is really interesting as well. Yum, multi-media. :>
Reply

Thanks a lot!

my current WIP is in a similar technique. Crackled plaster with watercolors on top, instead of the pigmented faux finishers glaze i used before.. I did the wise men painting for my former employer, so i don't actually own it, but it was a heck of a lot of fun and i am going to do more stuff in that style.
Reply


That's reallyreally cool. The background and texture is neat. I like... everything. :3
Har at my impressive vocabulary.

Reply