Letting everyone know- that I'll be officially closing Moo Moo March commissions on the 27th. So there is only three- (and a half) more days to be able to get one! Time's running up!
I have a large backlog, one of the larger ones I've had in a while. 10 Picture currently in the works. So, any last minute additions to the list will be further back on the to-do list. But they will get done.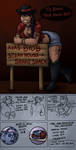 So if you're still interested in a Steak House commish! Send me a note! Time's almost up for our beef buffet!
Any non-vore or milking related cow pictures are my normal prices per character!
- Sketch: 20$, Lineart 35$, Full Colour: 60$
Any cow or bull character in a waiter/waitress outfit- (of any level of skimpiness- so long as it's an outfit) gets a 5$ discount on all levels!
- Sketch: 15$, Lineart: 30$, Full Colour: 55$
And any cow or bull character, being milked or prepped to become beef- gets a 10$!
- Sketch 10$, Lineart: 25$, Full Colour 50$
I'm also offering buttons of either a character's freshly branded booty- or a roast with your colour scheme on it for 15$ in colour!
My avatar, dressed as a cowgirl- Avaline, can appear in any commission at half price
- Sketch 10$, Lineart 15$, and Colour 30$
My Normal Restrictions apply- toilet fetishes, and all characters have to be over 19; especially fanart.