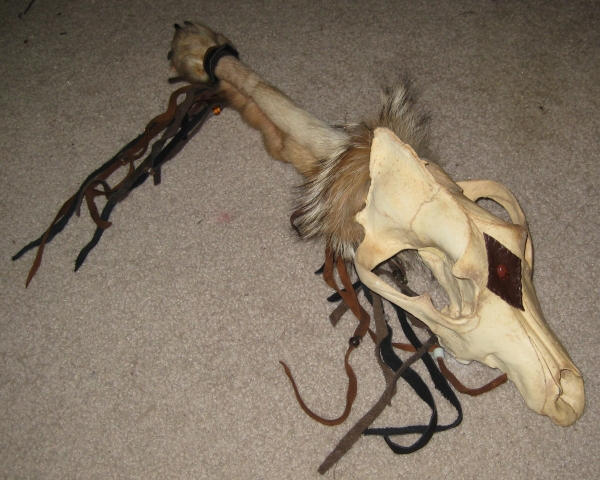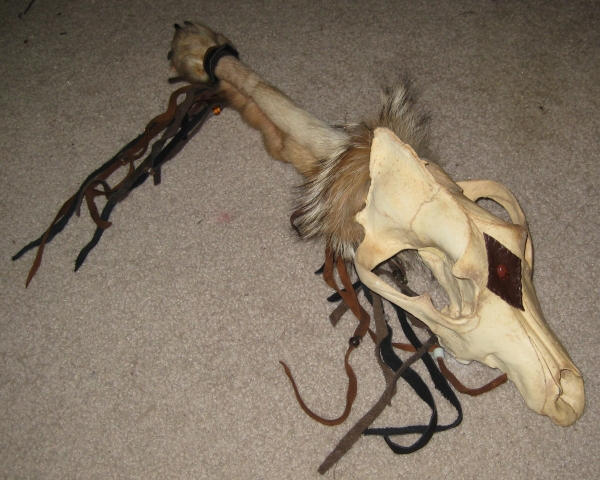 Watch
This is the third of five pictures of this project.
This is quite possibly one of the nicest things I've made in a while. I started with a large old wolf skull and added some gravel to the brain cavity after plugging the holes with clay and adhesive. I used a dowel rod as the handle, and wrapped it in a wolf legskin with claws. I added another strip of wolf fur to where the handle and skull meet, and tied a binch of leather strips to both ends of the handle, with glass bead accents on some of them. Finally, I glued a piece of leather from a coat with stitching around the edges and a red stone cabochon to the forehead of the skull. This is a big rattle, fully 24" long! It's heavier toward the skull, and so the balance feels nicer holding the handle closer to the skull. The rattle has a nice sound, but not too loud, so it would be good for both indoor and outdoor work. I know this rattle isn't for me to keep, but it's tempting!
This rattle is sold, but I am open to custom work, and I also have other rattles and goodies on my Etsy shop:
[link]
Oh thats soo nice i wish i could aford it (and i wish you would send wolf to England but that's nather here nor there). I must admit though I'm not too keen on the wolf legs being used as a handle i think a carved handle with wolves runing around it but thats me, but the skull as a rattle is a great idea and looks amazing the patch of lether on the skull adds a kind of flavour for me at least. i think you should keep it it would be put to good use in your hands I'm sure.
The Artist thought this was FAIR
5 out of 8 deviants thought this was fair.